💫 Weekly Reading: 11.29.21-12.05.21 💫
We start the week out with the moon in Libra. It transitions into Scorpio on Wednesday, before finally entering Sagittarius on Friday.
We have the new moon and solar eclipse in Sagittarius on Saturday (Friday night for some, depending on where you are). Then we finish Sunday with the moon in Capricorn.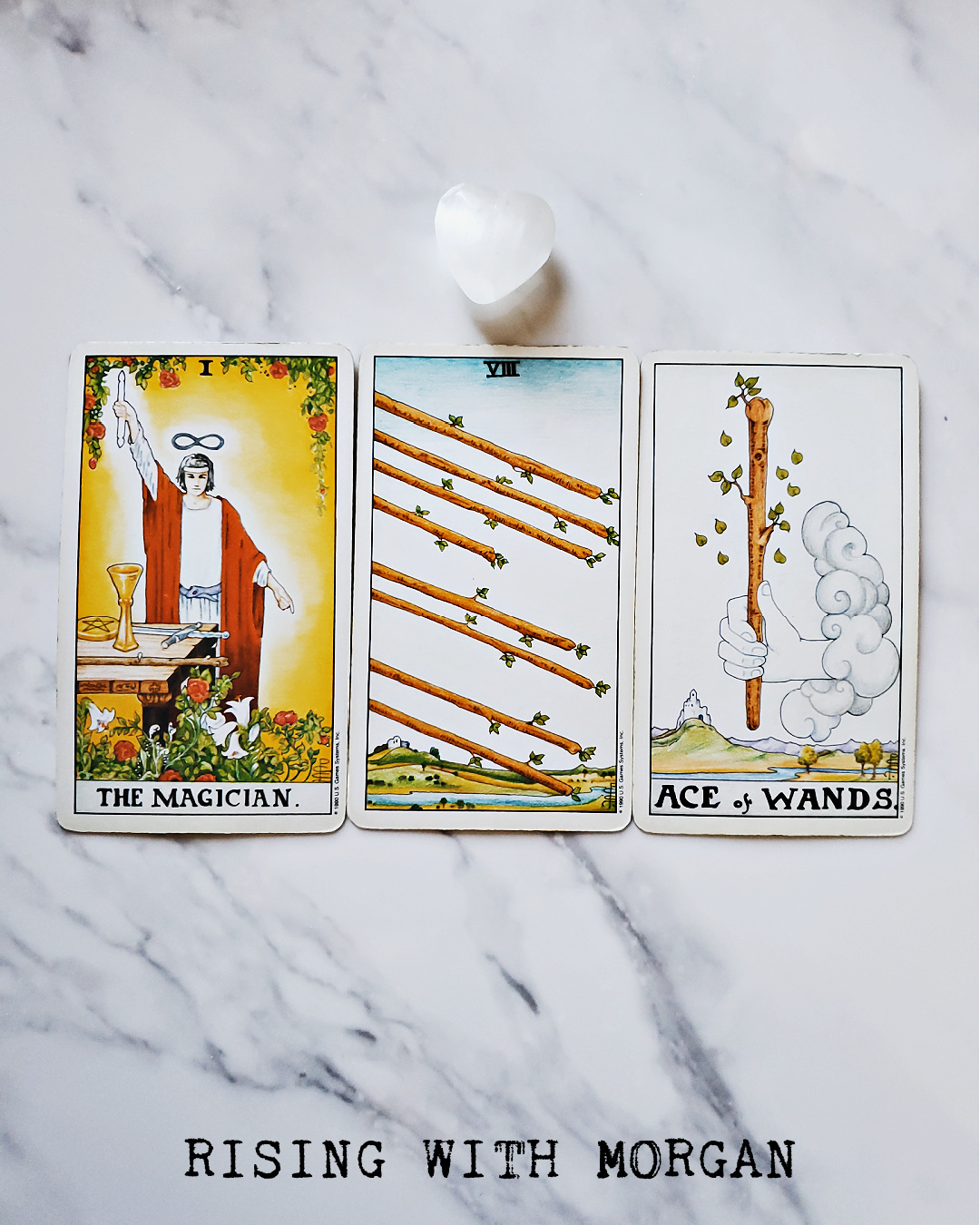 Beginning of the Week:
The Magician
The first part of the week, you're very focused on manifesting your goals. I feel like this goal of yours is something you have wanted for a very long time, but it's almost like the energy was kicked into high-gear with the lunar eclipse and full moon a few weeks back.
You have finally realized that you are extremely powerful. I'm hearing some are realizing the power of their own mind. Now that you have stepped into this leadership role in your life, you are about to see many blessings and manifestations come to fruition for you.
Mid-Week:
8 of Wands
I'm feeling a few things here. For some, this is communication. The communication will be different for everyone, depending on what you are creating in your life. However, you can be damn sure that the communication coming in is directly related to what you're manifesting. Now, for some, what happens will be totally unexpected. There is a reminder here to detach from specific outcomes. Focus on what you want, and how you want to feel. Spirit has a few tricks up their sleeve, but you will be very happy with the way things unfold.
With or without communication, you can trust that movement is happening this week, and it is bringing you closer to your goals. If you don't see your goals manifest in the physical this week, know that the decisions you make in regards to your goals this week will bring you forward movement towards your manifestation. Again, detach from timing and outcome.
End of Week:
Ace of Wands
See, what did I tell ya? A new beginning is here for you. And also, don't you love all this fiery energy coming through with these wands cards? Perfect for the Sagittarius solar eclipse and new moon this weekend! This new moon/eclipse is bringing in a powerful, passionate, and fast-paced new beginning for you. I am again being nudged to tell you to detach from outcome. The shift that is coming in for you is going to seem a little intimidating at first. But once you choose to flow with Spirit/The Universe, and take a step back from what's happening around you, you will see that this change, although not what you expected, is better than what you had planned for yourself. Trust Spirit/The Universe to guide you and bring you what truly serves your highest good!
Deck: Rider-Waite Tarot
Have a blessed week! 🙏🏻
///
For more information about the moon cycles, please consider joining my Maiden, Mother, or Crone Membership.
For daily tarot and oracle messages, check out my Tarot Membership.
To book a reading with me, visit: risingwithmorgan.com
Enjoy this post?

Buy Rising with Morgan a coffee