Bit of a change this week: after a bit of a week where I've suffered from from the lurgy, I'm not going to be producing a week 5 preview show this week. Instead, here's your reminder:
TAKE YOUR TNF PLAYERS OUT OF YOUR FLEX SPOT!
With that said, what's happening to hot or not? Instead of this article only being for card carrying members (our Gridiron Guardians) I'm using this week as an open preview for everyone! Feel free to share, comment and generally debate my expanded selection of players!
For those of you who listen regularly, we're doing pretty well in this segment. Through 4 weeks, and 55 picks, we're batting at 0.636 (to mix our metaphores!), but we don't give ourselves an easy time. Normally no or only one superstar makes our list each week and we try and bet against the big boys to try and give you an edge! Normally we give 5 here on the blog, more on the pod, but here we're combining and doing 10 for both our HOT and NOT players!
The theme changes each week to make things harder and today it's all about the start of the season...
...But it's October you say! Well yes, but really:
The Season Doesn't Start Till October...
Something that you can get on a limited edition long-sleeve from our store.rugbywithpads.com or with a t-shirt level membership for the year: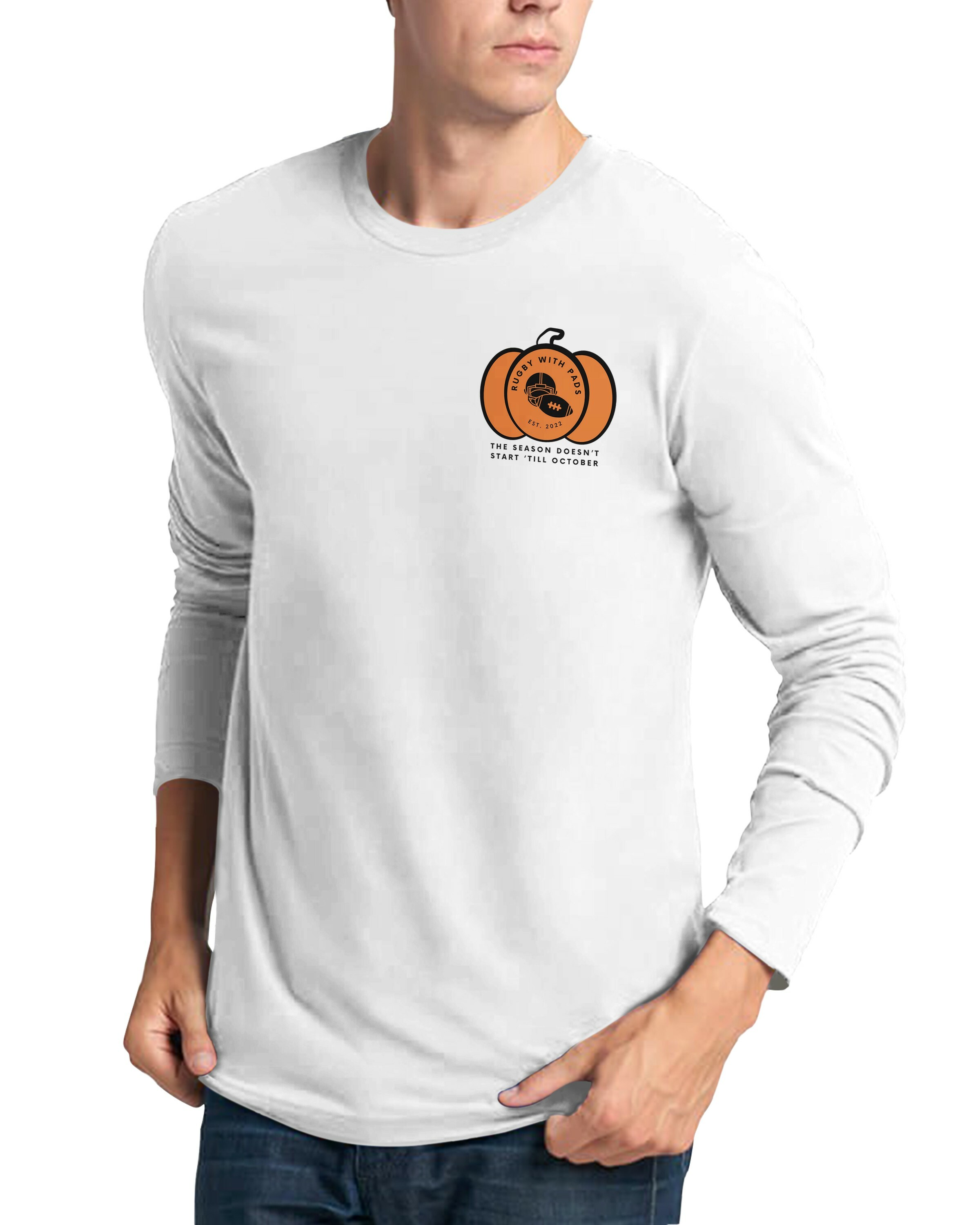 This means late breakouts and early dropouts. With that said, let's get into the mix!
Who's Hot?!
This week's starters are maybe less well known names as we hit a significant Bye week (one of many to come) with the Chargers, Browns, Seahawks and Bucs all M.I.A. With the Falcons also choosing not to take a bye after travelling from London, don't expect any shining stars from them...
QB: Sam Howell - Going up against the Bears, one of the worst pass defences out there, only involved in shootouts, look to Sam Howell to fill your Bye Week needs.

RB: Achane - It's obvious isn't it? My offseason "my guy" has produced on the field at last despite his small stature and against the Giants, expect Miami to return to winning ways and twist the knife.

WR: Gabe Davis - Whilst Diggs is the obvious choice, I've seen flashes from Gabe Davis. Against a stout Jacksonville defense, expect Diggs to get doubled and strange things happen in London, so I can see the guy who some consider the WR3 in that team, get multiple redzone opportunities.

TE: TJ Hockensen - Hockensen hasn't performed to date, after being drafted as a top 5. Minnesota isn't quite as prolific to date, struggling to get ahead of Carolina last week and against a team who have a sneaky good defence, chasing the game against Mahomes (inevitable) expect Hockensen to be the outlet as Chris Jone bares down on Kirko Chainz.

Flex: Romeo Doubs - It's a wide receiver against Las Vegas? Need I say more? Yes? Increased usage, safe play as Love looks to reduce his mistakes moving forwards.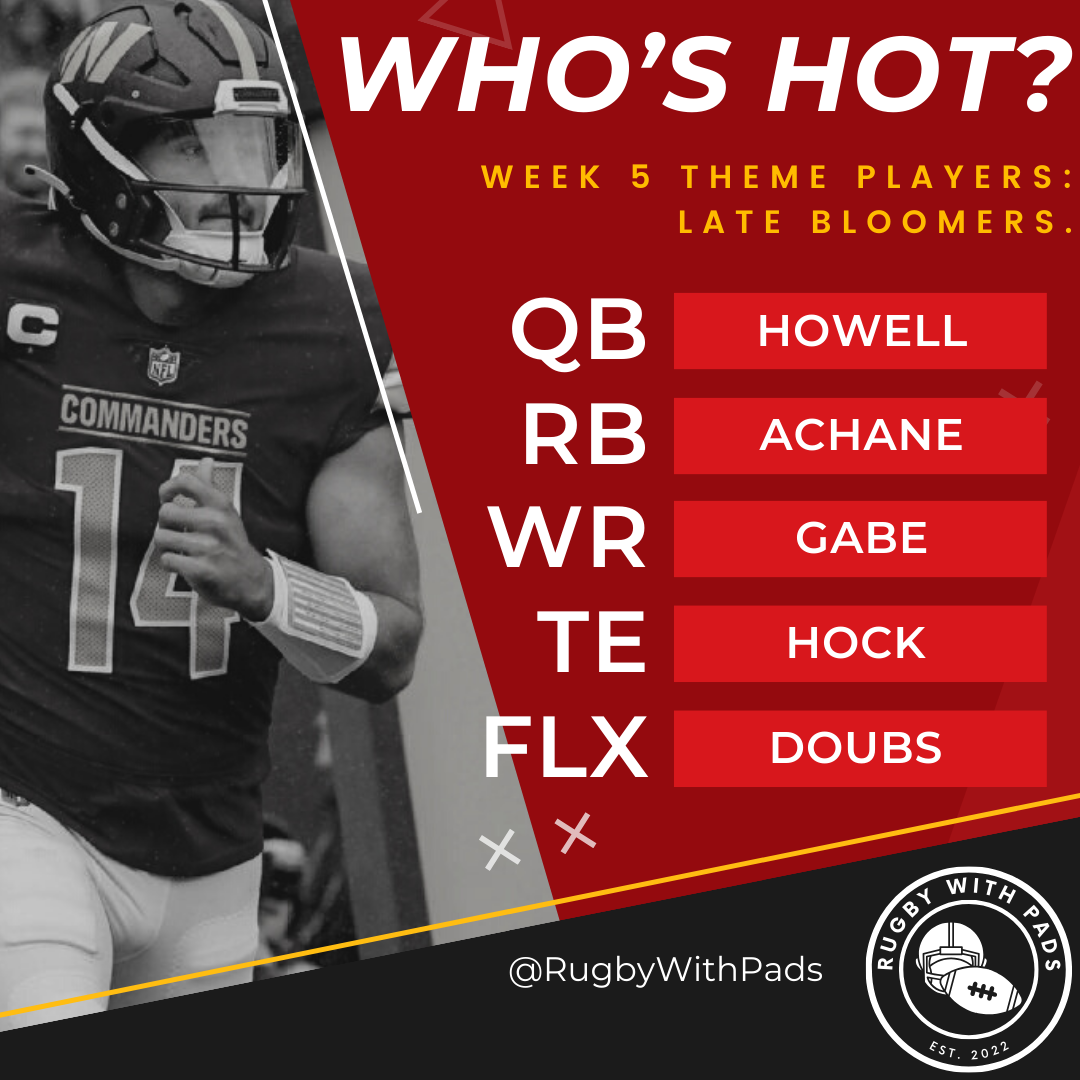 And we've got some bench players to consider too! Smaller range of outcomes, but nonetheless could win you your week:
BN1: CJ Stroud - He's come along leaps and bounds. ROY.

BN2: Gibbs - Late development behind Monty. ARSB doubt means Gibbs upside in the slot.

BN3: Swift - Expect a boat-race against the Rams.

BN4: Breece Hall - No snapcount, expect him to be electric against possibly the worst defense in the league.

BN5: Devante Adams - Kind of revenge game. He is him.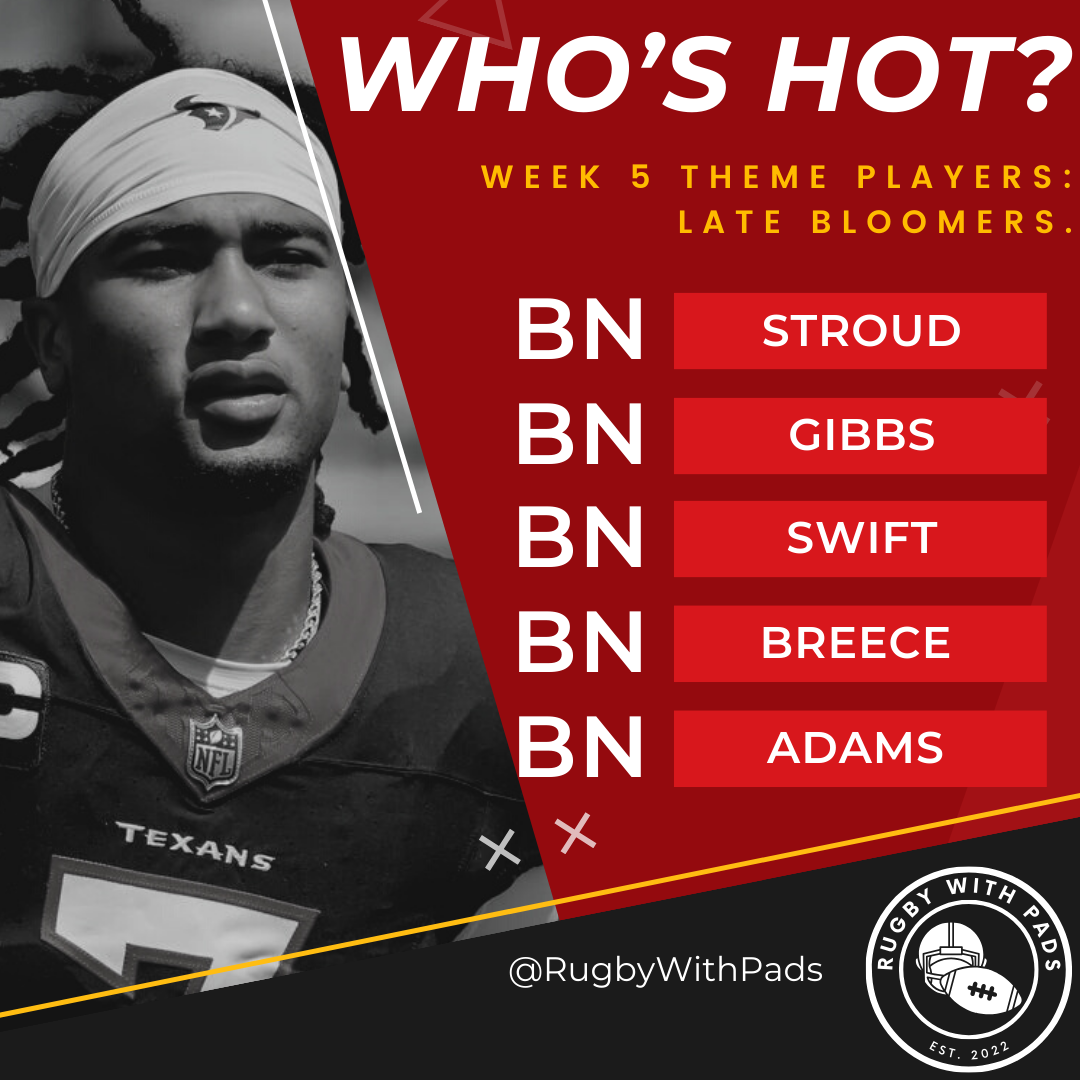 Who's Not?!
This week's bench players are less an immediate gut wrench drop, but more of a slow fade. These guys just aren't living up to high draft expectations and we're in a spot where you may need to pivot to save your season:
QB: TLaw - I just didn't see it last week in London... Yes, he won, but can he do it in his second sophmore year (his rookie year shouldn't have counted). I'm not seeing the longterm Andrew Luck comparisons at present, but do think he'll turn into a servicable pocket guy for the season. His weapons probably need looking at to be more dynamic...as well as his decision making...

RB: Najee Harris - Matt Canada...Mitch Trubisky likely incoming... this is not a recipe for RB success and Najee isn't looking electric. Fade and trade name value if you can.

WR: Olave - Whilst there is no doubt of his talent, his service is in question. Shoulder injury for an ageing QB, Taysom or Jameis in the wings...no thanks...

TE: Pitts - He's never going to be a thing is he? After seeing Jonnu and Engram massively out perform him in London at the weekend and without a rest and reset... AND with Desmond Ridder under centre... I don't think it's a pretty story. Potential cut candidate.

Flex: Rhamandre Stevenson - I don't know if there is any other player who's gotten worse since Matt Patricia left... When Zeke out snaps and outperforms you on a lackluster Pats team, you know it's not a good place to be...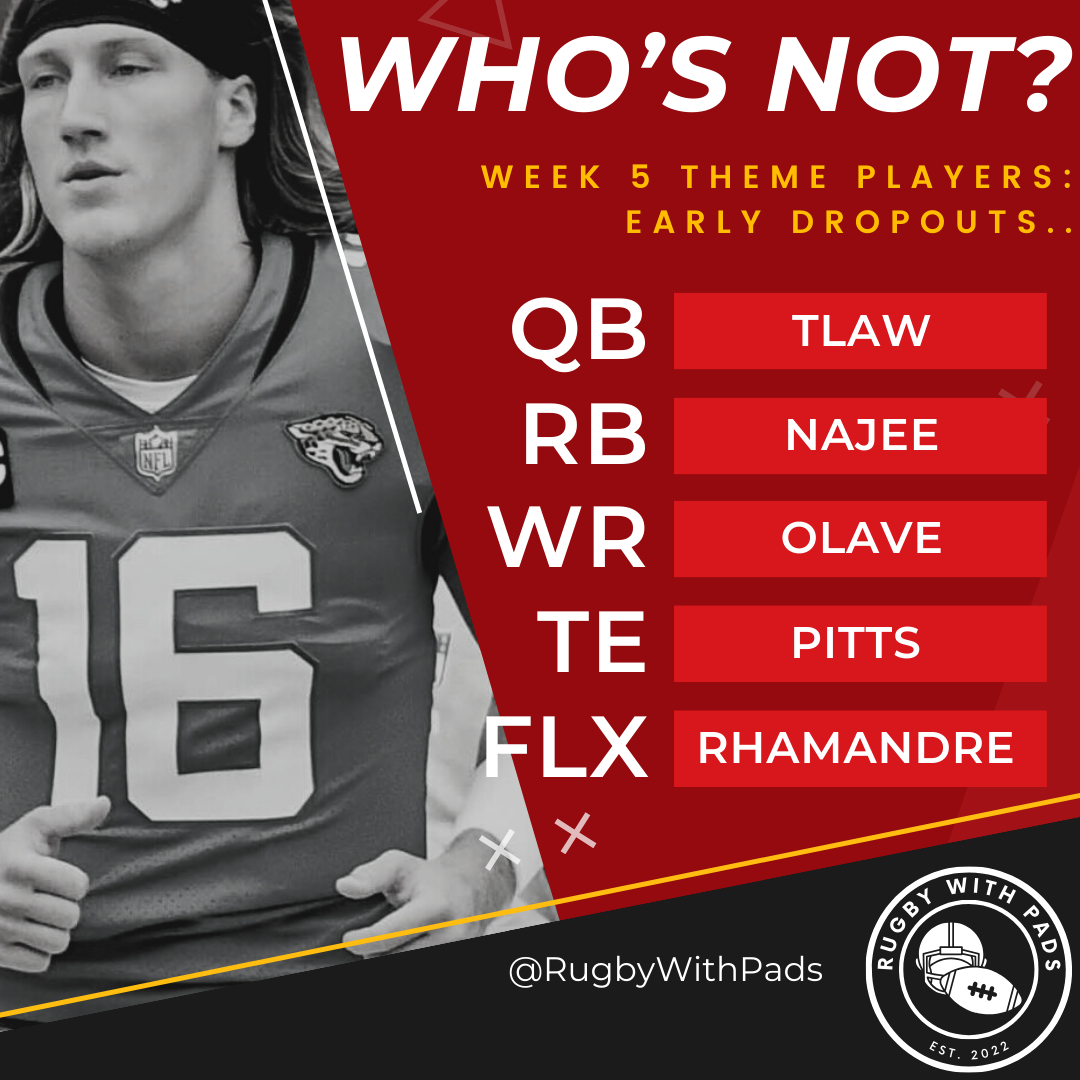 And the dis-honorable mentions on the bench:
BN1: JT - OK, he's not going to be awful. If he's injured you get it, but the Colts are all in on Richardson, not JT.

BN2: Waller - Still quality, just not getting any service. Blame the O-line which doesn't get fixed week-on-week.

BN3: Sanders - Panthers are a project team. He's questionable. He's not risking his body for that.

BN4: Mattison - It's going to be a whooping coming the Vikings way. He's not the guy to control the narrative.

BN5: Sutton - The Jets D is still great. Sutton has spiked, but still has butter for hands.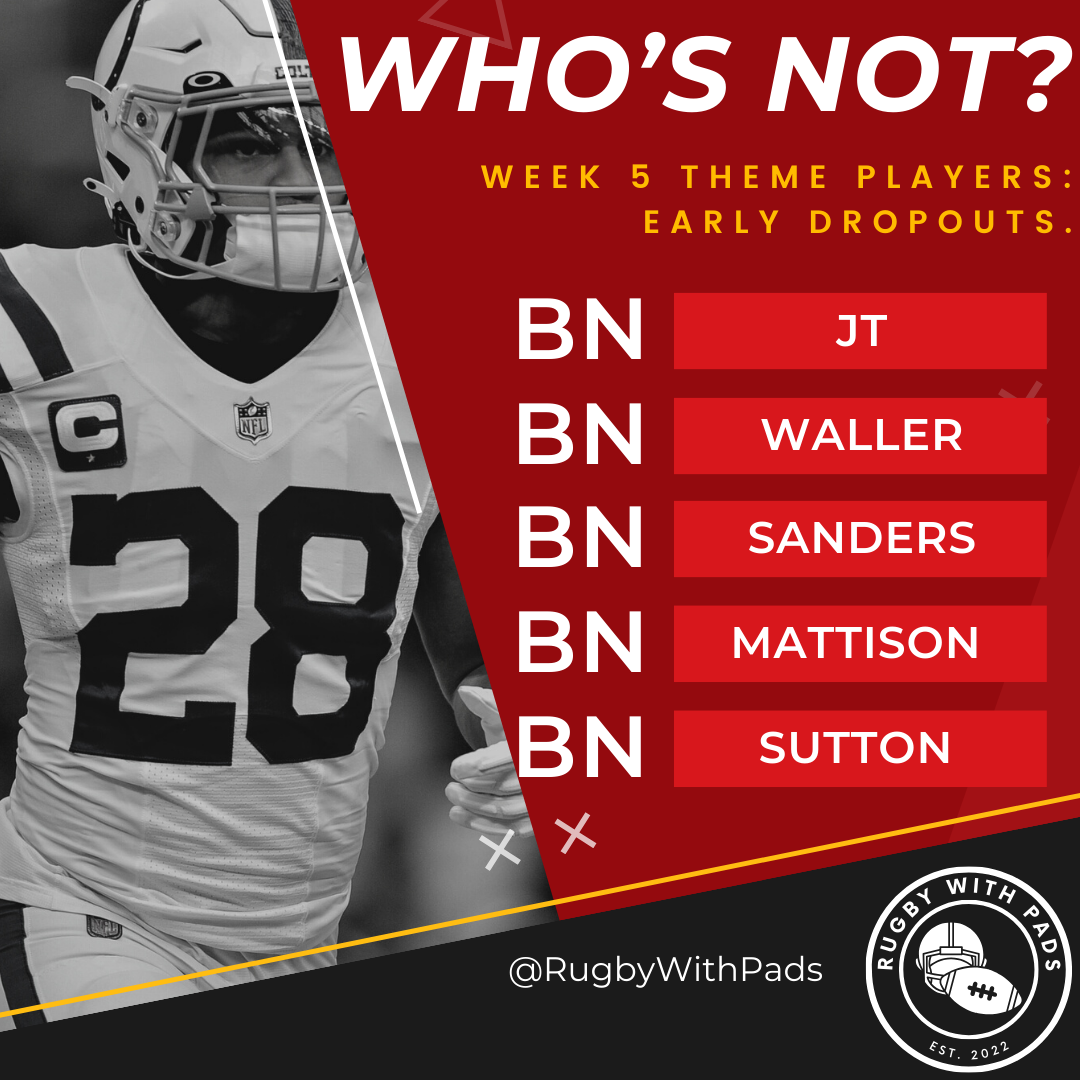 I hope you've enjoyed this article/rant. If you do, you can subscribe for as little as £1/month or £3 if you want some merch!
Thanks again for tuning in and supporting, more next week (one show recorded in advance as I'll be on my holidays). Audio only for a couple of weeks as my face returns to normal too, but for now, I'll say good luck on navigating a tricky bye week and I'll see you soon on the virtual gridiron.
Sam