Top 5 Altcoins to Buy During The Crypto Dip. No CARDANO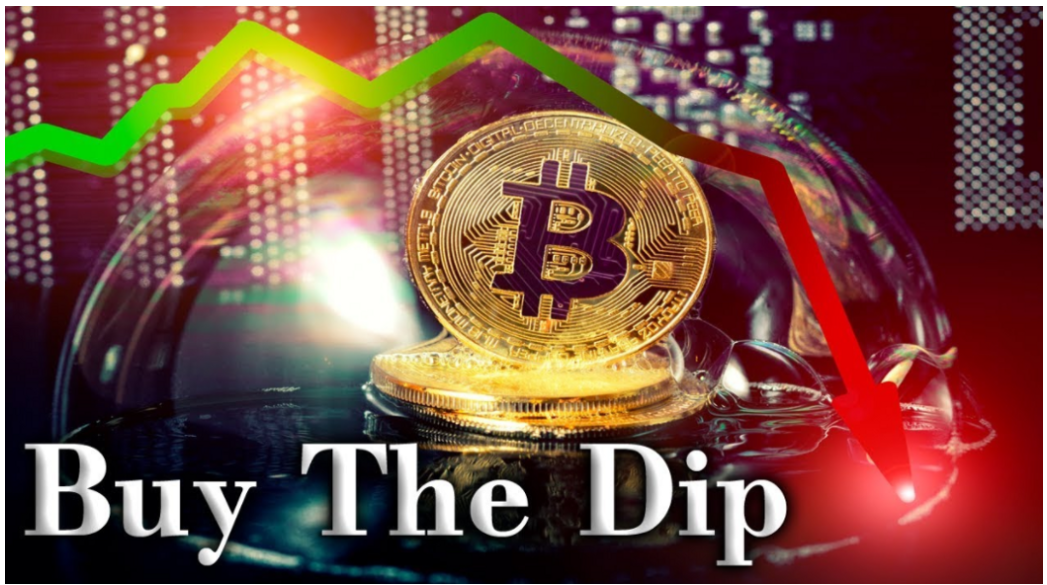 The crypto market crash of December 3rd dragged Bitcoin down below 50,000, and of course, every time Bitcoin sneezes, altcoins catch a cold. This instance was no exception. We saw billions of dollars liquidated.
We have to ask that very ominous question have we entered the bear market? That is not what this post is about; instead, this post is about finding market opportunities during this most recent crash. In the words of true tycoons, the best way to make money is to buy up assets when blood is running in the streets, if you remember, perhaps the .com crash takes the example of Amazon; it went from $107 to just $7, and Priceline dropped 99%.
Let's assume just for the sake of argument that cryptocurrency as a total market follows this particular example of the .com crash. I'm not saying that will happen. But, let's just say for the sake of illustration that it is the case the question becomes what the Amazons and the price lines that you want to invest in while they're down, while they're significantly reduced are. Because we've identified our winners, and this could be a very interesting time to fill up your bags.
Ethereum (ETH)
With that being said, let's take a look at the first coin on our list that we are considering during this downtrend. It is, of course, Ethereum, the king of smart contracts. Because of being the first programmable blockchain, Ethereum has its feet fixed at number two on the basis of its market capitalization, which, as you guys can see at the time of this recording, sits at about 400–496 billion dollars.
At one point, the Ethereum ecosystem was considered a dead end, but the relative longevity of the network and the ability to create smart contracts have proved functional enough for the current purposes of DeFi, which have been growing by leaps and bounds, as you guys know.
Take a look at this almost 70% of the total value locked in DeFi is on Ethereum's blockchain. It's a percentage that clearly indicates that instead of facing severe competition from smart contract heavyweights like Solana, BSC, Cardano. Ethereum is still rock steady as a leader in that space.
During the recent crash that we saw on Friday, Ethereum's price did plunge 17.8%, and it's starting to recover. Thankfully we've regained that $4,000 mark as of late, but this is hardly new for Ethereum. Take a look here at the one year chart. The token has a record of recovering from massive dips in the past. This is really almost not even surprising at all.
In fact, it recovered pretty well from its 56% price drop, which happened in May of 2021, and just 10 days ago reached a new all-time high.
We have a really good feeling about ether being a good buy during this current market dip. There are two reasons for its reason. Number one, almost 5 million ETHs have been burned and taken out of circulation, and if you see the burn rate, it's been going up, and this could lead to further pumps. This feeds right into the whole scarcity argument, and rightfully so.
Reason number two is the Bacon chain, the core of faster scalable ETH 2.0 just celebrated its one year anniversary, and by Q2 of 2022, the merge with ETH 1.0 may very well happen. This is going to be a big event any way you look at it, and such events do tend to drive up the price.
Binance Coin (BNB)
Another one of our favourites that we're looking at during this dip is Binance coin BNB, which is an obvious choice, at least as we see it.
It's the native token of Binance, as you know, one of the leading crypto exchanges, but BNB's market cap quickly climbed to number three when Binance launched Binance Smart Chain.
Back in September 2020, and since then, Binance has made huge strides in catching up with Ethereum in terms of the trading volume. Right now currently, its market cap is over 93 billion dollars, and the TVL total value locked on BSC is close to 10% of the entire DeFi TVL, ranking second after Ethereum.
If you look at January 2021 and the BNB charts, you're gonna notice that BNB has been up to over 1,100% since that time. That's even after witnessing two significant drops in that span of time, the first of which was in May 2021 and another big one in September 2021. But, impressively, the token recovered very well from each drop. In fact, it has more than doubled from its May 2021 drop, which clearly shows that BNB holds potential when it comes to rapid recovery. Not unlike Ethereum that we just looked at.
BNB would have soared even higher this year had it not received multiple regulatory setbacks. As per the recent news, Binance aims to become a registered crypto-asset firm in the UK in 6 to 18 months, and with approval from the FCA, Binance could offer products such as futures and derivatives in the UK, and this could prove to be a very good omen for the price of BNB. Moreover, with regular burns BNB and a growing DeFi ecosystem, the BNB token and its corresponding price are expected to go up much harder potentially if the market also works with it and chooses as well as a whole to move up.
Polkadot (DOT)
At number three on our list, we're looking at Polkadot ticker DOT dot that's the native token of Polkadot, which is one of the blockchains with the most potential in the ecosystem in terms of security, interoperability, and scalability because they've developed parachains that make up a varied ecosystem of autonomous platforms, communities, and economies that are transforming how we communicate on the internet.
Polkadot is a network protocol that allows arbitrary data, not just tokens, to be transferred across blockchains, and Polkadot's native BEP20 token is called DOT, with a market cap of about 27.5 billion dollars and a 24-hour trading volume in the realm of 1.3 billion dollars.
DOT has a circulating supply of 987 million and a total supply of 1.1 billion. DOT has three distinct purposes really governance over the network, staking, and bonding.
The behaviour of DOT's price when looking back on the last year here really has two big parts. Before the parachains and after the parachains. Because it's a milestone that gives the real potential or at least highlights the real potential of this particular blockchain.
The Polkadot ecosystem just started with the launch of its parachains, where you have Moonbeam, Acala, and Astar guaranteed an auction slot with more than 78 million DOT.
According to Enjin, the initial draft of the paratoken standard for Polkadot has been committed. This is the ultimate standard, by the way, for cross-chain NFTs.
Polygon (MATIC)
Next up on our list is Polygon ticker MATIC. MATIC is the native token of Polygon, which is an Ethereum compatible blockchain network, where devs that's developers can build, and link protocol and architecture integrating scalable Ethereum solutions to support a multi-chain Ethereum environment.
Therefore at least, in theory, Polygon combines the best of Ethereum and sovereign blockchains into a full-fledged multi-chain system, and also Polygon solves pain points associated with blockchains like high gas fees and slow speeds without importantly without sacrificing on security.
Polygon really is one of the best Layer 2 alternatives to Ethereum's scalability and high-cost fees, and that's why the price of MATIC really exploded back in April 2021. That's because the blockchain started to have massive adoption, which is expressed in a boost in the number of MATIC wallet addresses that are used, and correspondingly also the price, as you can see taking a look at the last year.
This multi-chain system is kind of akin to other ones such as Polkadot, Cosmos, Avalanche, and others. But, with at least a few major upsides, first of all, each compatibility, scalability, security, and sovereignty.
Polygon has crossed 15,000 transactions, and $30,000,000 in volume.
Enjinstarter (EJS)
Lastly, on our list for today, we have a smaller project, one that may surprise you, but one that we're fiercely proud of Enjinstarter ticker EJS that's the native token. This is all about the world's first dedicated blockchain gaming launchpad focusing on helping game development studios.
Enjinstarters native ERC20 token is called EJS, which nowadays has a 24-hour trading volume of about a million US dollars with a total supply of 4.9 billion tokens.
Token distribution is planned with the long-term evolution of communities and ecosystems in mind. This will allow users to operate more efficiently as a platform and to attract and stimulate the development of long-term quality projects and infrastructure.
Since March of this year, the performance of this coin has always been stable really even over the long term. Why? Because it's a robust platform that supports gaming and Metaverse projects with huge potential every week, and if you guys are at all believers in this space. This is a project that is specifically working to improve it.
Enjinstarter has its own blockchain called Jumpnet, which has no gas fees, carbon-negative NFTs, and smart contract support. In this blockchain, Enjinstarter has developed a launchpad, campaign management, marketplace, and token management.
According to crypto rank, Enjinstarter supported projects built in the Ethereum, Polygon, and BSC that's Binance Smart Chain blockchains. Offer a current ROI of 6.14 times with an all-time ROI of 16.15 times.
They've already raised more than 900,000 US dollars and a 24-hour trading volume of 6 million US dollars with a market cap of about 47.5 million US dollars.
Enjoy this post?

Buy saleswallet a coffee