This a series of posts about paddling the whole Kokemäenjoki ("Kokemäki River") and out to Reposaari island at the Bothnia Sea with my friend A-J. It was 130 kilometer journey and took six amazing days of adventuring.
---
Canoeing the Kokemäki River - part 3/6
The Day of the Beaver
15th of August | 2022
The night at the shelter provided a good rest despite of the hard wooden floor. However, when getting up from the sleeping bag the body felt immediately quite beaten. We had no water to spare for porridge or anything, so after a minimal dry snack breakfast we packed and headed into the canoe and back to the river. Our first leg of the day was really close, a farm accommondation only one kilometer away where headed in a hope to refill our water supplies.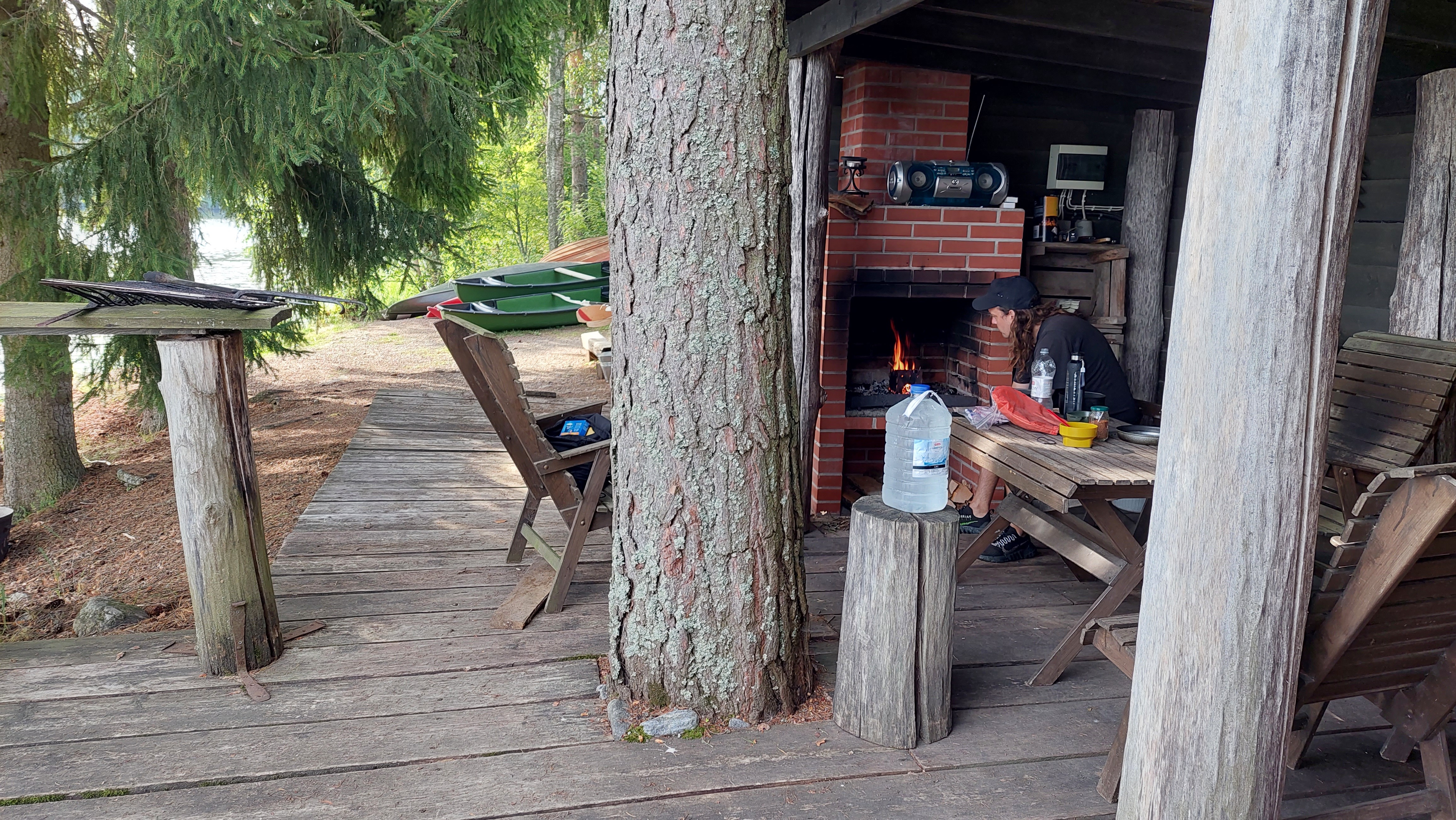 People at the Ali-Ketola Farm were more than helpful. Thank you so much! We were provided a place to refill our water canisters with no charge, and on top of that we were allowed to cook breakfast at their outdoors fireplace terrace by the shore. It was such a luxory to eat porridge and sip coffee on nice benches in a cool shade.
From there on our canoe flowed nice and easily for a good while, until after some 5 kilometers of paddling the Kolsi hydroelectric power plant forced us on the dry land again.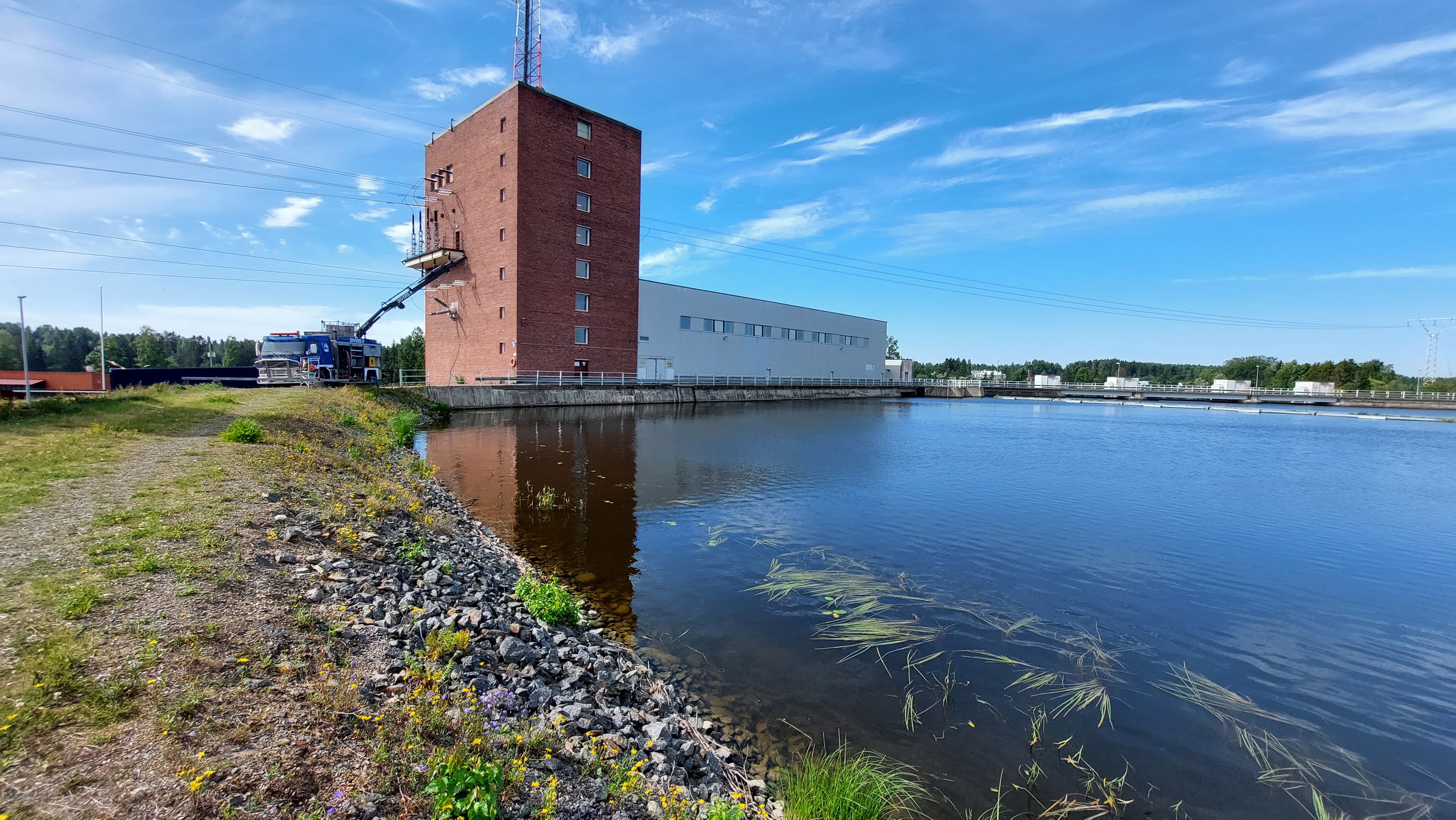 To get past the Kolsi power plant wasn't made easy. A rather steep and rocky ridge encircled the power plant basin, and distance to the place where we could get on the river again was couple of hundred meters further away from the power plant.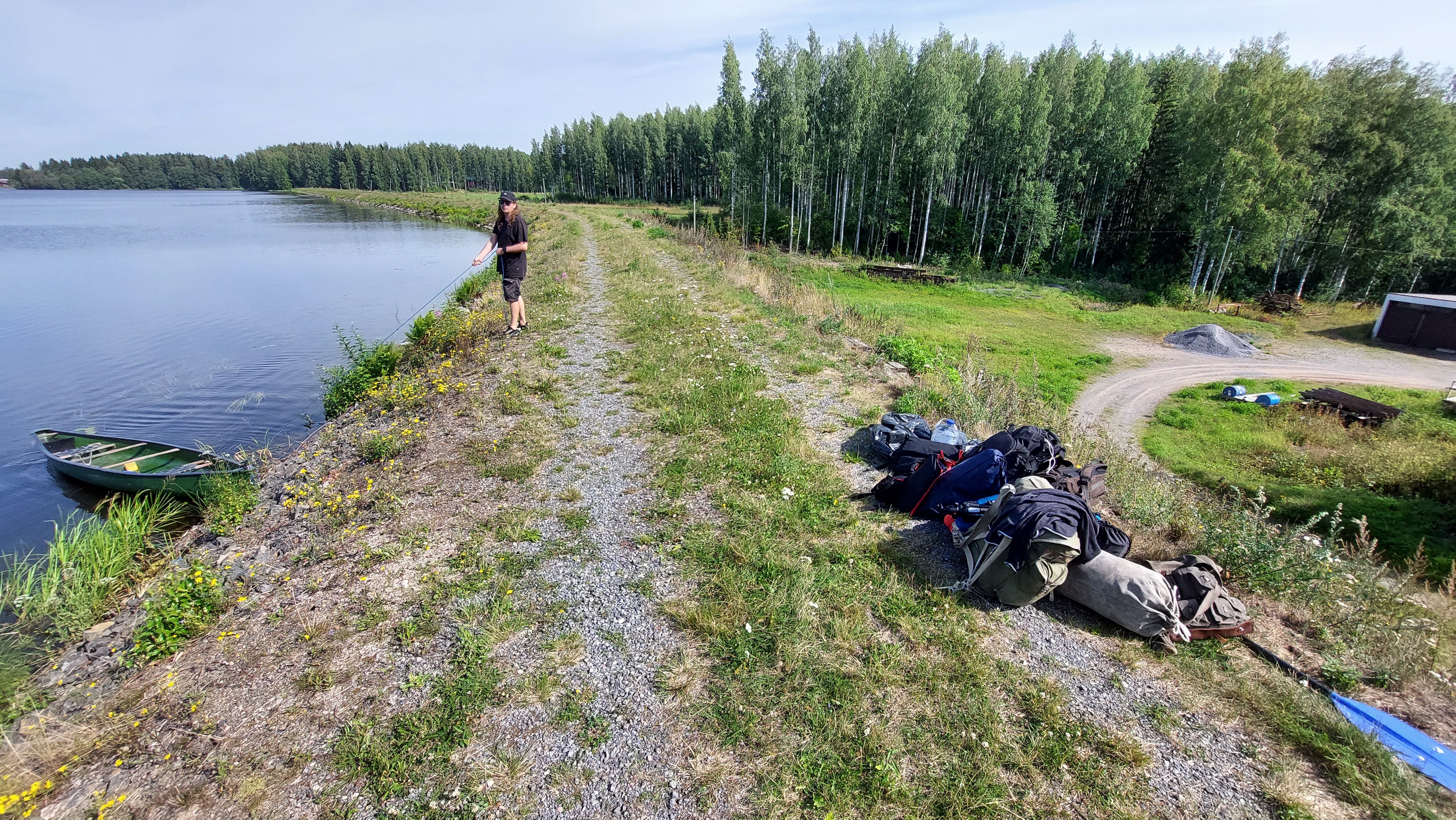 After some scouting the area by foot and talking to the personnel the plan became clear. We would first need to empty the canoe, and then pull it up on top of the ridge. Then slide the canoe down the other side of the ridge...

And then roll it along the gravel roads for couple of hundred meters..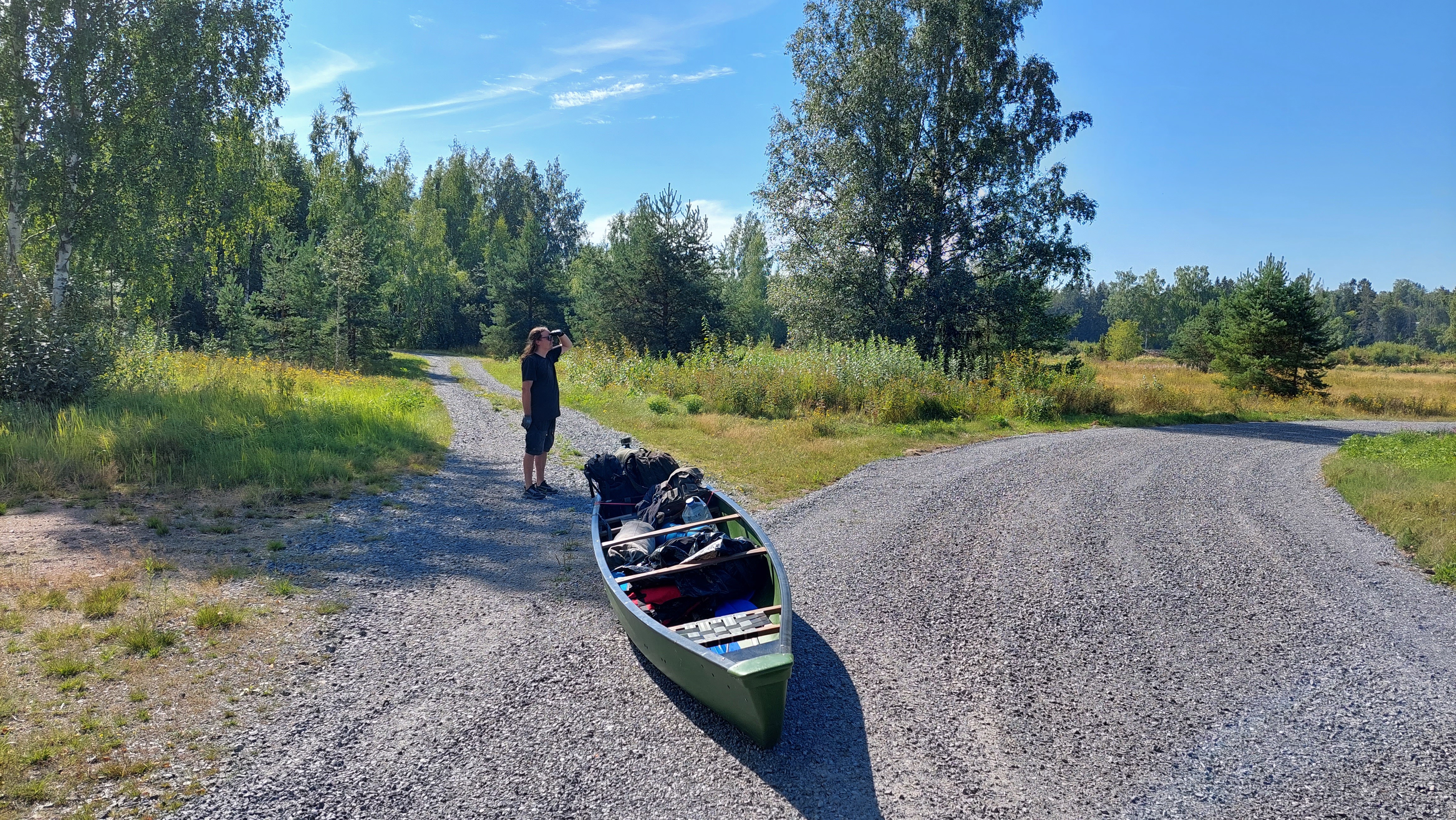 And finally, we got past the Kolsi power plant on dry land. From here on the river opened up quite wide about to carry us to the small own of Kokemäki ahead. However, we didn't hurry to get paddling again. It was really hot day once again and wrestling with the canoe up and down the ridges and roads hadn't been all too easy. Here at the shady shore it was a good time to have some snacks and drink water.
We reached the town of Kokemäki after about one hour of paddling. It was only 4 kilometers away, but we still needed a proper break and thought of taking that at the town swimming beach.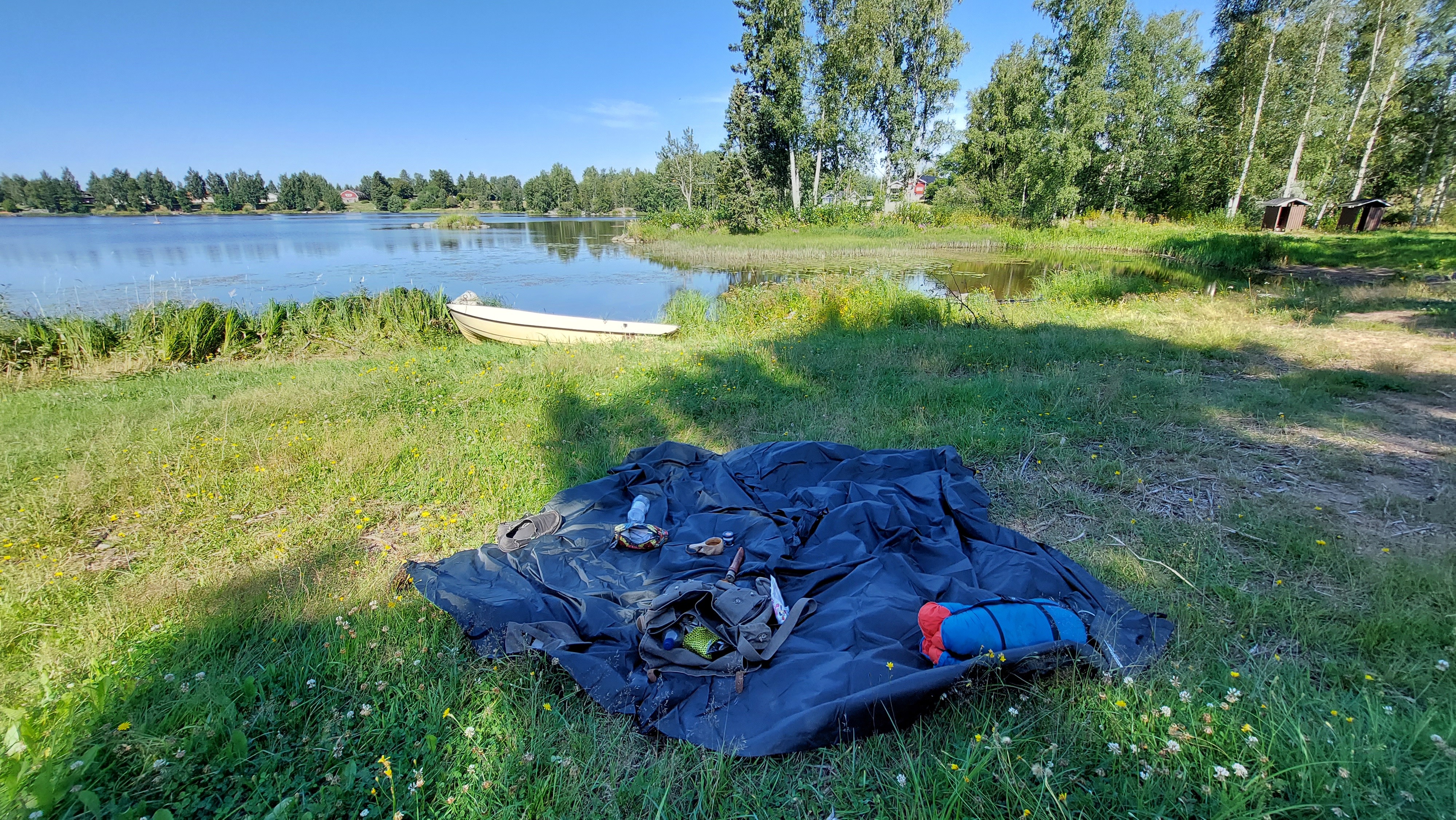 The day had become very hot, and we surely hadn't properly recovered from the yesterday's efforts and slight dehydration, so we decided to continue paddling today only after several hours of rest. So we set up a picnic and resting camp at the Kokemäki swimming beach. A-J walked to get us pizzas from a town pizzeria, and I laid my tarp (shelter canvas) at the shadowy spot at the beach. I had brought it for rainy days, but now it served as a picnic blanket where we ate pizza and rested.
At some point a local family came to talk with us, and it was a nice encounter. People are understandably keen to talk with adventuring paddlers, and I guess we weren't the most usual type of visitors at the beach.

We were both really tired, the blazing sun had drained our energy fast today, and for sure weren't aiming for excessive distances today. At around 6 p.m. we thought the hottest hours are over, enough strength is regained, and we can make it our next planned overnight location which should be some 8 kilometers, and a few hours away.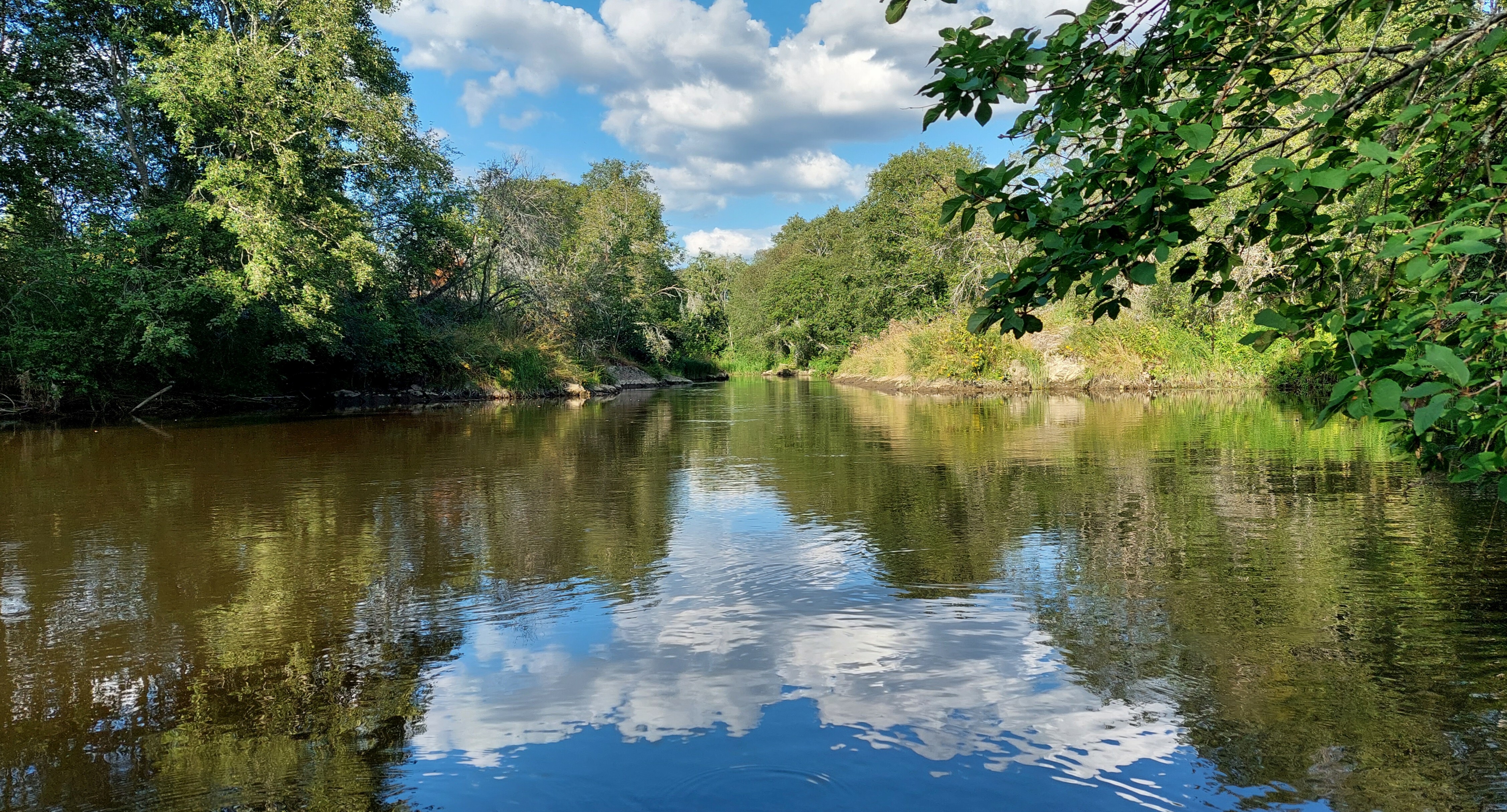 Once again we found an opportunity to follow a small side branch of the river, and we took it. It was really beautiful, almost dreamlike scenery, with ancient monuments and settlements marked at the maps of the area. Again, we started spot marks of the beavers. Gnawed trees, den holes at the riverbank, and as we were silently flowing ahead carried by the current suddenly there was a beaver swimming across the river right in front of the canoe.

Wow! We were so thrilled and happy about the encounter.
We kept enjoying paddling through the beautiful, timeless environment for a few kilometers more before reaching the main branch again. Now the river had gotten quite wide, and the paddling felt far more strenuous.
We had paddled some 8 kilometers from the town of Kokemäki and the sun was slowly setting. Our intended place to spend the night was a certain abandoned summer camp with public campsite nearby We didn't have exact coordinates there, so it took some time to find it, requiring some scouting by foot in the woods.
It was a lovely sunset when we finally decided to get on shore at a pier of something that looked like a quiet summer camp.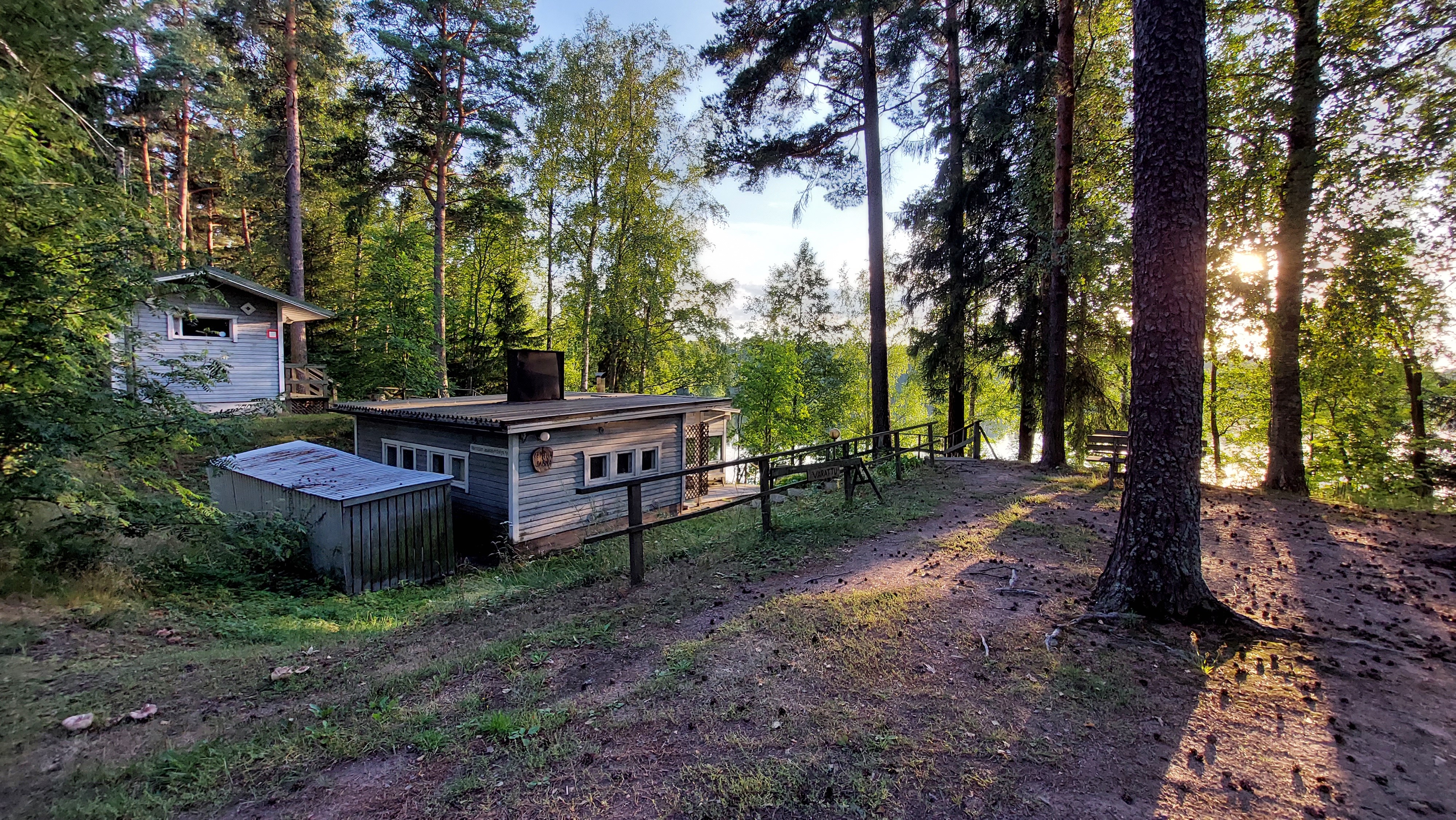 We wandered around the area quite a bit, making sure not to be tresspassing illegally or trying to camp on someone's private property. One of the building was evidently a sauna, and we found out that it's a sauna you could rent from a village association. We called their number but no-one answered. The sun was setting, there really was no proper public campsite to be found, and we had to make a decision where to set our camp and hammocks. And we wanted to them so, that we won't be bothered at the night by security guards, visitors or anybody.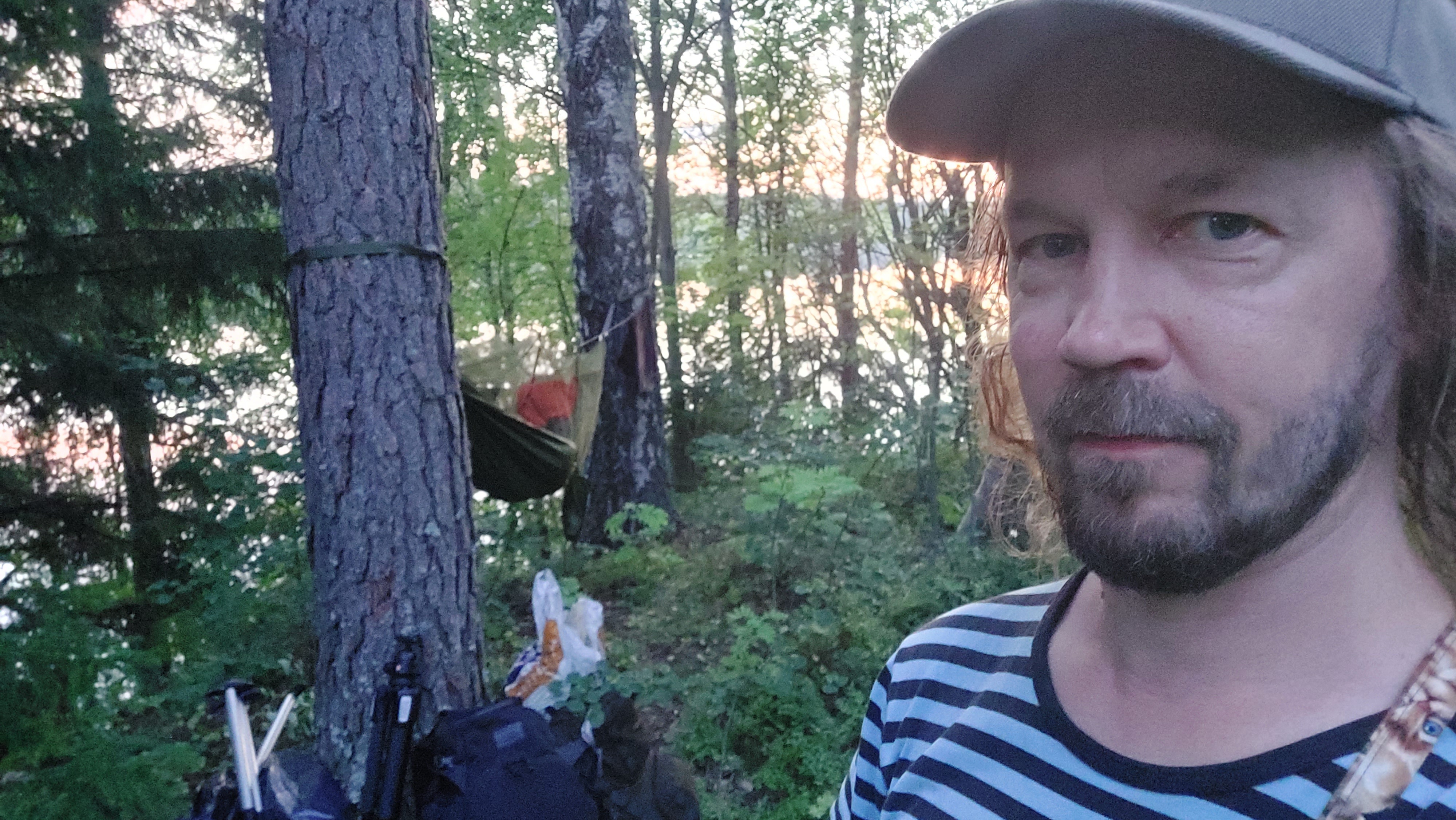 So our decision was to go into the woods far enough from the summer camp area, but close enough so that the burden of carrying our backpacks isn't all too much. The spot was lovely, with a sunset scenery.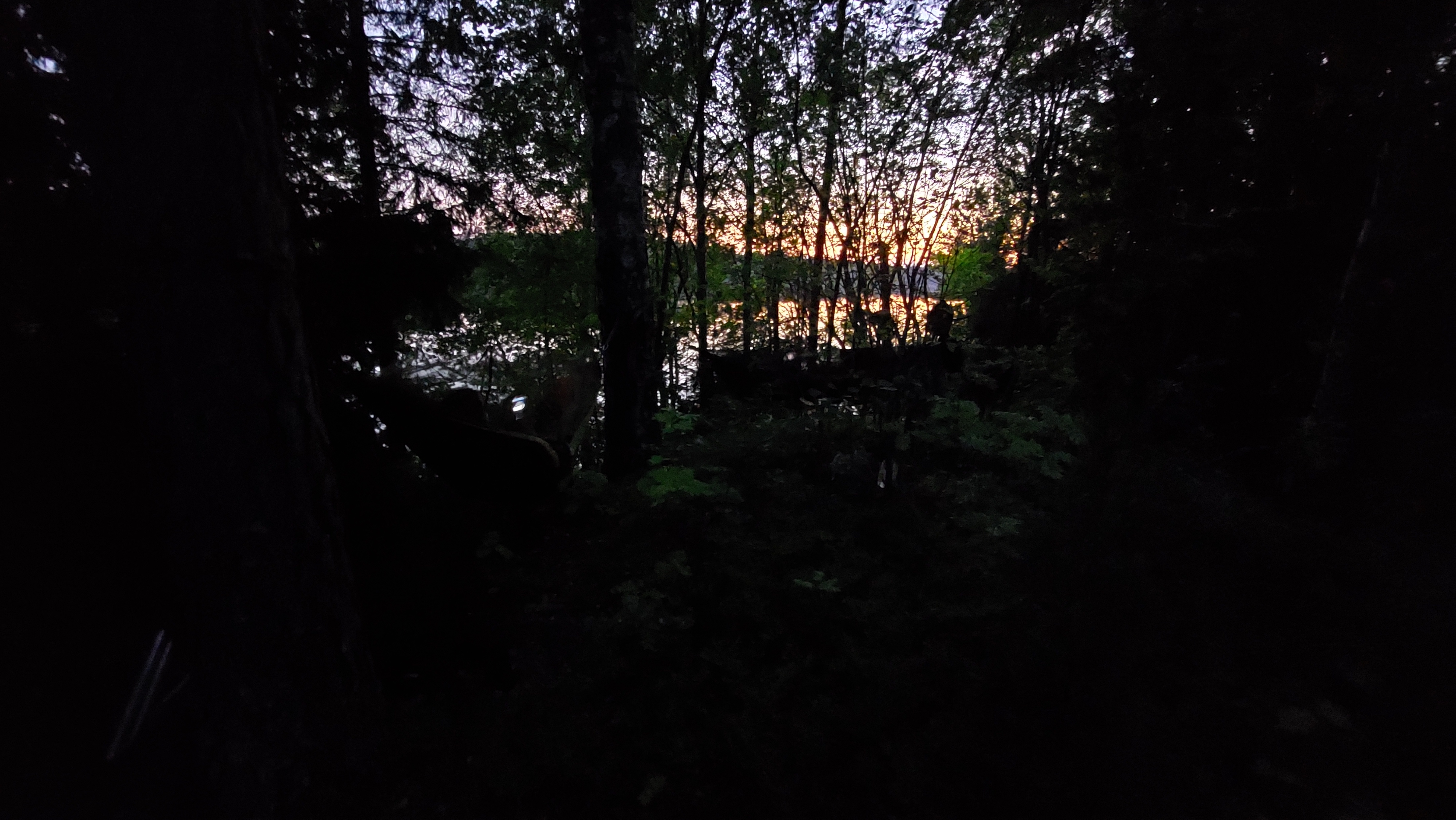 Good night then. It was already quite dark when the camp was all set up. The evening snack was minimal, but at least we had enough water for today and tomorrow morning.
This was the third day. Stay tuned for the next post.
---
Now should you feel like buying a coffee for a weary paddler one of the upsides is that every supporter gets e-mail notifications when future posts are up.