Hello everyone!
Welcome to Motivation Monday, which is where we draw a card from The Dove Deck by Lauralyn Kearney as well as draw a tarot cards for advice, guidance, or a more in-depth message. Today we are using Crystal Unicorn Tarot by Pamela Chen.
Let's get into the reading!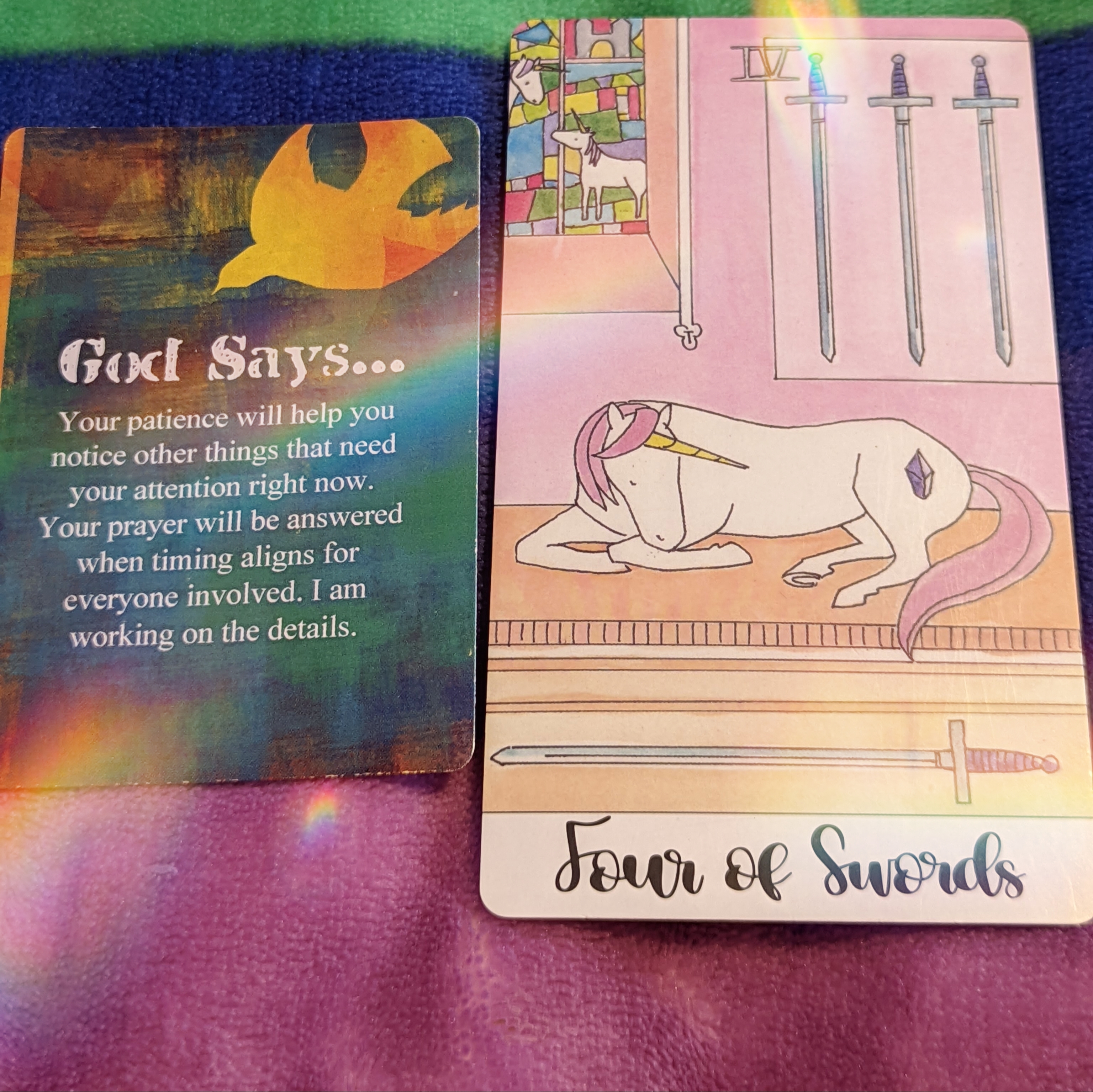 Today, we drew one of the patience cards from the Dove Deck. This card tells us other things need our attention right now and your prayers will be answered in Divine timing. There is a reason for this delay and it's because something else requires your focus right now.
In the tarot, we drew Four of Swords. You could need to focus more on getting proper rest and taking care of yourself or your health. I feel like there is one more loose end that needs to be tied up before your prayer is answered. The four of swords can also indicate you need to focus on your mental health as well, and not just your physical health.
Honor your body and mind. What is it currently telling you? How can you honor that? I know right now, I need to focus on taking things easy right now because of my work schedule. I need to strike a balance between work and play as well as eating terrible and watching what I eat and moving around and resting.
So this motivation Monday, take it easy on yourself and don't worry about your prayer not being answered right now. God knows what They're doing! Tie up any loose ends and get some rest!
If this reading resonated, could you please share with friends and family who need this boost? If this reading resonated, please consider tipping me at my Venmo (https://venmo.com/sammybrite) or my PayPal (https://PayPal me/tarotbytate) or click below 👇 and buy me a slice of 🍕. Tips are always appreciated, but never expected!
Sending so much love and gratitude towards your way! 💕🙏 Happy Monday!