When I ordered the Enduro Engineering Open Ended Debris Deflectors over two years ago, I immediately asked myself "What is a Debris Deflector?". I always thought they were called open ended handguards, or open ended bark busters. As it turns out, there are a lot of names for those dirt bike handguards that attach to our handlebars to protect our hands and controls.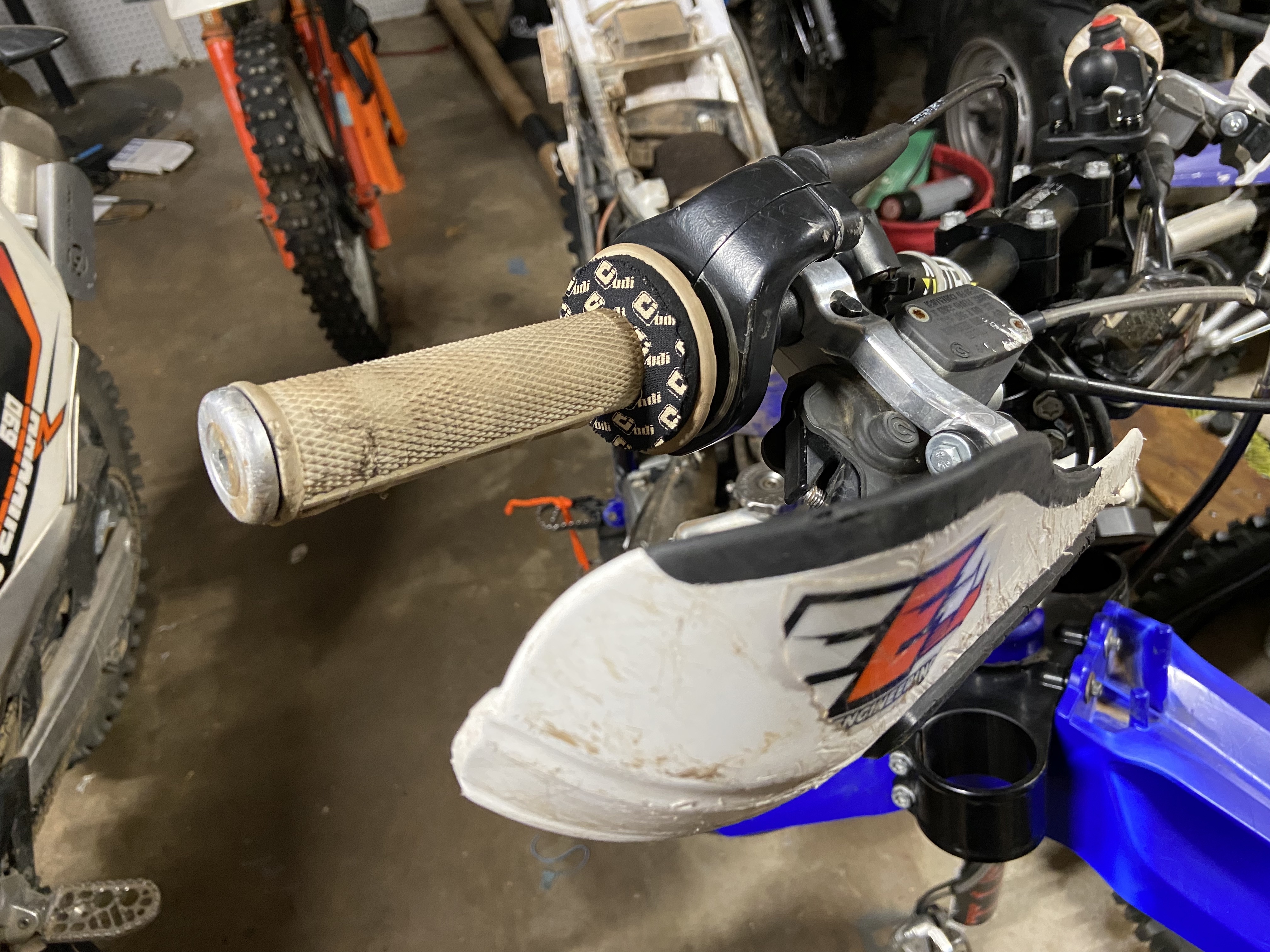 If you're new to dirt biking, you may have bought a bike that came with plastic roost guards right off the showroom floor. You probably also quickly learned that those are crap. Besides those stock handguards, there is a vast array of dirt bike handguard options.
Motocross Handguards
The simplest dirt bike handguard is strangely called a "flag". It most likely attaches with a plastic arm, and has the straightforward job of keeping roost away from your hands. A few lay overs or incidents with a tree, and you'll realize why these are typically reserved for motocross.
Every brand that makes an offroad handguard looks to offer some form of motocross roost deflector. I haven't run any of these, as they are useless to me as an enduro racer. If you're wanting to give some a try though, Acerbis, Cycra, Enduro Engineering, and SXS are all brands I would try out.
Offroad Handguards
Full Wrap Around Handguards
"Bark Busters", or full wrap around handguards, are a product of the seventies and motorcyclists starting to venture off the track and into the woods. The Bark Buster shape has evolved with modern day dirt bike handlebars, and the fear of broken wrists. Some manufacturers stick to a traditional shape, while others choose to mitigate the "broken wrist" factor by incorporating unique shapes.
The traditionally shaped bark buster is still alive and well. The problem with the way it attaches is lever placement and freedom of cable movement. This has been addressed by having bar mounts that scoop below the handlebar to allow movement and more personalized level placement. Due to handlebar technology evolving toward a tapered bar, you'll need to make sure the handguard clamp on the model you buy will work with your bars taper.
Some crazy's on the Internet talk a lot about wrist and forearm breaks due to running full wrap around barkbusters. To combat this, some manufacturers have reshaped bark busters to try and keep the handguard from catching a rider's hand or arm during a crash. I haven't run these, for no other reason than that fear hasn't pushed me to try them. I do like how Cycra has created a handguard ecosystem with their Probend Series. The system allows for multiple sized brush guards, replacement plastic, and multiple bar mounting options.
Open Ended Handguards
The open ended handguard market has evolved, which intrigued me enough to jump on the bandwagon. I chose the Enduro Engineering Open Ended Debris Deflectors because they had an option that didn't take up bar space, the composite arm bent, but didn't break easily, and the EVO2 Plastic Debris Roost Deflector takes a hell of a beating. There are other open ended handguards options, and testing them is a priority, but we'll get there when there's time.
Bar Mounting Options
If you're going to run full wrap around handguards, I suggest getting a threaded bar end mount kit for sturdier mounting. I've had the pinch bolts come out during races before, and having a metal handguard dangling around while trying to ride is not enjoyable. Fasst Company makes a Threaded Anti-Vibration Insert that looks like a cool setup. It adds a threaded mounting spot, but also helps with vibration. I haven't tried it, but I will if I go back to full wrap around handguards.
Which Handguard Setup Do You Run?
Which dirt bike handguards do your ride with and why? Have any handguards failed you in the past for certain reasons? If you're running full wrap around handguards, why haven't you tried open ended handguards? What's your favorite color?