Agnidal 5, 17.7.21
Agnidal 5, 17.7.21
https://sharmishthabasu.gumroad.com/l/RmXtw
https://www.amazon.in/dp/B0989XD3ZR/
Creative group
Agnidal is the annual issue of Agnishatdal, the illustrated copy contains photos, artworks and the Kindle issue contains only texts- stories, poems, essays and interviews of the Agnidal family.
Agnishatdal is an English monthly Ezine blessed with selfless affection of its creative group, these selfless authors, artists have shared their wonderful creation for free and no matter how much I try to thank them for this gift, it will be nothing! Here they are (No order please, just the names as they appeared in mind) :
Brieuc Martin Onraet https://equinoxio21.wordpress.com
Dominic Collucci: http://zen-inspirations.blogspot.com/
Raghunathan Kuppuswamy https://ksriranga.wordpress.com
Troy David Loy http://troythulu.net
Pat Ritter http://www.patritter.com.au
Manju Balkrishna: https://beyondcbse.wordpress.com
Scott Hastie https://scotthastie.com
Labanya
Citizen Null
Saptarchi
Bitter Pill
and
Sharmishtha Basu
https://agnijaat.wordpress.com
https://agnishatdal.wordpress.com
https://agnishatdalezine.wordpress.com
https://agnijashatadalama.wordpress.com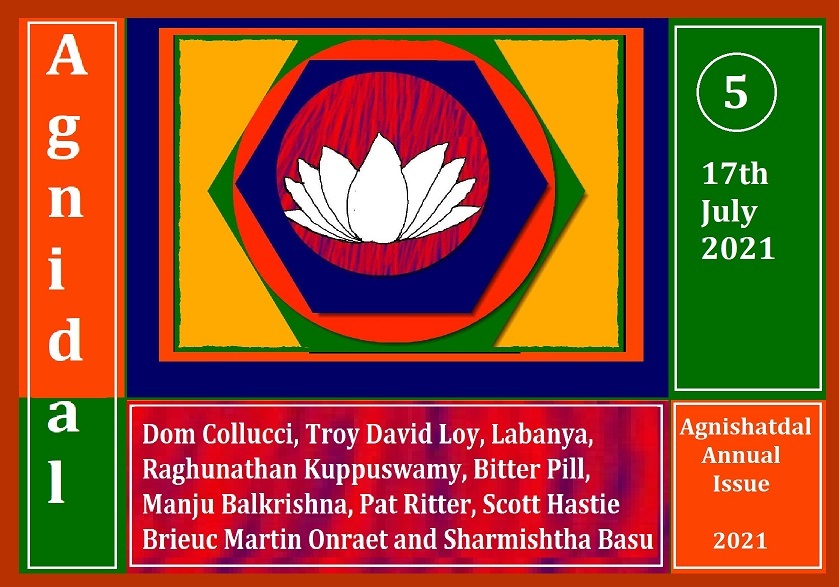 Enjoy this post?

Buy sharmishthabasu a coffee