Agnidal 5, 17.7.21 critique by Labanya
Agnidal 5, 17.7.21
( https://shoptly.com/sharmishthabasu )
https://gumroad.com/sharmishthabasu
Critique by Labanya
Agnidal 5, 17.7.21 critique by Labanya
https://sharmishthabasu.gumroad.com/l/RmXtw
https://www.amazon.in/dp/B0989XD3ZR/

Agnidal 5, the fifth annual edition of Agnishatdal contains the works and interviews of its authors. The Kindle issue is without illustration, the Gumroad and Shoptly issue is with illustration. So I will just do one critique for both and add my remarks about the illustrations at the end.
Thanks a lot Sharmishtha for adding my poem "atit-past" in the books.
Stallions by Manju Balkrishna- A piece of art! What a beauty!
The kindle copy contains poetry instead of painting by Manju Balkrishna.
Forgiveness by Manju Balkrishna- A sad, beautifully written piece!
End of Hunt by Troy David Loy- It was the concluding piece of one of Mr. Loy's writings about Agni Bose, I have already critiqued this one.
The interview with the author was great to read. It is always delightful to know more and more about authors who are writing the stories for us.
Joys and sorrows of a teenage life by Raghunathan Kuppuswamy- Have not read this one before. Mr. Kuppuswamy is a fantastic storyteller and his choice of stories is equally great. I always keep forward to reading more of his works. This one is about the woes and joys of a boy snatched away from his friends during vacation.
The interview was great! A look into Mr. Kuppuswamy's world was fun.
Come back soon by Dom Collucci- Wise truth for those who believe in reincarnation, I am neither believer nor disbeliever.
Mr. Collucci's interview was really great, a deep insight into a very amazing author's life.
Berlin by Brieuc Martin Onraet- Fantastic piece of writing! Mr. Onraet is such an amazing storyteller!
It was followed by an interview. A glimpse in Mr. Onraet's world was fun.
Dream angel by Pat Ritter- It is entire first chapter of Dream angel at one place. A very well written story about Mr. Ritter's Childhood I presume. He without doubt is a very good storyteller!

It is followed by an interview of Mr. Ritter, where he opens his heart wide. It was a great read too.
Ye reap… by Saptarchi- Hypocrisy and bigotry may seal the doom of Indians once again if they don't immediately mend their ways.
We are safe by Bitter Pill- Ah! The wicked king and his blind subjects!
Iridescent vignette by Scott Hastie- what a priceless beauty!
It was followed by a nice, long interview with the author. I enjoyed that detailed interview as much I enjoyed the fantastic poem.
The rogue by Sharmishtha Basu- I loved this story very much.
It is followed by an interview taken by Hemdiva Dev [https://momsprincesspari.wordpress.com], it is always nice to know a little bit about authors I say!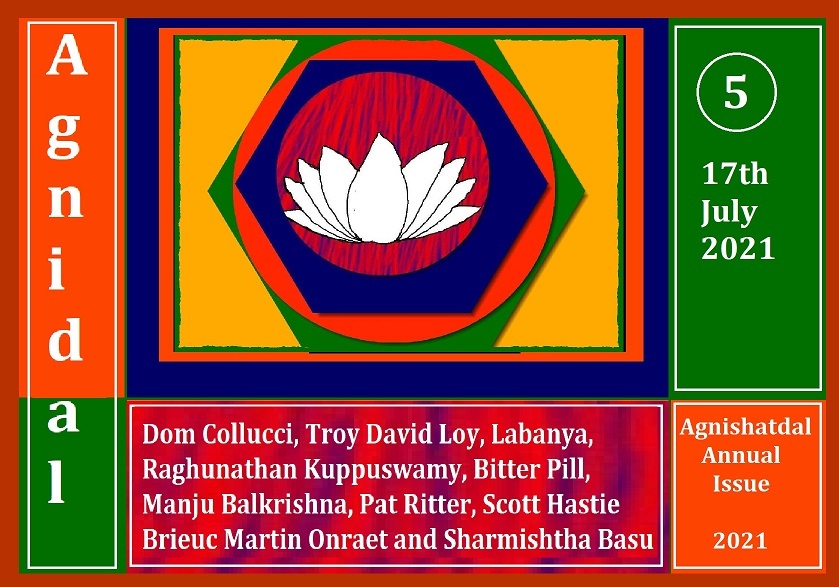 Enjoy this post?

Buy sharmishthabasu a coffee