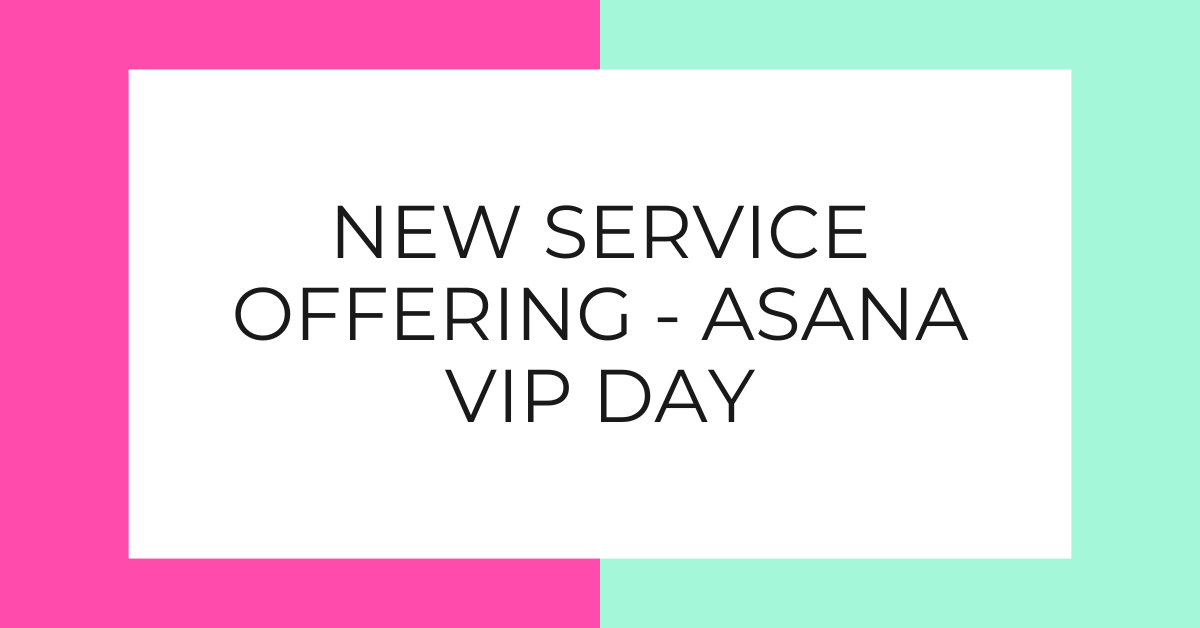 With Black Friday & Cyber Monday approaching, I spontanously decided that I'm going to use both holidays to start fresh with consulting. With that comes deleting my current consulting website, building another one, and launching a new service offering.
Introducing Asana VIP Days!
This is a VIP intensive experience for freelancers, small business, companies + organization so you can get your Asana workspace set up in one day.
What are the options for what we can get done in 8 hours?
Perform an Asana audit

Set up your Asana workspace

Outlining & setting up rules/workflows in Asana

Asana onboarding & training session

Create a SOP repository

Draft SOPs

Create an operations manual
If there's anything in particular you wish to work on that's not included in this list, let me know!
Why should you be using Asana to manage your work & projects?
Asana cuts the time it takes to complete a project by about 20-50%, with some organizations achieving savings as high as 60% when transitioning from a purely manual environment.

The time savings above can increase project load by 15-25% without additional staff.

Asana incorporates communication functionality that allows managers & employees to track and communicate in real time about the status of projects and tasks.

& in turn, cuts down the number of meetings an organization would typically have without Asana. Individuals who use Asana's communication functionality can reduce the time spent in meetings by as much as 50%, cause let's be honest - that meeting could have been an email & that email could have been a quick chat in Asana.
As a result, you will have:
more free time to do actual work than coordinating work about work

more free time to do strategic planning for your business, which is the key to growing & scaling
Here are 2 ways you can get first dibs on introductory pricing & secure additional bonus offers.
Join my Asana VIP Day waitlist

You'll receive emails these next couple of weeks (starting 9/28) to learn more about the Asana VIP Day process and read my blog posts discussing project & work management, reviewing Asana's Anatomy of Work Index Report, productivity tips, and more.
Become a Buy Me A Coffee supporter

Supporters will also be notified when my calendar is open to book a VIP Day and will have the opportunity to secure additional bonus offers. Info about my Asana VIP Day process and blog posts discussing the topics above will be published here
Lastly, introductory pricing will be $2300
This price will be available from November until the end of March, with exceptions on holiday & birthday OOO that are already blocked off in my calendar so I will not be available on certain days. After March, the price is going up and I will be reducing the number of days I have available for a VIP Day, so don't say I didn't let yall know in advance.
If you have any questions, message me here or send an email - [email protected]