Happy Sunday Ya'll!!!
This week has been something.... we've bounced from account 11 to 12 had to switch the names around, made one private, opened one to public and it's already being mass reported. .9 is still around but it's banned from posting until who knows when. We've managed to piss off the entirety of Tiktok it seems and are now being forced to lay low until the smoke clears. We're most active on insta right now at https://www.instagram.com/shipwreck1877/ where I am also easier to catch via DM. I know it's not been ideal but we're doing the best we can with what we have right now.
Speaking of, here is the line up for the show this week!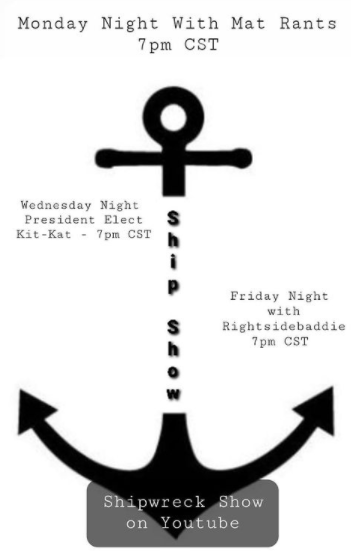 We've been lighting UP Youtube specifically with Friday nights with Baddie (who also isn't on Tiktok anymore right now) and we keep going. We also have some new merch on it's way to the table and a total of THREE giveaways this month for members and supporters. Our telegram is also growing and FULL of success stories from everyday people reaching out to their local representatives and headed to their first meetings, running for their first position ect. The admins and myself are working on different group trainings for people whether that's understanding civics as a whole, starting email campaigns or where to start in regards to making real change in their community and county.
Over all it's another jam packed 7 days and I can't wait to take it on. Have a fantastic week ladies and gentleman and as always, thank you. Thank you for being here, thank you for all you do and thank you for being you.
LYF
Ship