You know that feeling when a new framework (or framework version) is released and you feel like creating something. Something beyond a hello world application? The release of Ionic Vue gave birth to TechConf-db.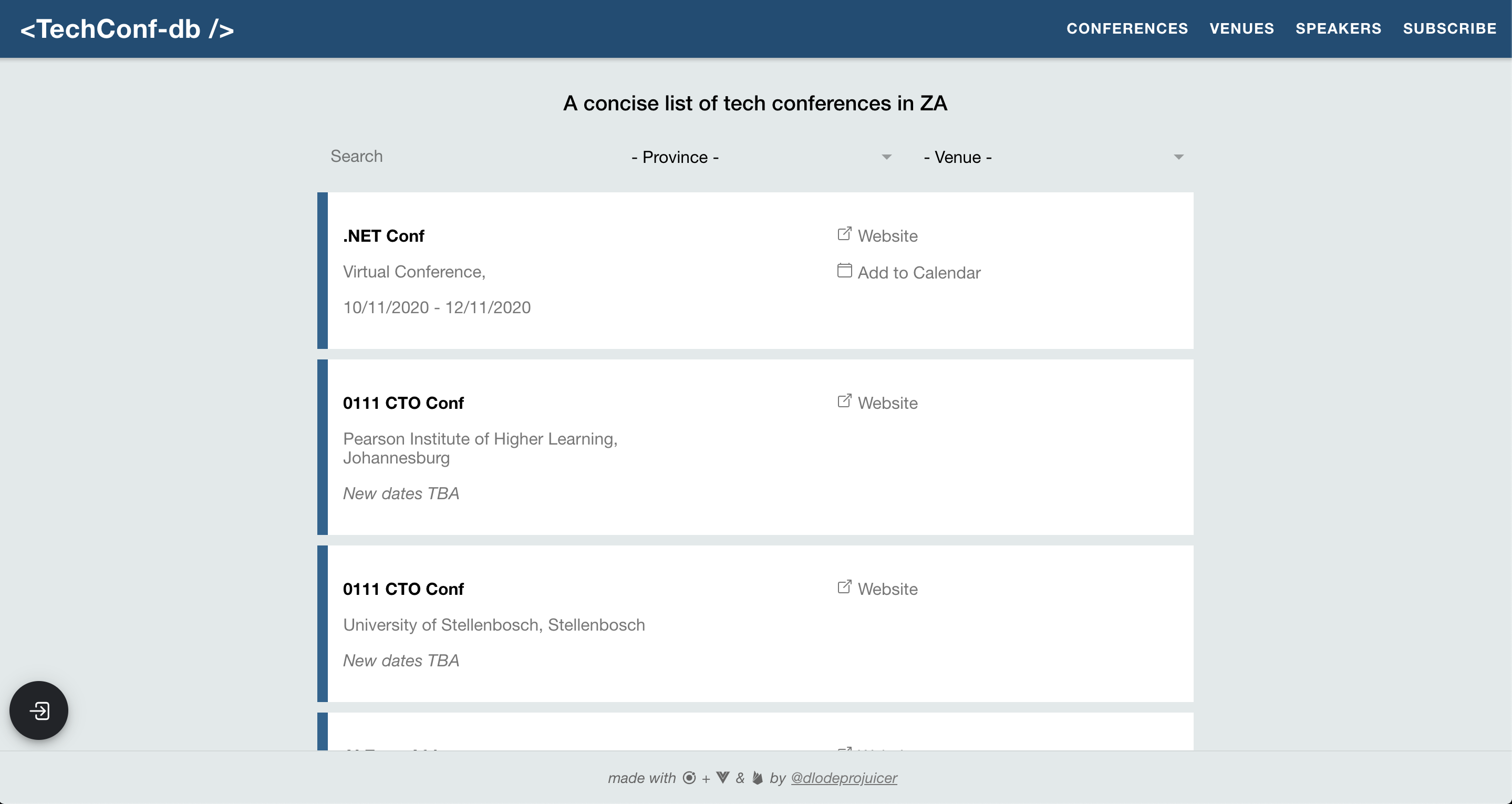 On ZATech slack's, conferences channel there was talk of building something to list all conferences but almost a year later it had not been done. Well there are lists here and there, but I thought let me give it a shot.
Here is a snapshot of the rollercoaster while I was building TechConf-db
Simple one page project. Setup project. Frontend bootstrapped and ready.

Conference list looking good.
Get feedback (Sharrats to Ben Blaine and Tami Maiwashe)... Feedback opened a whole new world - so much can be done. Man, I am feeling overwhelmed. But the goal was to build a simple, one page list of conferences.
Frontend login security can be such a pain... Login put on pause. Ndidikiwe maarn.
Conference list done. Goal reached. I am enjoying this. Let's see what else I can add... Ah yes, venues...
Venue list looking good... (1) finding venue info is such admin. (2) I am having fun with this venue layout [focus, keep it simple].
Time to add speakers list.
Mobile-first, mobile-first, mobile-first. Wow CSS media queries are [insert all the curse words] not fun! (1 week of CSS media query struggles)
Anyway, whats next? Newsletter subscription feature. Mailchimp. Easy. Done.
Add to Calendar? Yes, let's do it. Hashtag l still have nightmares from the last time I did (more like tried) this for a work project some years back.
Can't find a "vue friendly" way of doing this... Think. Move on to something else. More CSS.
Okay, there is some light at the end of this rabbit hole... Add to [Google] Calendar integrated. I feel like I am the shiznit right now.
Side note: now that all the key features are done, I am thinking of adding this repo to my list of free ionic vue template repos. One time for the growth of the community, one time for your mind. Yes, Yes, Yo!

Revisit Login process... Add registration, speaker registration and do SEO.

All done!
Take away:
Ionic Vue is great. You should give it a try.

Dear Mailchimp, how about that frontend api now? In a Nodejs era using your forms is played out, bro.

Firebase is great for frontend devs with zero backend appetite and/or experience.