Bird's Eye View ~ Lyrics and Insights
Bird's Eye View ~ A New Earth Soul Song by Marie Mohler
We are in a time of Great Change. Recent transmissions have spoken to the energies of the Precipice many are feeling. We have reached a Divine Choice-point in our Human and Collective Evolution. And New Earth Soul Songs provide a kind of sound healing for those that resonate with their messages . . . for they can help to tune our Divine Instrument to the Gifts and the Light We Truly Are! Bird's Eye View is singing us through these bridge times and beyond . . . helping us to see from Clear Soul Sight the Aerial View of what is truly unfolding at this time on our world. I invite you to enjoy listening to me singing this Divine Soul Song to help you to attune to the Unity Consciousness and the Wholeness that all is merging and converging into now. And I invite you to read the lyrics below and enjoy singing this song through your own body temple, your own voice, and your own Divine Instrument. For as you do, it is my belief and personal experience that our energy fields are being Divinely Tuned and Upgraded to the New Earth Song and the New Earth Resonance with the New Living Light Codes we are truly meant to be!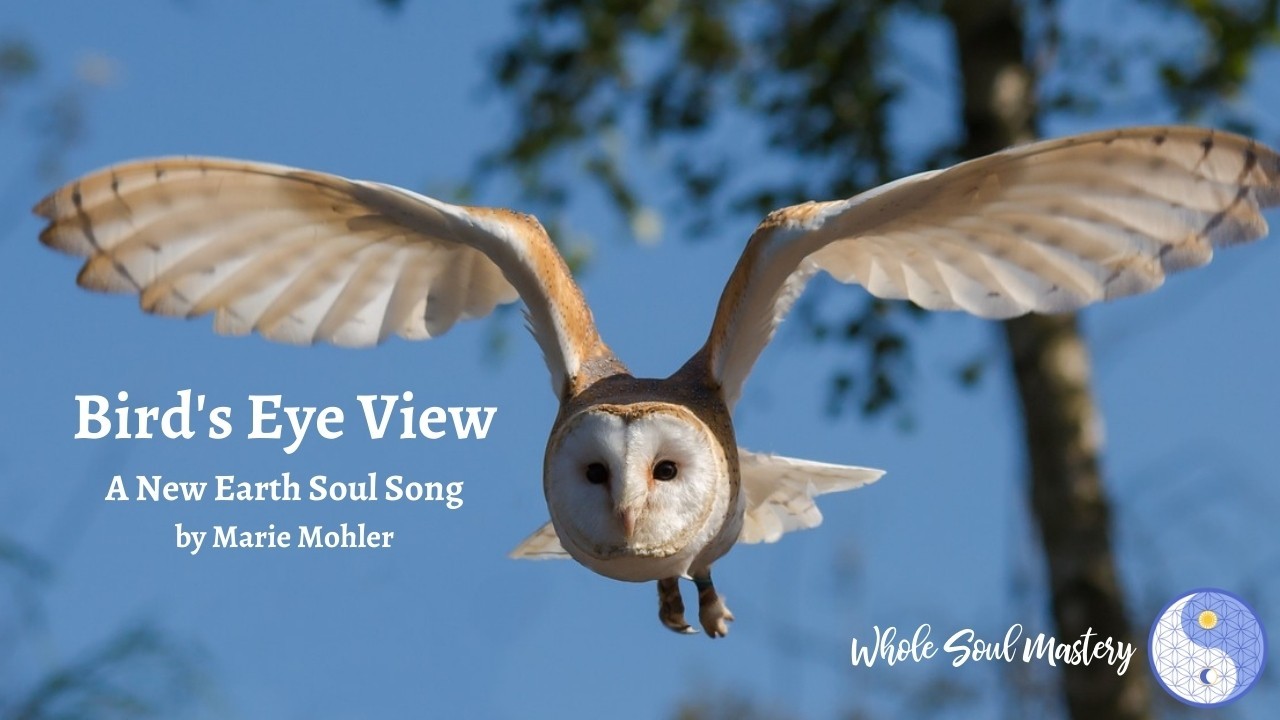 To listen to and enjoy this song, click here.
Here are the lyrics for Bird's Eye View to sing along:

Tiny boxes, Many doors and hearts closed
People hungry, Searching for more
Parents working, Kids doing time in school
Time tracking ~ tests keeping score

These are just some of the old Earth's ways
Struggling, Racing, Competing for more
Lack-filled living, Never filling
Separation Sadness the core

Yet from a Bird's Eye View
We're all passing through
Times of Dark and Light
To expand Anew

To rise up and through our boxes without light
To remember and reclaim our Higher Sight.

For from a Bird's Eye View
The Old and New
Fly beautifully into ONE

From A Bird's Eye View
The Old and New
Merge Brightly as Rays of the Sun


Box lids opening, Hearts and Souls filling
People rising, Remembering what's True
Talents shining, Children Expressing
The Bliss of Source, Re-energized anew

These are ripely some of the New Earth's Ways
Free-ing, Loving, Harmonizing too
Light-filled Living, Abundance Everywhere
Unity and Love blessing all that is Good!

So from a Bird's Eye View
An ancient clock rings
Signaling its time to shine
The wisdom soul songs sing

We have traveled these journeys, so far and sooooooo long
And simply forgotten how within All is One. All is One.

Yet this Bird's Eye View
Sees the Old and New
Fly Beautifully Now into One

From a Bird's Eye View
We know the Old and New
Harmonize Brightly as Rays of the Sun.


Tiny Boxes, Infinite Open Skies
Polar Contrasts ~ Merging as One
Every single aspect of our lives
Is now Divinely Calling us Home
These are just signs of shifting times
Unity, Peace, and Bliss for All
Life with Joy and Lives of Collective Ease
Reunion of Body, Heart, Mind, and Soul
And from this Bird's Eye View
We're all passing through
This new portal of Light
To be birthed Anew
To rise free, like birds, spreading wings and taking flight
Into newness, loving wisdom, and New Earth delight

So from this Bird's Eye View
The Old and New
Fly Heart-fully into One

From a Bird's Eye View
The Old and New
Shine clearly now as Radiant Rays of One Sun!
Copyright 2011
To check out or purchase New Earth Soul Song Books 1 and 2, visit:
Frequency Writer's Store:
https://www.frequencywriter.com/shop/
Whole Soul Mastery's Store:
https://www.wholesoulmastery.com/books
Lulu.com ~ Shine Your Light Gifts (for paperback copies)
https://www.lulu.com/spotlight/shineyourlight
Amazon.com (for paperback copies)
https://www.amazon.com/s?i=stripbooks&rh=p27%3AMarie+Mohler&s=relevancerank&text=Marie+Mohler&ref=dpbylinesrbook_1
Thank you!
Enjoy this post?

Buy Whole Soul Mastery a coffee