Vanita Lakhwala Facilitates A Peace Pebble Meditation
Vanita Lakhwala Facilitates A Beautiful Peace Pebble Meditation
In the previous Sounds of Circles Unity Roundtable ~ Episode #14, Renee Taintor, Sharon Ramesbottom, Vanita Lakhwala, Flower Diamond, Suzette Foster, Mary Lozano, and Marie Mohler talked about the Precipice of Change we are all experiencing individually and collectively and the Power of our Perception in these times. At the end of that podcast, Vanita Lakhwala offered and led a beautiful 10-minute "Peace Pebble Meditation." In this beautiful meditation, she invites us into our Peace Center Within, and to envision ourselves as a Peace Pebble . . . intending Peace, Love, Harmony, and Balance in the world today. We envision every being everywhere to be happy and free. Please join us! And please share this podcast with friends and family on your social media networks.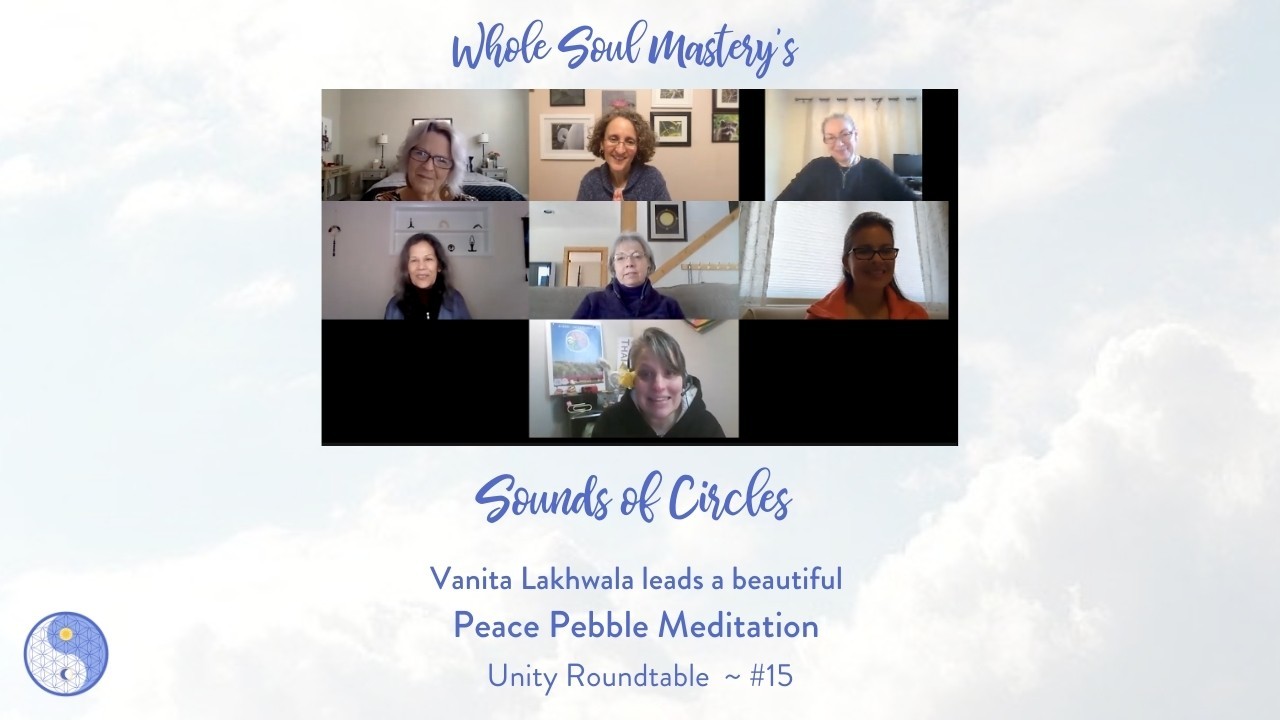 To listen to this beautiful 10-minute Peace Pebble Meditation, click here.
Thank you for joining us and embodying your Peace Center Within to envision a better world for us all, where all beings everywhere are happy and free!
For more information about our unique products, inspirations, and Marie's Soul Reading and Vibration Coaching services, visit:

https://www.wholesoulmastery.com
email: [email protected]
For additional information about Marie's channelings, blog, and videos,
please visit:

https://www.frequencywriter.com
email: [email protected]
For more information about Whole Soul School and Foundation, and to donate, please visit: https://www.wholesoulschoolandfoundation.org
Find Whole Soul Mastery and Whole Soul School and Foundation on the following platforms: Twitter, Facebook, Instagram, Spotify, Apple iTunes, iHeartRadio, Stitcher, & Buzzsprout, Google Play Music, Gab.com, Minds.com, & Rumble.com.
If you would like to donate by check, please mail a check to:
1289 Fordham Blvd., Suite 259
Chapel Hill, NC 27516

Thanks for tuning in. Have a great day!
Enjoy this post?

Buy Whole Soul Mastery a coffee