Some Indian startups start restoring salaries after pay cuts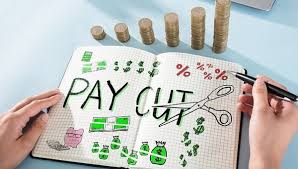 Some Indian web companies like Grofers, Zomato, UpGrad, and Ixigo have started rolling back the salary cuts made during the lockdown. Those like the Snapdeal eCommerce site, which now runs at pre-COVID-19 stages, have rolled out raises and restored bonuses.
As the economy of the country has slowly started to open up, but under a tight leash, the startups are beginning to restore the salaries that were slashed in the quarter of April-June. A number of them have provided additional employee stock options during that three-month period, instead of rising salaries during the economic crisis.
Grofers have confirmed restore salary to ET. "We had been (earlier) cautious because of the organizational instability ... That now seems to be secure, so we've restored July 1 salaries," Albinder Dhindsa, Grofers' co-founder, told ET. About 50-70 employees had been furloughed by the Gurgaon-headquartered online grocery delivery platform in April.
Zomato CEO Deepinder Goyal 's July 10 blog post said the original wages were restored, while online travel operator Ixigo restored wages from July to pre-cutback rates.
"What we saw when the lockout relaxed, and flights began to resume, there was demand bottled up initially, and more than we expected. But when it started to settle, we saw demand would not go south of a particular level ... From July, we decided to get salaries back to the February level, "said Ixigo's chief executive Aloke Bajpai.
With effect from June 1, Snapdeal has rolled out increments for its approximately 700 staff. "We have given our staff raises and reinstated bonuses. If things are going well we think we should do the right thing for the team. "Kunal Bahl, Snapdeal 's CEO, told ET. The organization did not, however, report whether or not its furloughed employees, some of whom were taken back, have benefited.
In May, Snapdeal placed about 7 percent of its full-time employees on a three-month furlough and did not renew contracts, as reported by ET, with a chunk of its approximate 800 contract workers.
However, employees at some firms that have salaries restored remain skeptical. "These kinds of drastic changes in management decisions make us cautious to join a startup," a start-up person said. There's also unhappiness about Esops, which many staff say isn't an effective reward for lost wages.
In addition, HR agencies, staff, and industry analysts raise concerns about recruiting practices, claiming that the last quarter's events have made prospective candidates suspicious of entering a startup at a later date.
For Internet companies, it is not just good news. There have been recent work cuts to Oyo, Curefit, and Bounce among others. They work in sectors that have not seen any rise in demand and do not expect a bounce back in the short term.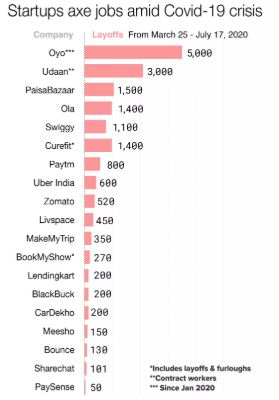 Consultants told ET that many startups have taken the drastic step of downsizing earlier than expected, unlike other industries such as IT, where hiring rates and layoffs are much more likely.
"For many startups, a slowdown is happening for the first time ... and their reaction has been more serious," said Anshuman Das, managing partner at the executive search company Longhouse Consulting.
Companies such as Oyo, Meesho, BookMyShow, Swiggy, Curefit, Ola, Uber, Livspace, and Zomato have laid off cumulatively in the last three months and furloughed thousands of workers.
Enjoy this post?

Buy Sudhanya Verma a book