💌 Quotes from BTS
You are worthy of your own love.
And you deserve to have your own back.
No matter where you are in your journey.

Quotes from BTS always make me feel comfortable
"MAYBE I MADE A MISTAKE YESTERDAY, BUT YESTERDAY'S ME IS STILL ME. TODAY, I AM WHO I AM WITH ALL OF MY FAULTS AND MY MISTAKES. TOMORROW, I MIGHT BE A TINY BIT WISER, AND THAT WILL BE ME TOO."

Quote from BTS Love Yourself UN Speech
Life is tough and it's only going to get tougher. But you can always fall back on yourself.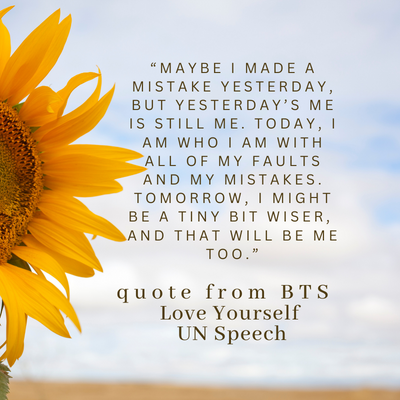 I learned a lot of things to love myself first from BTS and get back on track to achieve my dreams 💜💜💜
Thank you for reading this blog! ❤️
Share your quote for self love in the comments. 💜💜
Have a nice day ❤️❤️
Enjoy this post?

Buy The Adorable Blog a coffee