It's easy to get caught up in the idea that we need to find our dreams and goals in life according to other people's standards. And while it's important to have direction, it's also important to be able to find your own happiness and enjoy the process.
When the process, there will be many challenges. But we have the choice to stop or keep going to find the one thing we are looking for. We often think that we need to find our dream job, buy a house, or be in a relationship in order to feel satisfied according to other people's standards. However, this is not always the case.
There is value in enjoying the process and not just the end goal. Instead, we should focus on being present and finding happiness along the way. We never know what amazing things we will find along the way
We all have dreams that we want to achieve one day.
But what happens when those dreams seem to be going nowhere?
When we are not making any progress towards our goals?
It can be easy to lose sight of happiness in the process. We begin to feel that we just need to enjoy life when we finally reach our goals. There are many ways to find happiness in the process of pursuing our dreams. For example, we can enjoy small wins along the way. Or we can find joy in the act of just trying our best. No matter what happens, there will always be a reason to be happy.
So don't give up on finding happiness until you actually achieve your dreams. There is so much beauty and joy in every process, and we must not forget it. So even if it feels like our dreams haven't found their direction yet, we must remember to appreciate all the good things that lie along the way. Stay true to the process and believe in achieving that goal.
This is the beginning of having a dream, and rejoice in the process of having started. When we do something that makes us happy, we love ourselves.
But if something is not what you want, accept it and believe that something better will come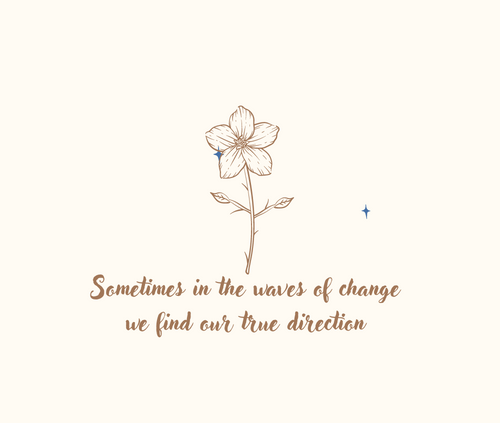 Sometimes in the waves of change we find our true direction.
Thank you for reading and visiting my blog!
Have a nice day ❤️❤️❤️