Are Hot Tub Filters Universal?
Are they? What do you think?
Want to know how to find the right hot tub filter? Stay tuned!
Hey Folks! Thank you for being here and reading this blog! Make sure you check out all the important links down below.
Did you know there are over 150 models of hot tubs out there? CRAZY! What that means is each one could have a different filter. YIKES!
The best idea after this video is to meet with someone to figure it out! Create a folder on your phone with the: model number of hot tub, brand, serial number, part numbers, and chemicals. This will make your life 10x easier! You can also have the company you bought it from finding their records for you.
Not sure what all the facts above mean? Did anyone help you purchase a hot tub? Maybe it's been a while!! HAVE NO FEAR!
Checking out the part number on the bottom of your filter, will start to help you figure it out.
Tips from The Hot Tub Lady: Using Unicel!
Use your handy dandy tape measure to find the length. Length is from the top of the filter to the bottom.

Unicel is our favorite after-market retailer, find their replacement guide!

Under filter cartridges, if you don't know put that in!

Enter the length, next

Top-end cap, enter if there is a lid or not, bottom same thing

Measure the top to match/confirm what is shown

Part numbers will come up

Go back to your dealer if you can to purchase the right filter.
Unicel has been our #1 tool to use for finding filters for our customers. Check out their website linked down below. Please let us know if you need anything!
#KeepMakingLifeEpic
Links:
Unicel Filter Guide https://bit.ly/3FMEJ5Y
Where to buy Unicel Replacement Filters https://amzn.to/39Lar4W
Get your FREE printable Salt Water Hot Tub Start-Up Cheat Sheet here https://www.thehottublady.co/hot-spring-spas-salt-water-start-up-cheat-sheets
Get your printable dosage guide here
https://www.thehottublady.co/ph-alkalinity-hot-tub-chemical-dosage-charts
Are you stuck on how to take care of your hot tub? Book a 1:1 call with Jacque The Hot Tub Lady and get a personalized plan on how to take care of your personal hot tub.
https://www.thehottublady.co/hot-tub-education-consulting
Sign up for your FREE copy of the Ultimate Hot Tub Care Guide Book
https://www.thehottublady.co/free-7-page-ultimate-hot-tub-care-guide
Youtube: https://www.youtube.com/watch?v=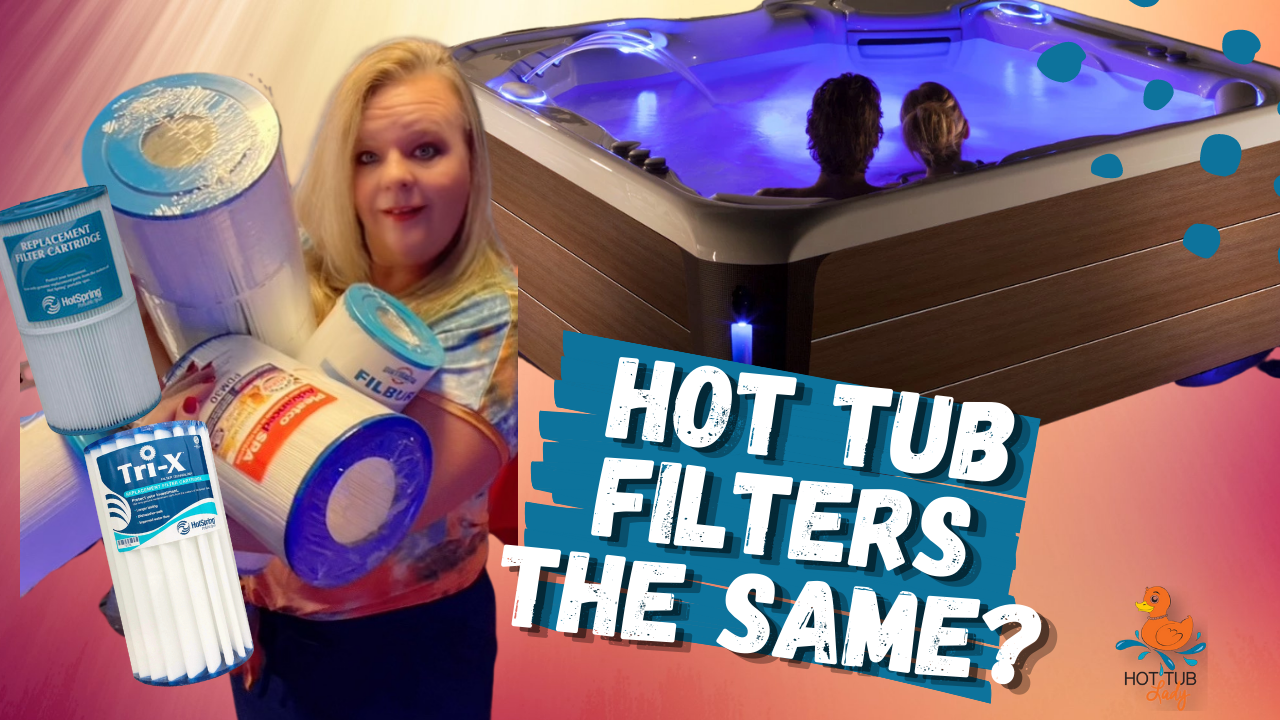 Q0IbNppw474
Enjoy this post?

Buy Jacque The Hot Tub Lady a coffee