Three Reasons To Be Thankful This Week
An amazing weekend with friends
Last weekend, we celebrated our good friend's birthday. On Saturday, a group of us went out for dinner, where there was delicious food, fantastic live singers and the best company, then on Sunday, we went to their house and celebrated some more, more food, more drinks, the live singers returned and I laughed so much. I honestly feel so grateful and honoured to have spent time with all of those people.
Scheduling posts in advance
Something I've been talking about doing for a while but going on holiday has made it more of a priority. 9 hours on a flight will also give me some time to write, although I do wonder how much of it will make sense after a few glasses of wine.
A holiday
We are taking the boys to Orlando in Florida. None of us have been before and we are all really looking forward to it. To be honest, I didn't think it was somewhere I would ever get to go so I am aware of how very lucky I am.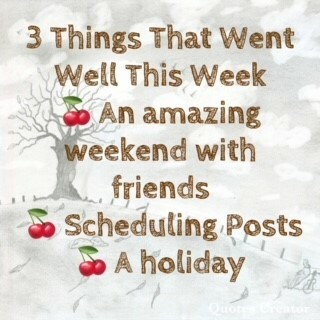 Enjoy this post?

Buy Clare a wine