Watermelon Granita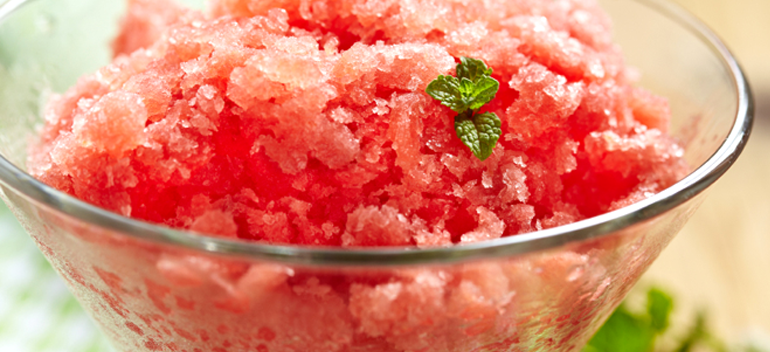 Ingredients:
1/2 cup sugar
1/2 cup water
10 ice cubes
4 cups watermelon, seedless, cut into pieces
3 tablespoons fresh lemon juice
16 mint leaves for garnish
************************************
Directions:
In small saucepan over medium heat, combine sugar and water. Stir occasionally 3 minutes or until sugar dissolves.
Remove from heat, pour into stainless steel bowl; stir in ice cubes. Stir 1 minute or until sugar is cold. Discard unmelted ice pieces, leaving 1 1/4 cups sugar syrup.
In food processor or blender, combine watermelon pieces, lemon juice, and sugar syrup. Pulse a few times until watermelon is broken into smaller pieces; process 1 minute or until smooth puree. Pour watermelon puree into 13 x 9-inch stainless steel pan. Cover with plastic wrap. Freeze 1 hour or until frozen around edges.
Remove from freezer; scrape ice with fork, mixing it from edges into center. Repeat until mixture turns into small ice flakes. Serve in chilled glasses to prevent melting; garnish with mint leaves.
Yield: 8 servings
Ann Schwartz's work has been featured in children's magazines and 49 cookbooks. The retired English, public speaking, and theater teacher received the Library Advocate of the Year Award.
Copyright © 2022. All Rights Reserved.
Enjoy this post?

Buy Tiny Pocket Press a coffee