5 Upcoming Trends in Crypto Jobs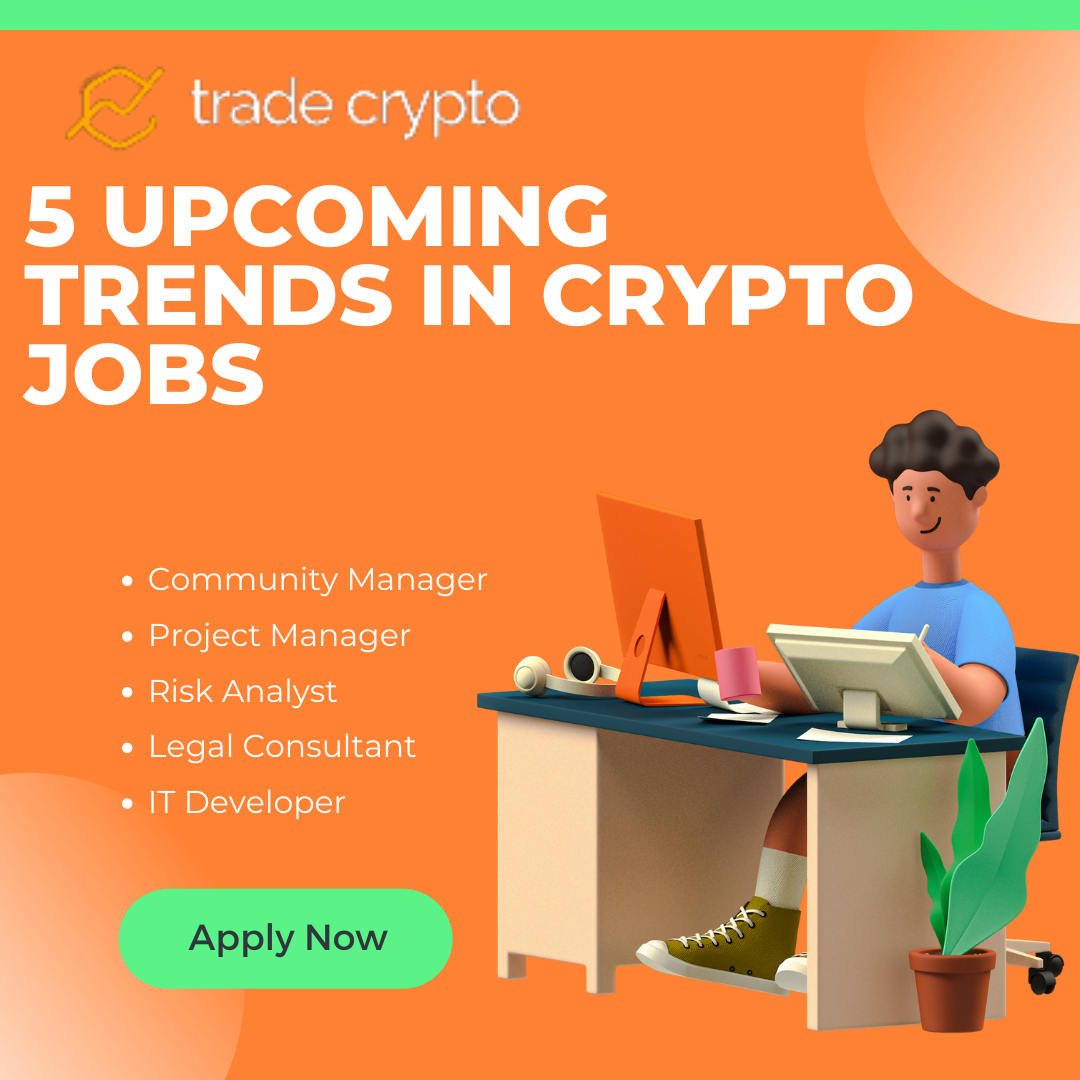 With the crypto industry remaining potent and increasingly adopted by institutions, businesses, and regular users, it's no wonder there are many job positions created in the sector on an everyday basis. If you too would like to start a career in crypto, then you've come to the right place.
In this article, we'll take a look at the upcoming and currently trending jobs in crypto industry. After reading, you'll get an overview of attractive job positions to apply for in the period ahead of us. And the good news is, all of these positions may be remote crypto jobs, so you can make a living from your favorite chair. So, let's not waste time and get to it!
IT Developer
The job position of a blockchain or broader IT developer in the crypto industry is always in demand. As cryptocurrency cannot function without blockchain technology, people with adequate expertise in this area shouldn't have trouble lending a job. In addition, blockchain tech is now used in a variety of other industries as well, including healthcare, travel, and real estate industries. In other words, it's trending, which means there are more jobs to be had, with many blockchain startups on the lookout for employees. And if you're an IT developer, you don't necessarily need to work on blockchain tech, but you can focus on building crypto apps and sites instead.
To become a capable blockchain developer, you'll need a sufficient understanding of cryptography, as well as knowledge of data structures and smart contracts. Your primary duties would revolve around applications' interfaces and transactions' security. And if you'd prefer to work on apps and websites, you'll need still need an up-to-date understanding of the cryptosphere. If you don't have any prior experience with crypto IT development, checking out some of the best crypto books should get you started. On average, IT developers working in the crypto industry are earning $129,000 a year.

Legal Consultant
As crypto is becoming more widespread, the legislation surrounding it keeps changing. New national policies are being introduced, as old ones are modified. Different crypto exchanges work with different rules, and in addition, they may vary from country to country. For businesses that'd like to stay afloat and avoid having to pay hefty penalties, there are lots of legal intricacies to be aware of and to keep in mind.
Thanks to this trend, legal consultants are (and will be) highly sought-after in the crypto industry. Such practitioners will need an understanding of crypto-specific legislation, including tokenization and blockchain arbitration systems. For those who'd like to learn more, we suggest keeping a close eye out on websites such as tradecrypto.com, for news of the latest changes in legislation. On average, crypto legal consultants are earning $74,000 a year.

Risk Analyst
One downside of crypto trading is that the market is rather volatile and unpredictable. Prices are always fluctuating and investors need to conduct much research before making moves. Even then, it's rather tricky to make reliable prognoses. Every day, traders are losing money due to miscalculated investments.
That's bad for investors, but good for risk analysts. And as the market's unpredictability is unlikely to change in the foreseeable future, this job position will remain on trend. Risk analysts come up with strategies to minimize their clients' losses. They keep track of trends in the industry, collect and analyze data, and have a sound understanding of statistics, mathematics, and, of course, finance. On average, crypto risk analysts are earning $99,000 a year.
Community Manager

As a rule, whenever there's a successful cryptocurrency, there's also an active and enthusiastic community that supports it. These are people who do not only trade with this crypto, but also have a part in creating the hype around it. Therefore, a community manager's job of maintaining a positive relationship with existing traders is an important one.
Equally important is a crypto's growth. The trend of receiving information through social media is a trend that community managers must take advantage of by reaching new traders on social media. Creating and sharing educational content, as well as engaging influencers and press is also part of a crypto community manager's job. On average, crypto community managers are earning $62,000 a year.

Project Manager
With the constant influx of new projects in the crypto space, there's an ever-increasing need for project managers. Without a capable manager to organize a project's development, mistakes concerning its organization may easily lead to failure. In addition, developers' clients need to be pleased with the way a project is progressing, so it is a project manager's job to communicate with the clients and reach an agreement that's acceptable to both parties.
While you don't need to know everything about the project you're managing (for instance, Tron's project managers don't necessarily know what's the transfer fee in the TRC-20), you do need to have an understanding of, at least, blockchain basics. In addition, a good crypto project manager needs to have adequate communication skills, as well as know-how on proper budget management and the use of project management tools. On average, crypto project managers are earning $114,000 a year.
Conclusion
As we said, the crypto industry is still expanding, with many people looking to get a job in the industry. If you found any of the five positions to be in line with your skills and interests, we suggest not waiting too long before preparing or applying for a job. Hurry up and take advantage of the open and trending job positions, before someone else does.
Enjoy this post?

Buy TradeCrypto Media a coffee