AMBER MUSEUM, PUERTO PLATA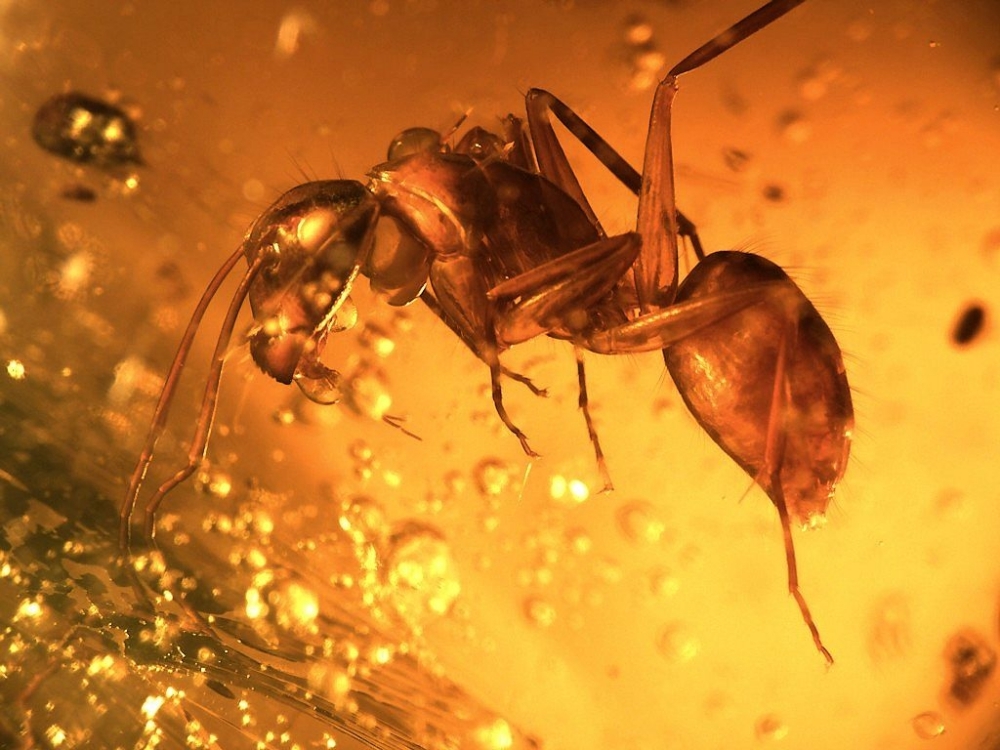 The Amber Museum of Puerto Plata can be considered a time capsule, a window to our prehistoric past, for the past 40 million years.
Dominican Amber is considered among the most valuable in the world. This semi-precious gem formed during the Tertiary and Mesozoic periods, 25-40 millions of years ago. Ancient Conifer trees produced a sap that oozed out of its branches, in many cases trapping leaves, birds, insects and small animals like geckos.
Once fossilized, it became a time capsule, preserving the trapped species for millions of years. This sticky resin hardened into a warm golden gem later to be known as amber. It has been appreciated for its color and natural beauty since the Neolithic times. There are five classes of amber, and when it contains animal or plants inside, its called inclusions.
The Amber museum has several display rooms, with an impressive collection of pieces of many sizes, containing plants, insects and other fossilized small animals ( a highlight is a 20 million year old gecko, completely preserved ).
The tour guide explains the history of amber in about 4 minutes and guides visitors through the museum exhibits, in various languages ( we witnessed him speak French, English, German and Spanish ).
The first floor of the building has a store with gift shop where amber jewelry is on display for sale, and other Dominican handcrafts. The vendors are not pushy, always smiling and used to people visiting to admire the building and the museum exhibits.
The word amber has its roots in the Arabic, Anbar. It has been discussed as early as the 4th Century BC. For amber to become fossilized, the initial resin must be resistant to decay; amber that was quickly covered with mud and vegetation was protected from the sun and elements including fungi and bacteria. Some believe the Dominican Republic amber came from the Hymenaea Protera, a prehistoric tree from the Leguminoseae family.
Jurassic Park: Dominican amber became world famous in the mainstream when the film Jurassic Park (1993) opened in theaters, with an initial scene of amber mining in the Dominican Republic; they found a mosquito from which a dna sample was taken, and a dinosaur sequenced back to life on a lab. The Amber Museum in Puerto Plata has a display wall with newspaper and magazine clips, also a replica of the walking cane Dr. Richard Attenborough used in the movie, which has a fossilized rock with a trapped mosquito in it.
FROZEN IN TIME: a prehistoric window to our past, from around the world.
The formation of amber results from a molecular polymerization, which results from high temperatures and pressures by overlying sediment, that turns the resin into the initial stage known as Copal ( 1 million years old ). Further pressure and heat results in amber.
Paleontological Significance: amber is a unique time machine, that preserves unfossilizable parts of species and helps reconstruct ecosystems and organisms going back millions of years. Cretaceous amber has yielded the most fossilized species, and the oldest amber is from the Triassic period, some 230 million years ago.
Mining: Amber is globally distributed, mainly in rocks from the Cretaceous age or younger. Baltic amber is famous, and the leading source (90%) is the Kaliningrad Oblast from Russia. It is mined in open works and underground galleries. In the Dominican Republic it is mined through bell pitting, which poses greater risks due to collapse.
Blue Amber: This amber exhibits a rare blue coloration. It is found in the mines along mountain ranges of Santiago, Dominican Republic. A research by Vittorio Bellani and Enrico Giulotto from the University of Pavia in Italy found out that the blueness is likely produced by Perylene. Blue amber is more valuable than the standard golden one, due to its rareness.
Villa Bentz: One interesting aspect of the museum is the Victorian architecture and history of the mansion that houses it, originally built during the economic boom of Puerto Plata during the early 18th Century by Emil Bentz, an European immigrant from Germany who met Maria Hatchmann in Puerto Plata, fell in love and married her in 1865. They became successful merchants, had a big family with 7 children and decided to build the villa, completed in 1919 by Spanish architect Martin Gallart.
INFORMATION OF AMBER MUSEUM
A walk through the center of town (Parque Central) will take you to the resplendent white towers of the Church of San Felipe.
At about 100 meters on Duarte street you'll find The Amber Museum.
An outstanding example of Victorian architecture, the museum houses a unique collection of valuable Dominican amber.
Experts say this amber is known to be the most transparent in the world. Amber is classified as semiprecious and is actually tree sap that has hardened for millions of years, capturing many fossils of plant and insect life.
Guided tours in several languages are given Monday through Saturday from 9am to 6pm.
The Amber Museum shops offer a full selection of Dominican amber jewelry, both in Puerto Plata and in Playa Dorada Plaza.
---
In 1980, after the restoration of Villa Bentz, it was decided to expose the fossil collection, which was too important to have hidden it in a safe. At the same time, Brandt Ghepart appeared, American paleontólogist, museólogist, that had worked for fifteen years inthe museumof natural history of Cleveland, USA, man of much sensitivity, artist with multiple capacities, as well in the fields of the painting and music: he plays the flute, violin, arp and drums. Brandt arrived inPuerto Platalike solitary navigator with his small yacht. She was born immediately affection and mutual understanding between Brandt and the family Coast and given the importance of the collection shared the idea to make a suitable work.

Brandt, conquered by the variety of amber with his insects, leaves, flowers, conserved perfectly in the prehistoric resin, as if outside a magical box, sold his boat and Silver settled down in Port, and took the decision to form themuseumdreamed by several years by Doña Didi.

The meticulous work of preparation, cataloguing, study of the ground and subsoil, selection of stones with its photographies or drawings done with the aid of the microscope lasted two years. The way was studied to link stones with metal thread in gold bath,work handmadefor greater resistance and lights were used you cold not to damage stones, and were made macro-photos with aid of a put camera upon the microscope.

The museum, dream of many years with a sense of exectancy, was opened in March of 1982. The collection was composed of thousands of pieces, allyhough all is not exhibited. Some are very beautiful and very rare.
Of the exhibited ones, the most studied and appreciated is a lizard of 40 centimeters in a state of perfect conservation that dates from about 30 to 40 million years ago. The lizard is included in an amber piece with a length of 42,5
centimeters.

One extraordinary piece is formed with the drops of a resin falling after the other, forming little tubes that seem like needles of coniferous.

The fame ofthe Museum of DominicanAmber spread outsideThe Dominican Republic. The international tourguides mentioned it as a place of cultural interest, andthe museumgrew by visitors very fast. Today a visit at the museum is as natural as the beach for the visitor.
What is amber?

A semi-precious gem formed out of the fossilized resin of ancient trees .

Age varies from 20 Million years up to 245 Million years
Dominican Amber ranges from 25-40 Millions years (Tertiary period) .

Tertiary period is from 1.6M to 66M .

Mesozoic period is from 66M to 245M.

Ambers origins

Million years ago large stands of forests in some parts of the world began to seep globs of sticky resin.

The probable tree for Dominican amber is the Hymenaea protera (family Leguminoseae).

The tree is now extinct but "Algorrobo" is a probable descendant.

This aromatic resin went down the sides of trees, as well as filling internal fissures, trapping debris, such as seeds, leaves, feathers and insects.

As geologic time progressed the forests were buried and the resin hardened into a soft, warm, golden gem,
known as amber.

The formation of amber

The starting resin must be resisant to decay (both physical = sun ligth, or biological = bacteria & fungi).

Any type of protection would favor preservation of resin and therefore amber formation (resin rapidily covered by vegetation and soil) .

The first step of fossilization is polymerization (small molecules = monomers will form large network of molecules = polymers), at this stage the resin is called COPAL. (less than 1M year) .

After a few millions years copal under the rigth condition of temperature and pressure then becomes AMBER.
---
AMBER MUSEUM - PRICE
• RD$200.00 / Ticket
---
THE BEST TOURS, PUERTO PLATA
---
---
WHERE TO EAT, PUERTO PLATA
---
---
NEAR TO AMBER MUSEUM, PUERTO PLATA
You are in the center of the city where the places of interest are close and you can get there by crossing a corner, enjoy every moment with your family or your partner, show your photos to your friends of our beautiful Puerto Plata.
---
---
WHERE TO STAY, PUERTO PLATA
Choosing where to stay in Puerto Plata is very simple, if you are looking for 3 to 5 star hotels they are available for you, if you are looking for comfortable and safe cheap hotels you will also find them, we will leave you a list of 5 star hotels and cheap hotels so that you can make the right decision .
Where to Stay in Puerto Plata
We recommend these resorts around Puerto Plata for the best experience, regardless of your budget:
---
Lifestyle Holidays Vacation Resort : Lifestyle Holidays Vacation Resort is a hotel complex located in Cofresi Beach, at 30 minutes from the International airport (POP). This Complex features a variety of accommodations: Superior, Jr. Suites, apartments; penthouses, Villas, a big selection of restaurants and bars.
---
BLUEBAY Villas Doradas : Blue Bay is an 18-plus all-inclusive resort perfect for couples and groups of friends. Guests enjoy the use of a private beach, with all necessary amenities provided for a day on the sand from seating to shade.
---
Barcelo Puerto Plata : This breathtaking hotel is located right on the magnificent "Playa Dorada" with golden sand and crystal water, which offers the tourist a true Caribbean ambiance. Surrounded by an 18 holes golf court designed by Robert Trent Jones. 15 minutes (18 km) from International Puerto Plata Airport, 10 Minutes (5 km) from Puerto Plata's Downtown.
---
Senator Puerto Plata Spa Resort : Senator Puerto Plata Spa Resort is the perfect place to enjoy a Premium "All Inclusive vacation" experience. This adult oriented resort combines luxury and sophistication. . It also features large pools and extensive gardens, making it the perfect paradise to relax and enjoy unforgettable moments.
---
Playa Bachata Spa Resort : Playabachata Spa Resort is the ideal place to enjoy a relaxing holiday. At the foot of a coral beach, with stunning mountain views and surrounded by a tropical garden.
---
Hotel Iberostar Costa Dorada : Located in the majestic beach of Costa Dorada, only 25 minutes from the International Airport Gregorio Luperon, surrounded by lush tropical gardens with fountains of colorful fishes and turtles.
---
VH Gran Ventana Beach Resort : Accented with rich colors and an exquisite mix of Victorian and Caribbean architecture, the VH Gran Ventana Beach Resort offers a savvy all-inclusive choice in Puerto Plata. Consisting of 506 spacious guest rooms and suites, this first-class resort sets the tone for any occasion offering a wealth of onsite amenities and activities.
---
Emotions By Hodelpa Playa Dorada : This five-star resort offers mid-range prices and all-inclusive plans. Breakfast is included for all guests, and the resort has pool and beach access, snorkeling, entertainment, a kids' club, and spa.
---
---
Enjoy this post?

Buy travelerd.net a coffee