DEVARSH DESAI, FOUNDER, READY FOODZ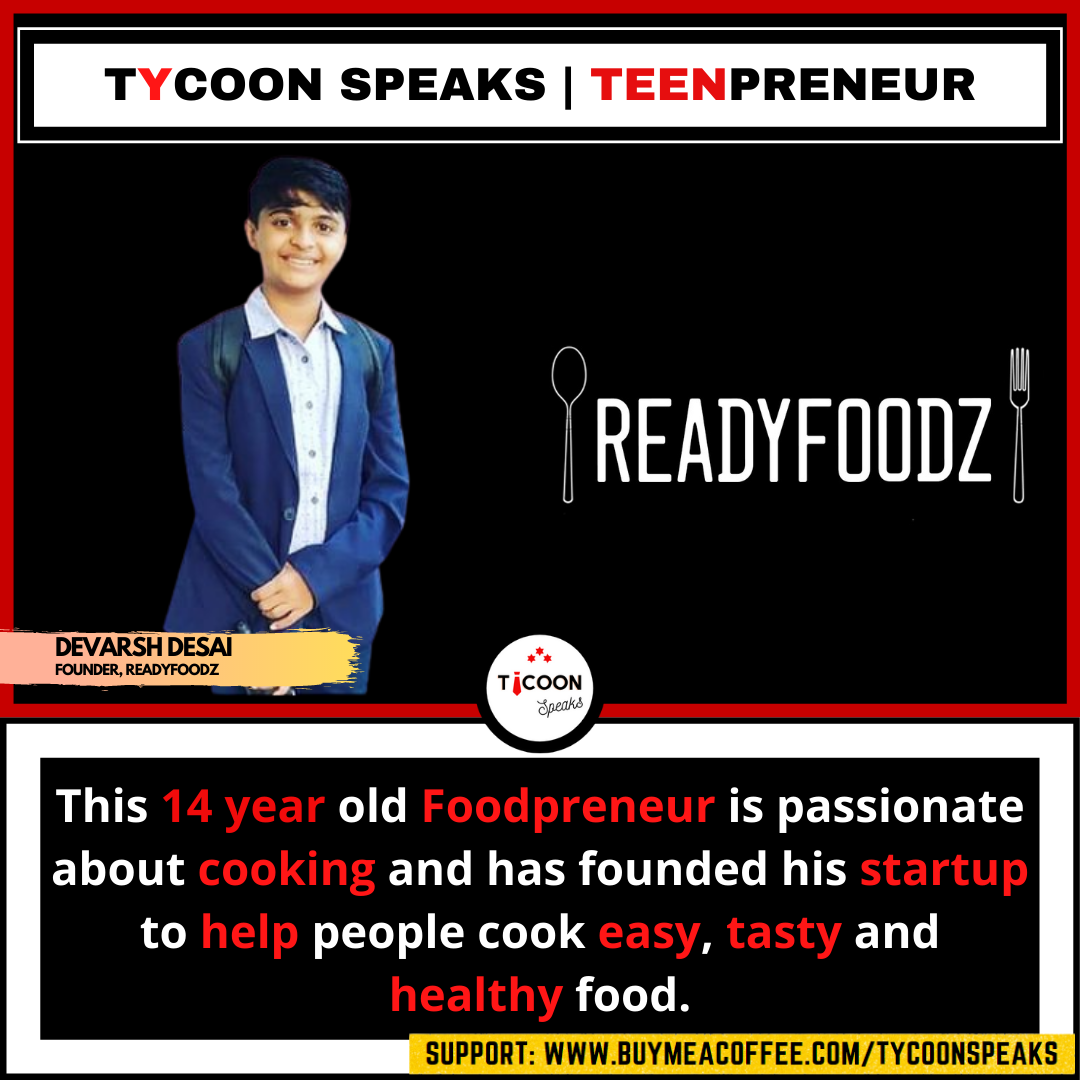 Ever met a teen businessman?? If Yes, comment his/her name for a feature.
If No, then meet Devarsh Desai from Gujrat, founder of Ready Foodz. To know more about him, read below 👇
We generally see teenagers engrossed only in studies, or enjoying life, being stubborn, and just going with the flow. But here's Devarsh, in his class 10th, running his one-year-old start-up, and of course, doing great in his curriculums as well. Devarsh is passionate about cooking and loves to try his hands on delicious cuisines. So mostly, when not studying, the little one is found in the kitchen. Days were just passing on, till the breakout of the Covid Pandemic, when Devarsh attended a workshop on "Young Entrepreneurs" in Gujarat. There, he was asked for an innovative product design as per his interest. You know what, Devarsh came up with "gravy pre-mix". Sounds interesting, isn't it? Yes, people tried it, loved it, asked more for it. And in June 2020, the teen entrepreneur was all set to start his organisation, "Ready Foodz". Adding more products, he came up with a category of Punjabi Pre-mix having 5 varieties of gravy, i.e, Red, Brown, White, and Golden gravy. And yes, there's an exclusive gravy mix for the Jains too. The only thing you have to do is, buy a pack of your choice of gravy, add your favorites to it, and enjoy your delicious dish in just 10 minutes. Easy, right?
Initially, with the complete support of both of his parents towards this concept of gravy mix, Devarsh invested only 5,000 rupees in ingredients and packaging. Then the show began and more orders were placed. They received orders from Instagram and also by references. Soon, Devarsh started to attend workshops in Gujrat along with his products. And that gave them a good number of customers again. Gradually people became aware and Ready Foodz started catering to students and working people staying in PG and also to the localities who craved Indian cuisines but stayed abroad. The best part is, Ready Foodz deals with healthy food products with zero preservatives and chemicals, which can be stored in a refrigerator for 6 months. Now Devarsh is planning to introduce a party pack of gravy mix. Soon they are listing their product on Amazon as well.
The little one looks up to his mother as his biggest inspiration. His mother has been very supportive and completely into the project with him since the first day. Like his mom, Devarsh is developing a never-give-up attitude towards his life.
In the future, he plans to take Ready Foodz to a bigger market catering to more people. Along with that, he wants to widen his verticals by exploring more in the field of food processing and agriculture.
Not just studies and cooking, Devarsh also loves to be active at both indoor and outdoor games. He is in love with this unique journey and is thoroughly enjoying himself, both at work and studies.
When the Gen Z is already found to be active entrepreneurs, no one can stop India from getting the tag of a "Developed Nation".
.
If you love our work, please share this story with maximum people.
.
If you think we are capable of bringing in a positive change around... Do support us in our journey...
.
You just need to buy us a coffee: www.buymeacoffee.com/tycoonspeaks
.
.
#tycoonspeaks #tycoon #entrepreneur #businessmen #inspiring #leadership #teenpreneur
Enjoy this post?

Buy TYCOON SPEAKS a coffee