GAURAV RALHAN, FOUNDER, HEALTH ON TOP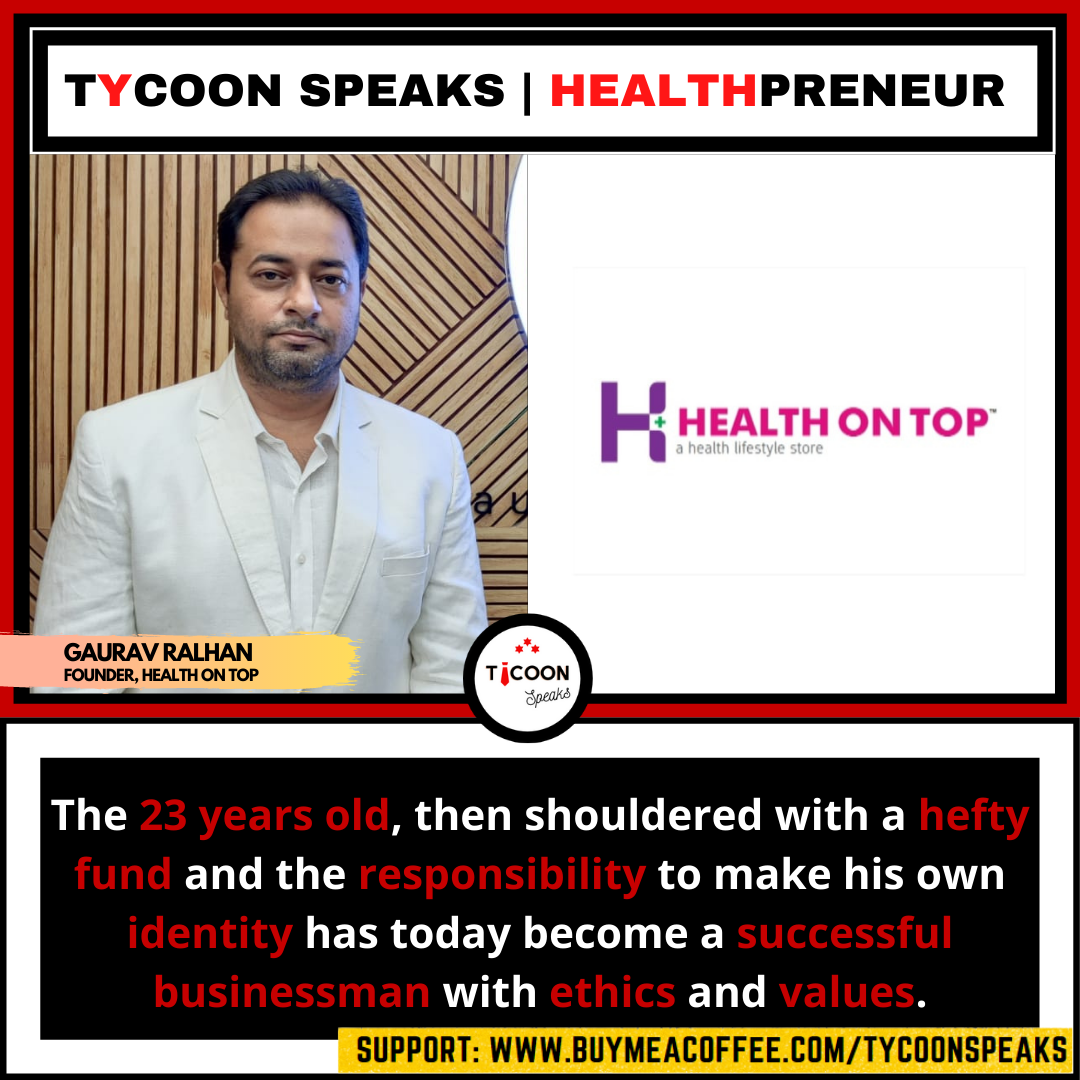 Today, Tycoon Speaks will narrate a real-life story for the world. The story of a young boy who lost his mother in the year 2002, even before being a graduate. Somehow, from completing his schooling at St. Joseph's HighSchool, Bhubaneswar, till completing his graduation in the year 2003, he managed everything beautifully. And finally, after graduation, he decided to join his father's business.
Introducing you to the business tycoon, Gaurav Ralhan, and his entrepreneurial journey.
When Gaurav decided to join the business, his dad surprisingly gave him a hefty amount of 15 lakh rupees and asked him to do whatever he feels like.
Sudesh Kumar Ralhan, father of Gaurav, was one of the well-known businessmen, back then in 2003.
Now, not even aware of what to do with the money, Gaurav traveled parts of the country and finally, after lots of plannings and cancellations, decided to have a franchisee outlet of BASKIN ROBBINS at Bhubaneswar, Odisha. When everyone knew Odisha to be a poor state, Gaurav was the one who took a stand and brought the big brand of Ice cream to the temple city, Bhubaneswar. And to everyone's surprise, Neelam's Baskin Robbins Ice Cream store, opened by Gaurav and his father, along with full support of his sister, Neha Madan, in the name of his mother, Neelam Ralhan, was a big big hit. The first outlet of Baskin Robbins in Odisha generated the first-day revenue of Rs.17,800/- in just a few hours. And from that day, 30th April 2004, the young boy turned into a real businessman. The sales went up and up, making the highest sale of 13 lakhs rupees within 24 hours, on 26th January 2005. The confidence of the young entrepreneur knew no bounds.
With the moving time, Gaurav had another outlet of garments of John Player in the year 2006, which was again converted to John Miller in 2010. Meanwhile, when everything was going smooth, he had a strong inclination towards medical and surgical equipment, which was somewhat related to his family business. And finally, in 2014, Neelam's Medical Supplies came into play. Life was going good with the grace of the Almighty, till 2020, when the Pandemic outbreak took place all over the world. When every business was shut down and medical sectors were selling life-saving drugs and equipment at unaffordable prices, Gaurav and his family shut down the business denying to opt for a profit of a single penny at this situation. And during the pandemic, when doctors were needing PPE KITS in large numbers, Gaurav and his team were offered an order of manufacturing a huge quantity of PPE Kits just in a week. Gaurav and the entire team of Neelam's were elated to receive this huge responsibility and with 200 labors and persistent efforts through sleepless days and nights, the order was all ready exactly in a week. And for this tremendous achievement, apart from monetary rewards, Mr. Gaurav Ralhan and his team were awarded as Covid Warrior, by the Times Group on 28th March 2021.
Gaurav owes it all to his living Gods, Mr. Sudesh Kumar Ralhan and Mrs. Neelam Ralhan. His life revolves around them and everything that he has achieved in his life is all of their good deeds. Recently, Gaurav along with his father and his wife, Mrs. Priya Ralhan, as his business partners, has started a new venture named Health On Top , registered under Neelam's Lifestyle, on 29th January 2021. He mentions, "Health On Top is not just a business house, it is a movement, started with an intention to bring the people around the country to a platform of a healthy lifestyle".
With all of these businesses established and running smoothly, Gaurav is very thankful and indebted to his parents, his wife, his 11 years old son, Vedant Ralhan, and all his employees and co-workers, for their constant love, care, and tremendous support.
He mentions a very special thanks to Mr. Mithun Kumar Mohapatra, who has been serving the organization and supporting him since the year 2014.
The Business Tycoon is always attached to his core values, attached to the ground, and holds the purest heart and soul within.
.
If you love our work, please share this story with maximum people.
.
If you think we are capable of bringing in a positive change around... Do support us in our journey...
.
You just need to buy us a coffee: www.buymeacoffee.com/tycoonspeaks
.
#tycoonspeaks #tycoon #entrepreneur #businessmen #inspiring #leadership
Enjoy this post?

Buy TYCOON SPEAKS a coffee