Nihar Behera, Founder, Total Solution.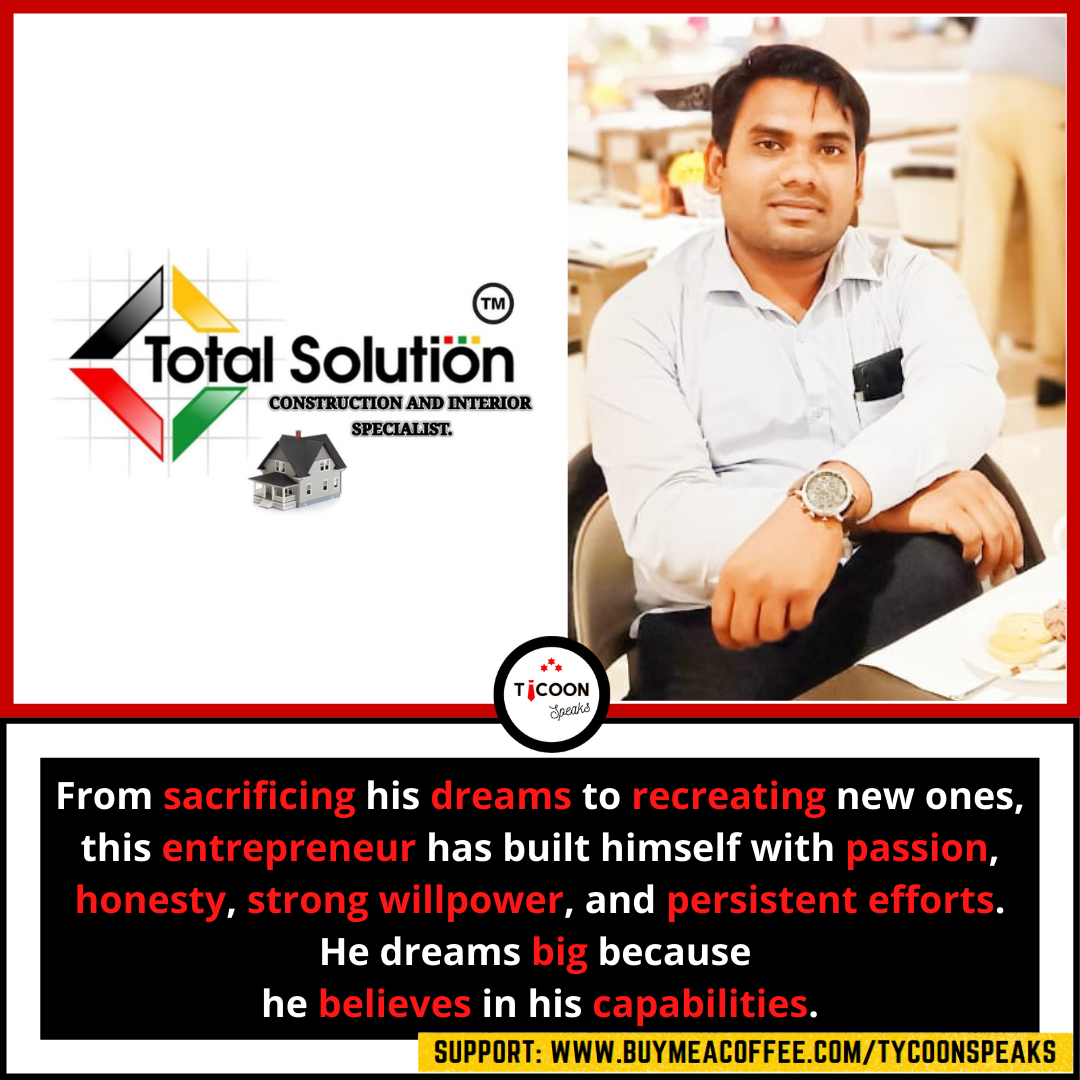 Here's our new entrepreneur in town, Nihar Behera, Founder, Total Solution. Have a read to know about his journey.
Being excellent in academics as well as in sports, Nihar has always learned to be the best in everything he does.
His parents, Biswaranjan Sahoo and Sagarika Behera dealt with a Cement dealing establishment as their family business. After school, for his further studies, the family faced some serious financial crunch. The little boy who had always aspired to study high had to prioritise his financial stability. At a tender age, Nihar continued his education and joined some part-time private jobs to shoulder some responsibilities of his family. This way, he completed his education from 12th till MBA, all with his earnings. Since childhood, whenever he used to get leisure, he would spend some time in their shop and be very curious to learn about how a house is built.
He used to have the same keen interest in any construction project he came across. But he was focusing on his jobs. Nihar, after working so long, holds a huge experience of 10+ years in the field of marketing, in different renowned limited companies. And finally, his destiny attracted him after this prolonged struggle.
Last year, exactly on 10th July 2020, with lots of thoughts and dreams in mind, investing Rs.50,000/-, Nihar registered his own company in the name, "Total Solutions-A to Z Services". He decided to give his entire experiences and learnings, a different angle and build his career on his own. The first project he took up was of Pal Medicine Store, Jajpur, worth Rs.55,000/-. Till then, in just one year, Total Solution has generated a revenue of 30-40 lakhs rupees, worked in 11districts of Odisha, and has completed 25-30 projects. The company works with 1000+ worker support, including expert engineers and supervisors.
Moreover, Total Solution has direct trading with 15+ reputed companies like Asian Paints, Finolex Pride, Jaguar Ltd., for the raw materials required for construction and interior projects. They, therefore, provide affordable projects to their customers with the best quality work. Total Solution has good customer feedback on quality along with the completion of projects within the time frame.
On asked about his inspiration, Nihar says "my grandfather, Dhruba Ch. Behera is someone I have all over my heart and mind". His mother is also his biggest inspiration because she has made their worst days, the best for his only son. Nihar says, "my mother should be remembered as an inspiration because she took all our bad days on her shoulder all alone, managed our business, arranged funds for my school and food for my life". Apart from them, his sister, Chiku didi, and his best friend, Nisu have had their constant support and have proved to be blessings in his personal and professional life.
Nihar wants to build Total Solution as a 100% trusted brand all over the state, in the field of construction and interior designing, with the best of the services provided. He dreams to see his company flourish in every nook and corner of Odisha. He works intending to provide a better life to his family and his self.
To the young generations, Nihar requests to choose friends and make a circle wisely. Because after all we are better known by the circle we keep.
Entrepreneurs like Nihar Behera with such high dreams and ambitions, will surely reach the pinnacle of success and make their state and country proud.
.
If you love our work, please share this story with maximum people.
.
If you think we are capable of bringing in a positive change around... Do support us in our journey...
.
You just need to buy us a coffee: www.buymeacoffee.com/tycoonspeaks
.
.
#tycoonspeaks #tycoon #entrepreneur #businessmen #inspiring #leadership
Enjoy this post?

Buy TYCOON SPEAKS a coffee