PREETAM NAYAK, CEO, FUTURO AGILITY CARE PVT. LTD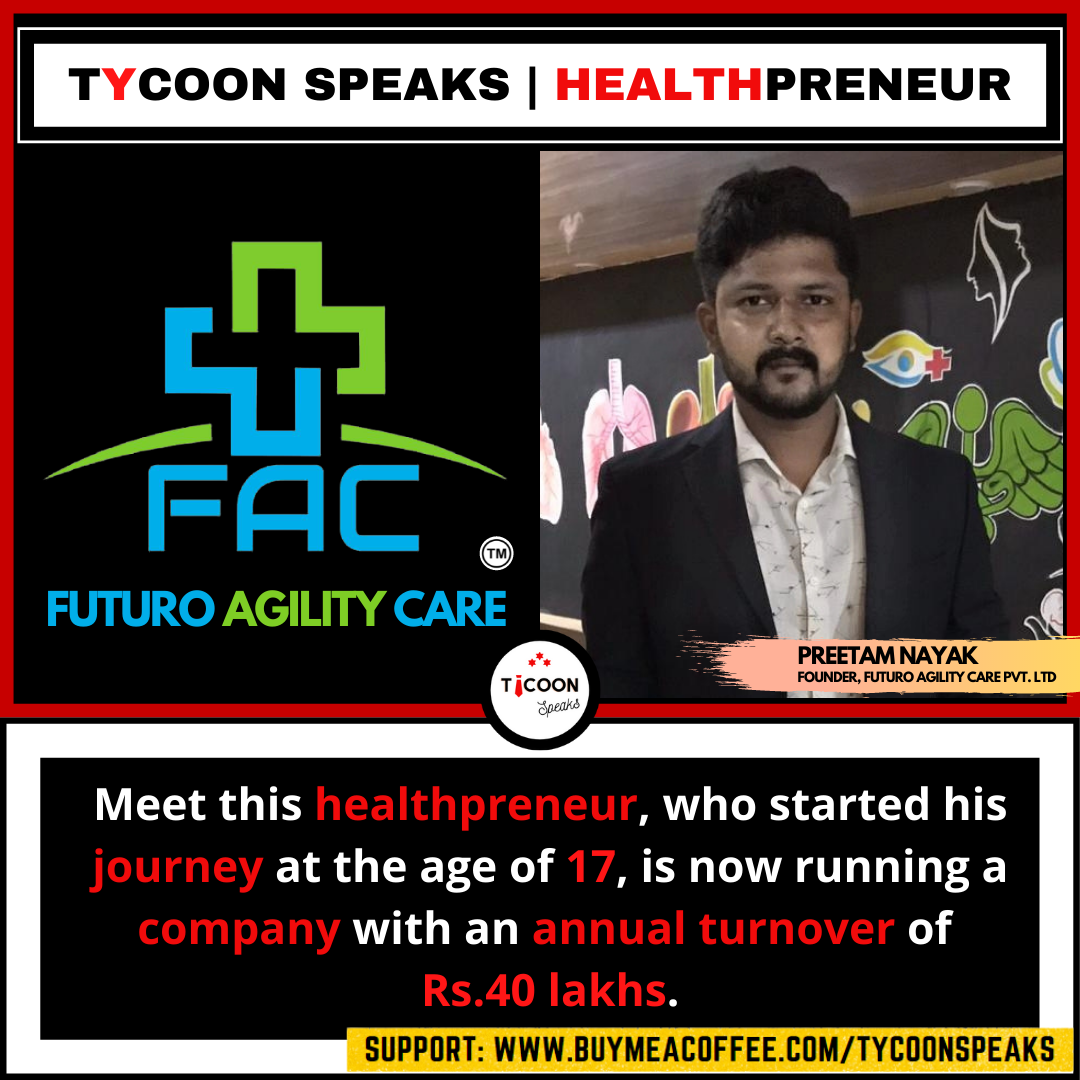 Here's the story of Preetam Nayak, Founder, Futuro Agility Care Pvt. Ltd.
Business has been there in his heart and soul since a very tender age. And the purpose behind the business was to serve mankind. In 2015, when Preetam was just 17, he started his first venture, an
ed-tech company, named Sikshya Kiran, especially for the training of CA and CPET entrance examinations. Due to certain issues, the growing business was shut. Likewise, there were certain other businesses Preetam struggled to thrive in, and with every bitter experience, he learned and grew.
Meanwhile, he completed his BTech in 2019, and the same year, in September, he came up with his new project, "Futuro Agility Pvt. Ltd." This organisation deals with providing health care services at the doorsteps of people, with ease. When the Covid-19 pandemic was worsening the situation and people were panicking for a treatment or consultation, Preetam thought to bring hospital service at home, and help patients remain safe and treated. Started with an initial investment of Rs.2 lakhs, just in 2 years, Futuro Agility Care is a company with 4 offices, 65 nurses, 25 doctors, 12 pharmacists, and other staff, operating across Odisha, generating an annual turnover of ₹40 lakhs.
They deal with doctor consultation, nursing facilities, baby care, lab tests, diet plans, ICU Facilities at home, and provide all sorts of hospital treatment facilities according to the need of the patient. Not only this, but they also provide Medical Tourism for patients abroad and help them get treatment in India. Along with just physical ailments, this organisation makes sure to take complete care of the patient's mental and emotional well-being. The staff are trained and also organize certain relaxing games, movies, and safe travels, to help the patient have a balanced happiness quotient and experience faster healing. They have already provided medical assistance to around 60+ patients at home, during COVID. Moreover, every Sunday, from 5 pm-7 pm, they provide a free consultation to needy people.
When asked about his plans, Preetam said, "I want to bridge the gap between mankind and health care. Because I believe everyone has a right to have an affordable and accessible treatment, at their comfortability". He is planning to have a presence of Futuro Agility Care in every nook and corner of the world.
Preetam has always extended a helping hand towards people at a tender age. He had been working in many NGOs like CYSD, Sneha, Smile Foundation, and more. Soon, he started his non-profit organization, Seva Udyog trust, in the year 2016. Today he has 1500 volunteers working selflessly in the organisation, generating employment and helping the unprivileged ones.
"My grandfather, Narendra Biswal, who is also the co-founder of Futuro Agility Care, is my biggest support and inspiration. Whatever I am today is all because of the amazing grandparents I am blessed with", says Preetam. Also, he provides special thanks to his aunt, Mrs. Jayashree Biswal, and his manager (brother), Nilamani Nayak for their unconditional support and constant motivation in his personal and professional life.
When kids are encouraged to follow their passion at an early age, gems like Preetam will bloom with flourishing colours in their life ahead.
.
.
If you love our work, please share this story with maximum people.
.
If you think we are capable of bringing in a positive change around... Do support us in our journey...
.
You just need to buy us a coffee: www.buymeacoffee.com/tycoonspeaks
.
#tycoon #tycoonspeaks #businessmen #successstories #inspiring
Enjoy this post?

Buy TYCOON SPEAKS a coffee