PROSHISH GOLYAN, FOUNDER, THE GOLDEN DOT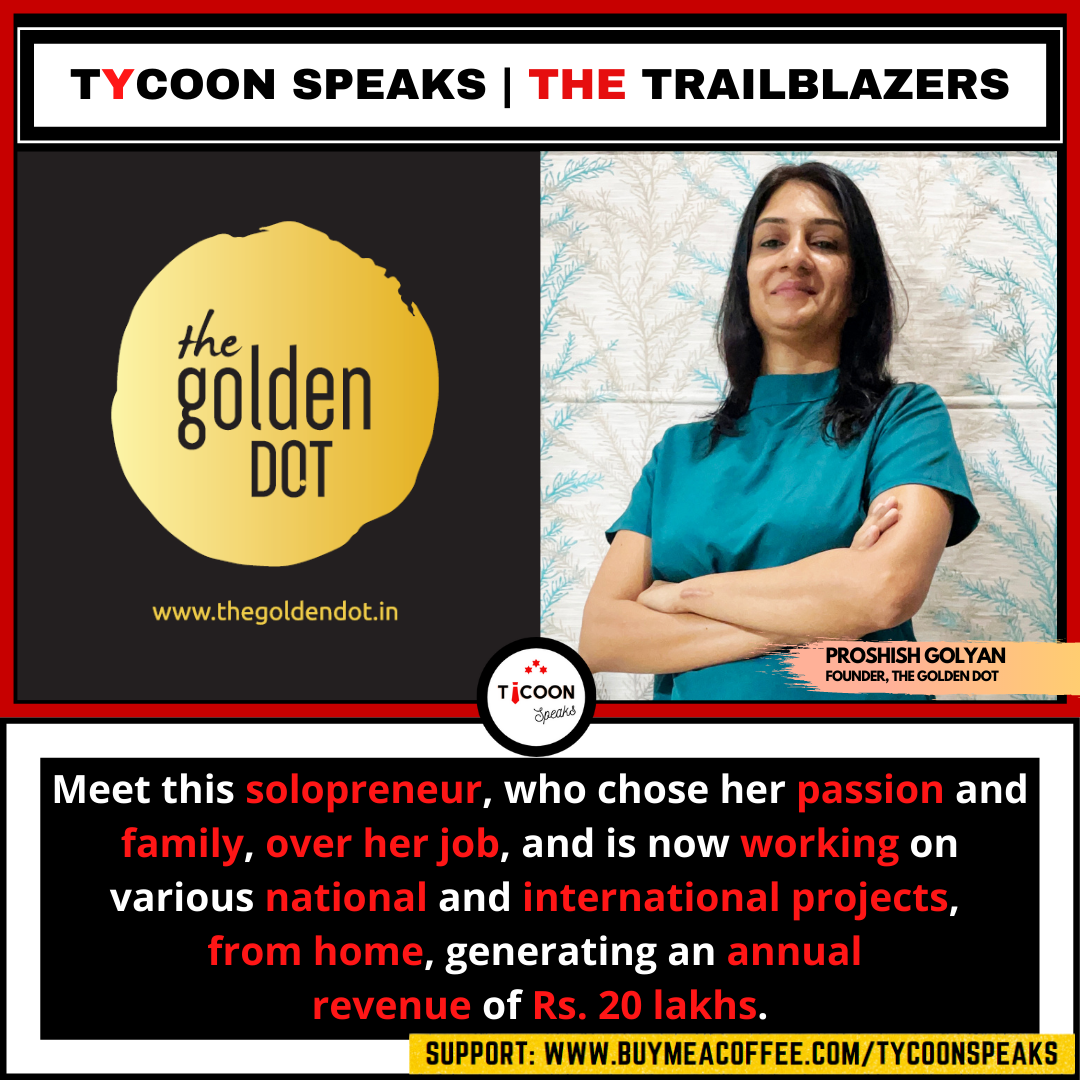 This is an interesting story about Proshish Golyan, founder, The Golden Dot. Her work is as unique as her name. To know more about this multi-talented woman entrepreneur, scroll down through the full story :
Years ago, even before Proshish was born, her parents migrated to Nepal. So basically, she is an Indian raised in Nepal. After her basics, she did her MBA in Kathmandu College of Management, and then worked in the famous MNC, JWT, for two years, as a project manager. After marriage, she got permanently shifted to India and settled with her husband in Bhubaneswar, Odisha. Then she joined an event management company and introduced an advertising department in the same. She worked in the organisation, leading the AD department for 3 years. So basically, Proshish has a huge experience in the field of Marketing and advertisement. But she also discovered her growing inclination towards graphic designing and visual branding. Soon, people loved her work and she started getting orders for more design works. Gathering clarity in her thoughts, in January 2015, she resigned from her job and started her designing company, "The Golden Dot".
By then, people were only paying for the printing, and designing was considered to be a complementary work. But, Proshish started to aware people of the efforts and creativity a single design needs. She started to design logos on her laptop from home and got a great response for every single creative she did. Soon, orders increased, varieties of work got added and just within 2 years, Proshish started getting Government projects as well. But she made sure, never to get involved in printing for any of her clients. Yes, she always refers to good vendors if required, but she charges only for the designs. It took her almost 8 long years to make people understand that a good visual identity is also a wise investment. Now, The Golden Dot also caters to clients from Hyderabad, Delhi, Bangalore, and also to places abroad like Nepal, Newzealand, and Dubai. It provides expected and affordable designs to people across the globe. The best part is, Proshish gets all her clients just on through references of her happy clients. And she makes sure each of her clients is happy and satisfied with her work. Apart from this, she also deals with corporate gifting for organizations like CSM Technologies, OMC, etc. as per the requirement.
Proshish loves to explore other verticals of work as a way to acknowledge her creativity. These days, after doing various wallpaper designs and creatives, and also having a good hold on colours and designing, she feels to get into the field of interior designing soon.
In these 6 years of her entrepreneurial journey, she has been a good risk-taker. She loves to take up challenges, move out of her comfort zone, explore her talents and increase her verticals at work.
As of now, Proshish is majorly into designing, taking up projects, choosing her teammates from any part of the globe, working hard, creating masterpieces, and generating a healthy revenue of Rs.18-20 lakhs per year. She believes to work with new and upgraded talents throughout the world and hence chooses not to hire people on a payroll.
Along with the Golden Dot, Proshish is also one of the partners to a pickle manufacturing company in Nepal and is only taking care of the designing and marketing part of the same, staying in Odisha.
Besides professional life, Proshish is a happy mom to her little one and enjoys spending more time with him and her pet. She is a travel freak and needs a travel break in between every few months of work. Also, Proshish has an affiliation with music and loves to play guitar sometimes. She used to be a biker, but unfortunately, after an accident, she is not riding a bike anymore. Her mom being her source of inspiration, she has learned to choose her passion over monetary returns. She is a free bird enjoying every bit of her fly and loving that new height she is reaching with time.
Women like Proshish Golyan never fail to prove that women can be the best CEOs, both at home and at work!
.
Proshish Golyan The Golden Dot
.
If you love our work, please share this story with maximum people.
.
If you think we are capable of bringing in a positive change around... Do support us in our journey...
.
You just need to buy us a coffee: www.buymeacoffee.com/tycoonspeaks
.
#tycoon #tycoonspeaks #businesswomen #successstories #inspiring
Enjoy this post?

Buy TYCOON SPEAKS a coffee