Subhashree Bhanja, Managing Director, Star DMC Holidays Pvt. Ltd. has been self-motivated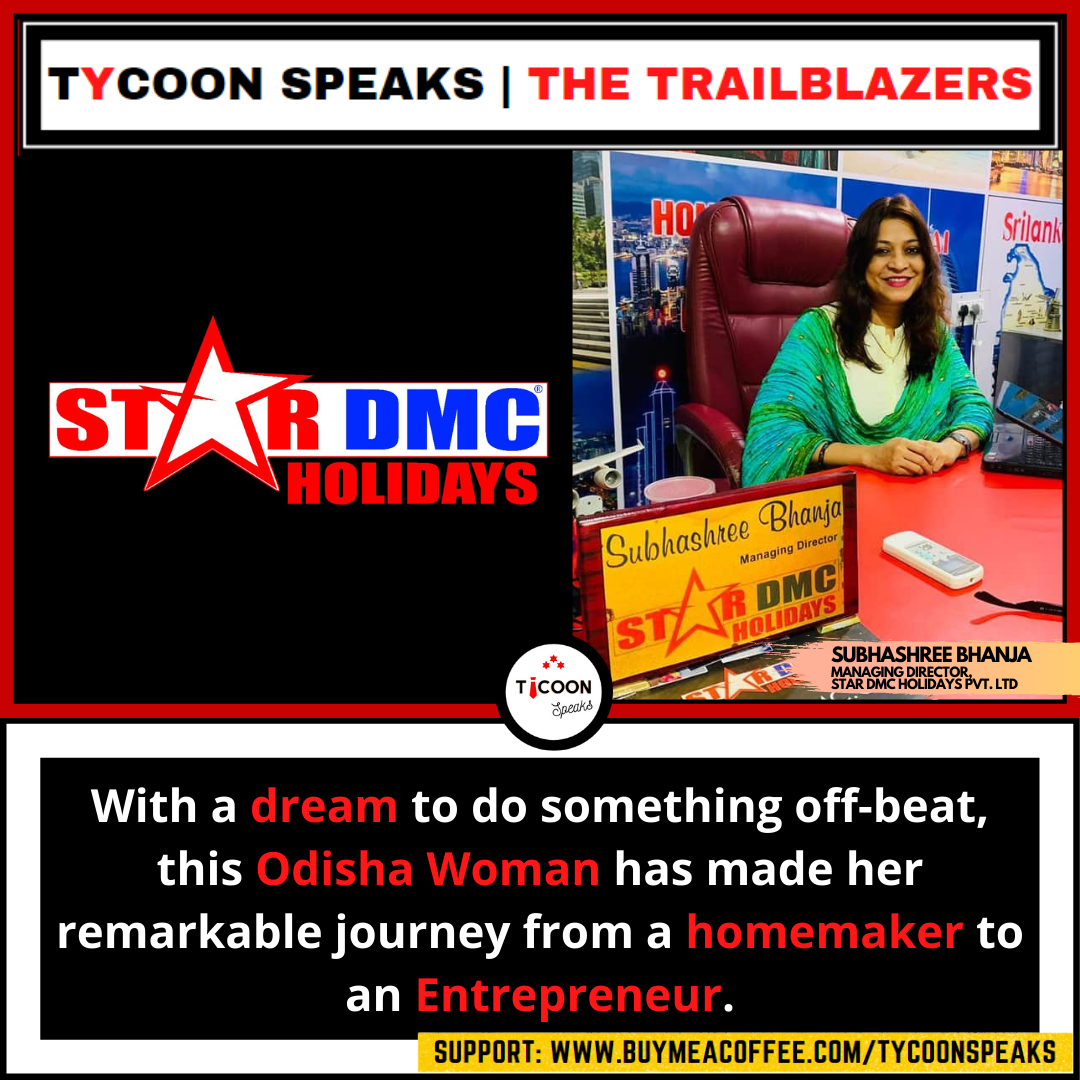 We generally depend on external sources of motivation, to dream big.
But, Subhashree Bhanja, Managing Director, Star DMC Holidays Pvt. Ltd. has been self-motivated from her first deal of Rs.20,000 till taking it up to a 20 Crores turnover company.
"Star DMC Holidays Pvt. Ltd. was founded by one of my close family friends, Dr. Ishaq Shariff, in 2011. Back then, I had taken a sabbatical after 8 years of teaching experience. Having a qualification of Msc. in Zoology, and PGDCA in Computer Application, when Ishaq, insisted me to join the new organization of travel agency, I was a bit skeptical. But then, once I decided to join Star DMC, I started preparing myself in the best possible way. With just one office in Berhampur in 2011 and with all our combined efforts during these years, it's growing with 4 offices, 3 in Odisha and one in Andaman, with 20+ employees", Subhashree says.
This EARLY RISER, has started from zero experience with 100% determination, dedication, and dreams and has gained 10 years of solid experience in Travel Agency.
The Girl who couldn't go to college without her friend at times is now the lady who takes people on their vacation and creates beautiful memories of their journey.
The Girl who didn't even have the confidence to get out of the home has now become the lady who has traveled to 24 countries, intending to give the best travel experiences to her clients.
Star DMC is having a number of National and International tours every year, planning to create 100+ franchise outlets in and out of the country, hiring maximum women employees, in the next 10 years.
The introvert Lady took her Mother as her role model in life and Neeta Ambani as her inspiration in building her own identity. And with all support from her family, there she is, with all her dreams turned into success.
"Never Stop Dreaming, because no age or time can be a barrier to your dreams", Subhashree Bhanja says to all the aspiring entrepreneurs out there.
Star Dmc Holidays Star Dmc Andaman
.
If you love our work, please share this story with maximum people.
.
If you think we are capable of bringing in a positive change around... Do support us in our journey...
.
You just need to buy us a coffee: www.buymeacoffee.com/tycoonspeaks
.
You can also read about them :
https://www.amazon.com/TRAILBLAZERS-TYCOON-SPEAKS-SHORT-READ-ebook/dp/B0968J7N45
#tycoonspeaks #tycoon #womenentrepreneur #travel #businesswomen #inspiring #leadership
Enjoy this post?

Buy TYCOON SPEAKS a coffee