Behind the Bars (Music Street #1) by Brittainy C. Cherry book review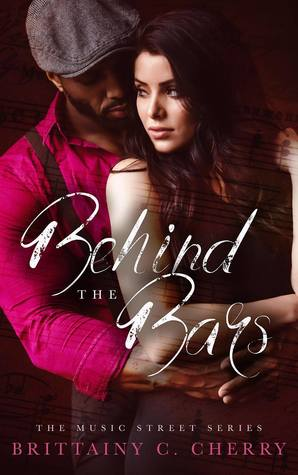 When I first met Jasmine Greene, she came in as raindrops.

I was the awkward musician, and she was the high school queen.
The only things we had in common were our music and our loneliness.

Something in her eyes told me her smile wasn't always the truth.
Something in her voice gave me a hope I always wished to find.
And in a flash, she was gone.

Years later, she was standing in front of me on a street in New Orleans.
She was different, but so was I. Life made us colder. Harder. Isolated.

Caged.

Even though we were different, the broken pieces of me recognized the sadness in her.
Now she was back, and I wouldn't make the mistake of letting her go again.

When I first met Jasmine Greene, she came in as raindrops.
When we met again, I became her darkest storm.
I can't say enough good things about this book! It moved me and gave me the feels on an entirely different level.
Jasmine Greene is the daughter of a traveling musician and a momanager. Her dad, Ray, is fantastic, but her mom is always trying to get her to be someone she's not. Jasmine loves music and soul is what speaks to her. According to her mother, Jasmine needs to sing pop to be successful. For the first time in a long time, Jasmine has a home. New Orleans becomes home for them, as Ray has a long-term gig. While in New Orleans, she meets Elliot.
Elliot is a sweet, shy, and quiet boy. He's one of those too skinny and a bit nerdy high schoolers.He has a rough time in high school because of some monsters. But when Jasmine hears him play his saxophone, he becomes someone else. His music is everything. Jasmine and Elliot forge an unlikely friendship that becomes more with time. Elliot holds the key to Jasmine's heart and nothing could ever break them apart. Until Jasmine's mother decides to uproot her entire life. While Jasmine is gone, the unthinkable happens to Elliot and they go years without seeing each other or speaking.

Finally, Jasmine comes home. Home to New Orleans, to Ray, and maybe even to that shy boy she's been in love with since she was a teen.
Elliot and Jasmine are both so different as adults.I felt their pain, their struggle, and their love completely. I adore these characters so much. Elliot is one of the best characters Brittainy has ever written. He's so complex. And, as always, there are a few side characters that completely steal the show. TJ is incredible, and Ray. Oh Ray. I can't even tell you how much I loved this man.
Behind the Bars is one of those books that will touch your heart and soul. It will make you feel, make you cry, and by the end, completely warm your heart.
Enjoy this post?

Buy Renata Moravszki a coffee