Girl Out of Water by Laura Silverman bookreview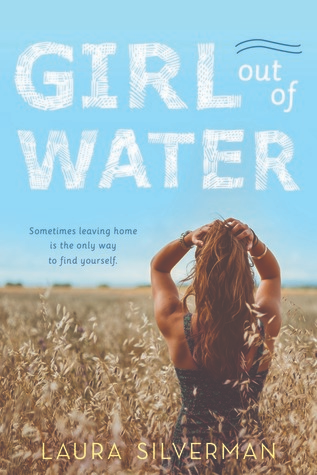 Anise Sawyer plans to spend every minute of summer with her friends: surfing, chowing down on fish tacos drizzled with wasabi balsamic vinegar, and throwing bonfires that blaze until dawn. But when a serious car wreck leaves her aunt, a single mother of three, with two broken legs, it forces Anise to say goodbye for the first time to Santa Cruz, the waves, her friends, and even a kindling romance, and fly with her dad to Nebraska for the entire summer. Living in Nebraska isn't easy. Anise spends her days caring for her three younger cousins in the childhood home of her runaway mom, a wild figure who's been flickering in and out of her life since birth, appearing for weeks at a time and then disappearing again for months, or even years, without a word.

Complicating matters is Lincoln, a one-armed, charismatic skater who pushes Anise to trade her surfboard for a skateboard. As Anise draws closer to Lincoln and takes on the full burden and joy of her cousins, she loses touch with her friends back home – leading her to one terrifying question: will she turn out just like her mom and spend her life leaving behind the ones she loves?
The summer before her senior year of high school Anise is being forced to spend the summer helping care for her aunt that was severely injured in a car crash. She is also there to help take care of her three younger cousins. Anise had all kinds of plans for her summer and her friends. She is having a hard time getting over the fact that she won't be there to experience all those plans and that she will be leaving California. Nebraska is a far cry from the beaches she is used to and at first she can't find any joy in being there other than her cousins.
However, during a trip to a skate park with her cousins she meets Lincoln. Lincoln is a very good skateboarder and he is missing one arm. Anise finds it hard to back down from a challenge that Lincoln lays on her. She also is learning how to navigate his disability since she does not know the right way to approach that conversation.

This book is a really good coming of age story for Anise and everyone who reads it. She has to come to grips about people changing that's include herself and learning that someone else's past does not dictate how she will turn out. Anise learns how not to be forgotten and what is really important.

Anise was an amazing character.I loved reading how she grown up during the story.Lincoln was a sweetheart.The twins were my favourite out of the book.They were adorable.Her dad was really cool and her aunt was like her own mother should be.
Enjoy this post?

Buy Renata Moravszki a coffee