Tiger's Destiny (The Tiger Saga #4) by Colleen Houck book review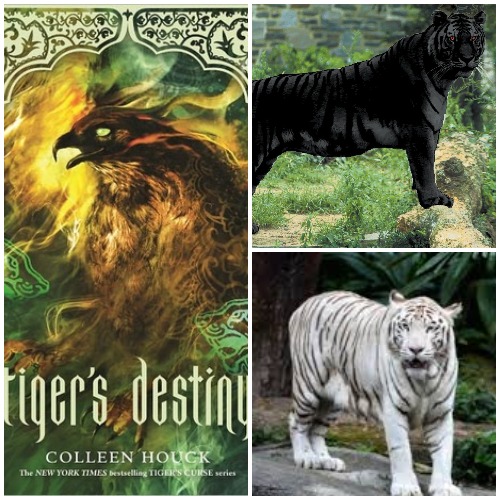 With three of the goddess Durga's quests behind them, only one prophecy now stands in the way of Kelsey, Ren, and Kishan breaking the tiger's curse. But the trio's greatest challenge awaits them: A life-endangering pursuit in search of Durga's final gift, the Rope of Fire, on the Andaman Islands in the Bay of Bengal. It's a race against time, and the evil sorcerer Lokesh, in this eagerly anticipated fourth volume in the bestselling Tiger's Curse series, which pits good against evil, tests the bonds of love and loyalty, and finally reveals the tigers' true destinies once and for all.
I loved the first two books after that it was okay for me. Let's face it: everyone knew who Kelsey would end up with.You could hope all you want, but authors rarely take the surprising side out of a love triangle.That was no surprise, but I wasn't expecting that ending. Kelsey, who's the damsel in distress. She's been captured by Lokesh, Kelsey is rescued by her boyfriend and ex-boyfriend (who she's in love with) before Lokesh marries and beds her. To break the curse, Kelsey has to retrieve the Rope of Fire, and complete a bunch of quests.
Along the way, there was a big surprise, Kishan and Durga started flirting with each other , Kelsey bitched about wanting Ren. The book is definitely action-packed, containing a heart-wrenching death that made me sniffle.One of my biggest hate in the series is that every single creature in every universe is in love with or wanting or lusting after Kelsey. She's also dumb enough to still think no one likes her. One would think that almost three years after meeting Ren and Kishan, she'd know that the brothers think she's the world's gift to mankind, and to shut the hell up with the 'I'm damaged and he deserves better.
Now, there's something I noticed that didn't make a lot of sense. She's not good enough for Ren, but Kishan is okay? Eh? Come again? That's a slap in the face to poor Kishan, who's heart gets trampled so many times, I would've gone mad (Match-Point style) and murdered Kelsey. To any other girl, the answer to this love triangle would be obvious: Kelsey should let go of poor Kishan, who's only going to get hurt by her stupidity. Kelsey goes back to Ren, and Kishan has a shot with somebody who's not a total idiot. Instead, Kishan proposes and Kelsey says yes.I know the hell she said yes. Of course, Kelsey is actually in love with Ren, but she constantly says she can't be with him because he'd sacrifice himself for her. She continuously denies her love for Ren, because she's trying 'save him'. She uses Kishan so Ren won't kill himself saving her. He's her rebound, her replacement for not being able to have Ren.
The love triangle was no doubt the worst part of the book.For the very last part of releasing the curse, a tiger must be given to Durga to become Damon, her lover and her co-tiger-person. Guess who's noble enough to do it?Kishan. Kishan, because over and over he's proved himself to Kelsey, but she continues to run back to Ren when she has more than she needs. Kishan even writes a letter saying how it took a lot of time for him to get over Kelsey...
I just hope he really loves Anamika. But I still can't get over how fast Kelsey got over Kishan. In a snap of my fingers (one week, to be exact) Kelsey was getting married to Ren with no regrets.
Enjoy this post?

Buy Renata Moravszki a coffee