For Women's History Month, Emergence Arts Presents Emily Garfield, Imaginary Cartography, a sola artist who uses watercolors to create imaginary maps and plant scenes.
Two years ago, I spotted a young artist sitting toward the corner of the bar I tended doodling in her notebook. I really do make it a point to mind my bizness while serving, but her works were too lovely to not notice and for me, a budding curator, to not invite her to submit works to Emergence Arts exhibits. The first EA exhibit she appeared in was in the Women's History Month group show Herstories: Celebrating Women, 2020, right before the great lockdown.
Standing between the conceptual and whimsical, Emily Garfield's mixed media-maps place us within our own bewonderment before contemporary space. Here we are not lost, but neither do we quite know where we are going; we are map readers without a compass, travelers in a web purportedly predictable, but actually suffused with rhythms and heats that are essentially unplottable. To navigate these spaces we need fictions—guiding maps that we read in the same sense as an unfolding novel, for no map truly plots the simultaneous existence of the four dimensions of embodied reality.
What does it mean to dwell here, where real space meets the schematic and the designed? Lyrical, playful, and thought provoking, Imaginary Cartography suggests that maps take many forms, from the organic, biomorphic, and self-evolving, to the precarious patchwork of knowledge that we cut from life's cloth: multi-textured, discontinuous, ragged at the edges. Perhaps the ideal map is not a virtual whole, but a garment of our own making that both shelters and adorns. The answers, it seems, come from without—from that absence which a map both envelopes and is spurred by, just as an amoeba is formed and deformed by the objects it digests. A free exhibition, Imaginary Cartography runs at Endless Life Brewing at 585 Franklin Ave., from March 4-27.
✨Big Art News✨ from the artist, Emily: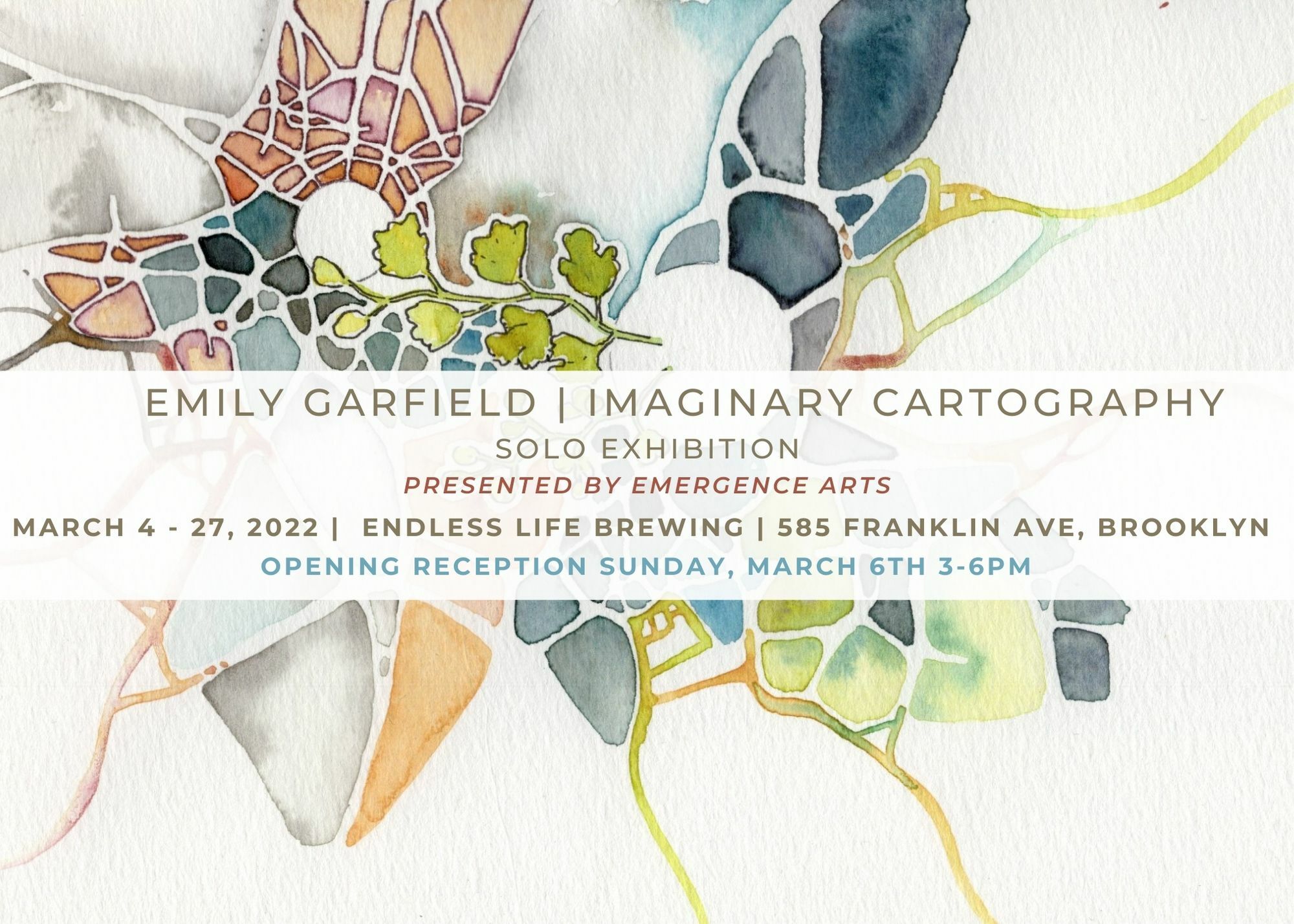 "2022 is looking up: it's barely February and I'm already preparing for a solo show…!
I'm really excited to share colorful, ambiguously-maplike watercolors through the month of March. I'm even working on some new ones for the show..! 👀

Save the date for the opening reception Sunday, March 6 from 3-6pm at Endless Life Brewing in Crown Heights, Brooklyn. 🎉
Huge thanks to @emergence.arts for the opportunity! Kelly puts sooo much energy into supporting artists and getting them shown. And I love what she wrote about my work in her latest post! 💕

I'm also working with her on doing some "artist's office hours" in the space, so stay tuned for more about that, especially if you can't make the opening!" - Emily Garfield, Instagram @emilymap
https://www.eventbrite.com/e/emergence-arts-presents-emily-garfield-imaginary-cartography-tickets-273732811207
Event is free, but donations always welcome. Emergence Arts is a safe, supportive community for artists to fully express themselves, exchange ideas and information, make informed decisions, and step into their emerging art careers with confidence. Donations graciously enable me, the founder, director, and curator the chance to keep creating opportunities for artists: group and solo exhibits, residencies, drink-n-draws, workshops, community outreach, community service, creative mentorships, partnerships, collaborations, networking events, and so much more. Thank you!