Kyiv in the day of the invasion 🇺🇦
Today I will post something different, and I wanted to share it last week as we completed one year of the invasion, but here it is.
Some months ago, I found a footage of some streets and avenues of Kyiv at the very day of the Russian aggresion. A fellow Ukrainian moved by the spirit of audacity and endurance had the initiative to take the fears aside and record to the next generations how was our capital city in 24th of February of 2022.
At a first sight, everything seems to be normal, but with a closer look, we can see some signs that something very unusual was happening: some routes with a much heavier traffic in one direction than another, very few people in the streets for a Thursday, lines to get fuel at some gas stations and advertisement billboards that were showing the blue and yellow waving flag of Ukraine.
The video has 20 minutes and it covers about 15 kilometers (some 10 miles) of a route that goes from the Southern districts of the city to the most known parts of Kyiv and the City Center, including Maidan Square and the surrondings by the last minutes.
I found it interesting not only to see how our capital looked like in the day of the invasion, but to show how beautiful Kyiv is (and how easily is to fall in love for this city.) For those who like to go deeper, here are some maps and timestamps to help anyone to locate exactly where our brave driver is going through.
Below, a map of Kyiv which the covered route is represented in red. Note the Dnipro River bissecting the city in two and Boryspil Airport to the east (your likely place of arrival in Ukraine when we get your visit after the war.)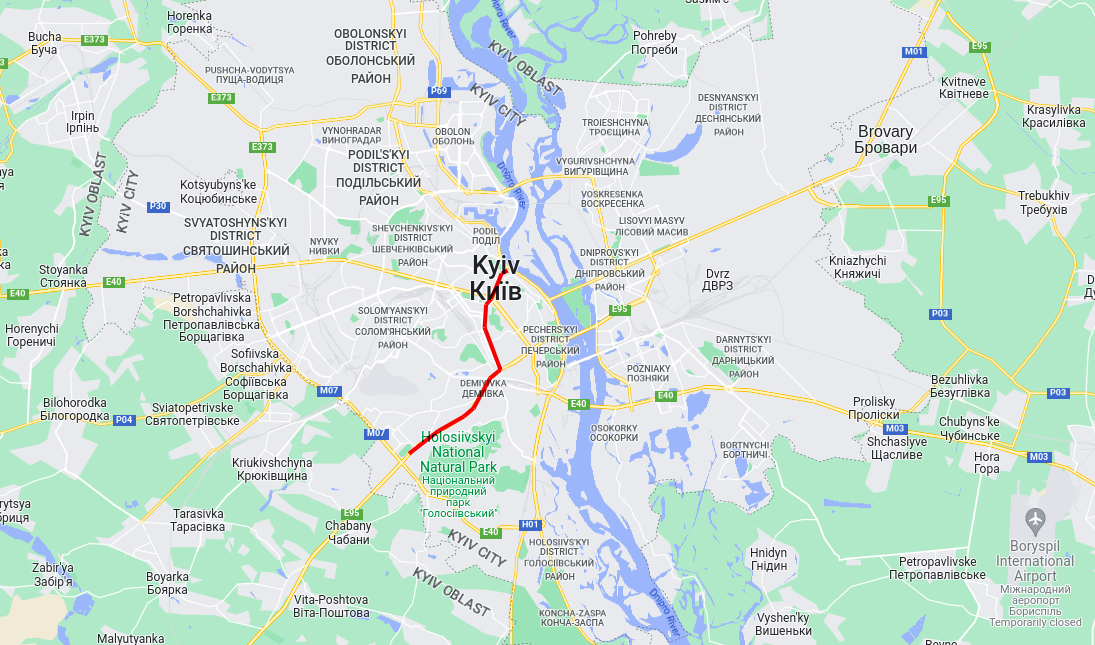 Follow timestamps below to locate on the video:
0:00 Holosiivskyi/Demiivka district - south Kyiv

Enter Akademika Khlushova Avenue
> 1:19 Ipodrom (Hippodrome) Metro Station

3:01 Holosiivskyi Avenue
> 6:34 Rylskyi Park (entrance)
> 8:42 National Library of Ukraine and Demiivska Metro Station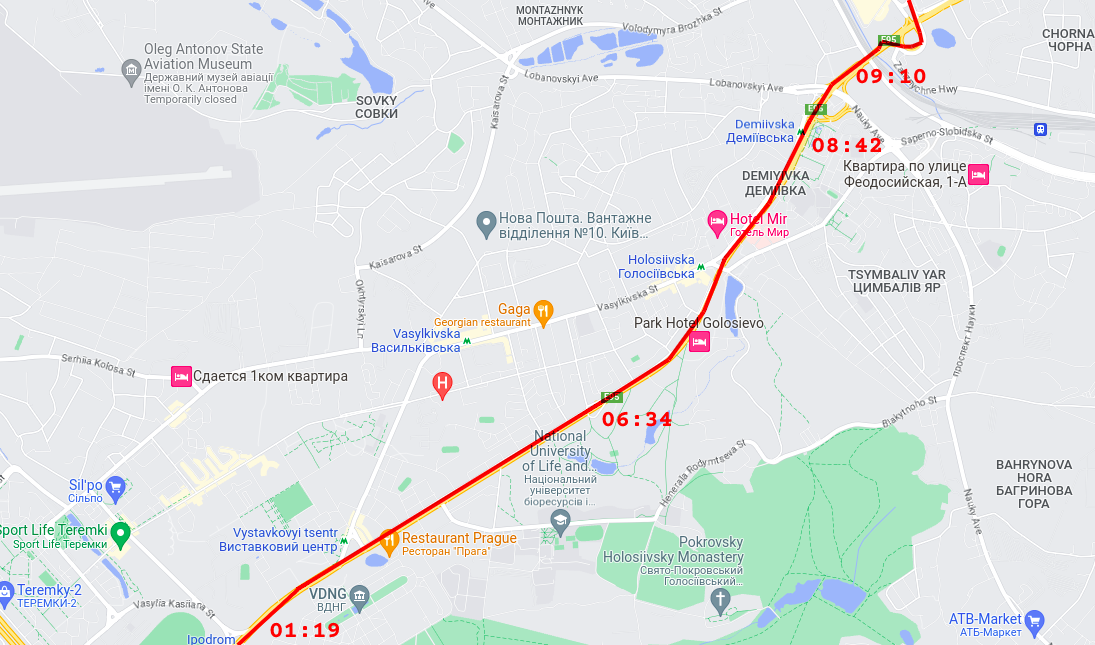 9:10 Crossover railway lines

9:27 Leave the direction to the International Airport, Chernihiv and Kharkiv to get the way downtown Kyiv

10:05 Entering Pecherskyi District
Along Velyka Vasylkivska Street:
>12:17 National Palace of Arts
>13:05 St. Nicholas Cathedral (oldest catholic church in Kyiv)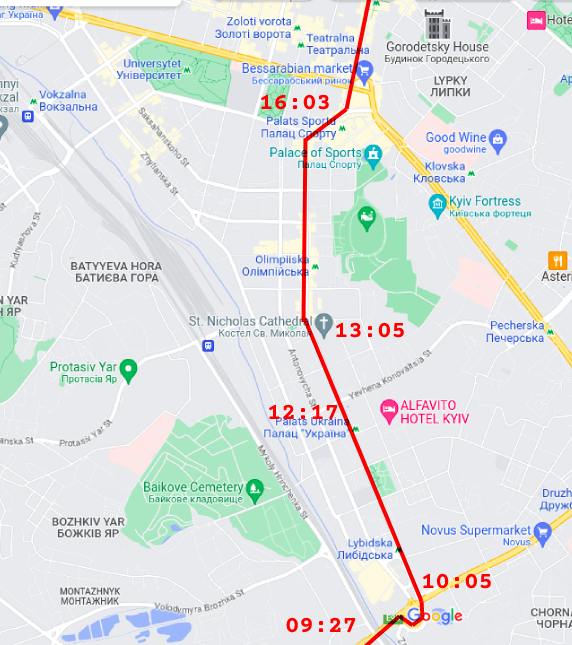 16:03 Entering Khreschatyk Street:
>18:20 Maidan (Independence) Square
>19:37 Yevropeiska (European) Square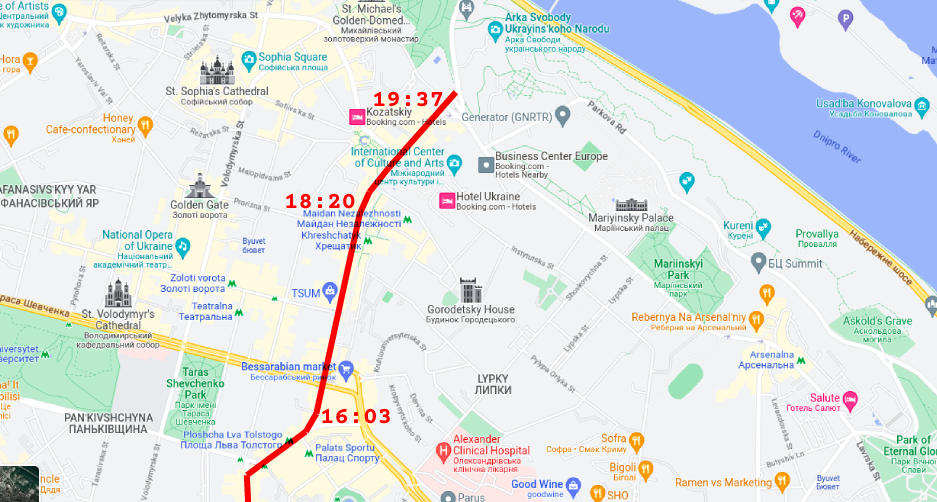 To finish our journey, this is Maidan Square from above, the one our generous driver just passed through in the video at the moment 18:20.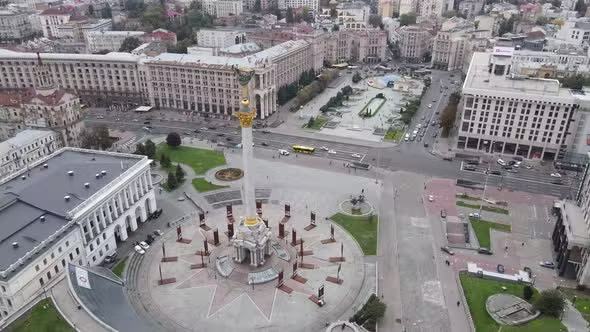 And this is just a small part of Kyiv. It would be needed 50 of these videos to show all the treasures of our capital.
Enjoy this post?

Buy Viktor Kravchuk 🇺🇦 a coffee