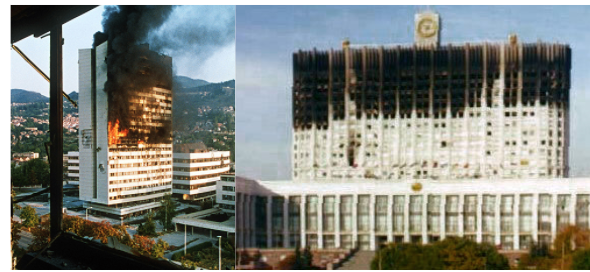 The parliamentary assembly building of Bosnia and Herzegovina in Sarajevo and White House (parliament) in Moscow, Russia on fire in 1992 and 1993.
Europe is often presented as a continent of peace, and peace is seen as a vital part of the history of the European Union. At the same time, other parts of modern European history are not about peace but about wars, violent conflicts, and human suffering in areas of former Yugoslavia and the Soviet Union as during 1990-2000. For example, during this period, more than 200 000 people in Europe were killed, more than three million were forcefully expelled from their homes, and many atrocities, including a genocide, took place.
For me, a historian with a special focus on military history, my ambition for a long time has been to create a Youtube channel and blog focusing on wars in Europe during the post-Cold War and post-communism period. You can support and reward this content creation here via Buy Me A Coffee and:
Pay Pal – [email protected]
Seeds – vladlausevic
Skycoin – ZxjhWMJRbTNCRQzy5MekZzH4fhdWFCqBP8
Bitcoin 3HbxyDXE9MhNQ8RqsirqgYvFupQzh5Xby2
Swish – 0762345677
Tezos — tz1QrRzkTAKuPKF8dmGW6c1ScEHBUGvoiJBM
Cardano – addr1q9vfs6nqz4xmtnpljwhv4tukyskd2g7enxd87rpugkwwvfun5pnla5d5tes2mvurrc77e7837yd0scrfk063qlha8wgs8d4ynz
Thank you for your following and support.