Norman Hilton of Princeton
Norman Hilton was one of the Big Five Ivy Clothiers of Princeton, and, with Langrock, the pioneer of the "Ivy League Look".
After graduating from Princeton in 1941 Norman Hilton joined the Navy and attained the rank of Lieutenant. After the war he joined his family's tailoring business. The company origins lie with Norman's grandfather, a Russian immigrant from Kiev who started a tailoring business in America in 1888. Named "Joseph Hilton & Sons" the business grew to ten retail stores in New York and New Jersey; in 1927 its flagship store was located in Times Square.
This commercial success enabled Alex Hilton--Joseph's son--to attend Princeton at a time when there were still quotas imposed on Jewish students. He graduated in 1919... after living a college life that was straight out of Fitzgerald, with country estates, chauffeurs, and limousines!
Norman followed his father both to Princeton (class of '41) and then into the family business after serving in the navy during the war.
In the 1950s Norman Hilton was a strong proponent of the Ivy League Look, and established his self-named clothing line as one of the "Big Five" Ivy clothiers in Princeton. In 1967 he was the first major investor in an employee's new clothing line. That employee was Ralph Lauren, and Norman had a close relationship with him until he decided that Lauren's clothing line had strayed too far from its Ivy roots.
Norman Hilton's suits and jackets were made at the company's factory in Linden, NJ, with the buttonholes of the better items being handsewn in Elizabeth, NJ. Norman Hilton was widely regarded as being above both Brooks and Press, and a shade under Chipp. The factory closed in 1995, and Norman Hilton's store closed soon afterwards.
The Hilton name continues in Princeton, with Norman's son, Nick, running the store ("Nick Hilton") that he opened in 2001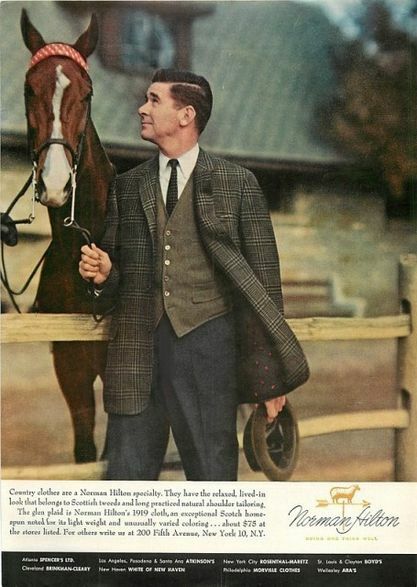 Enjoy this post?

Buy waterhollowtweed a coffee