The Successful Day Checklist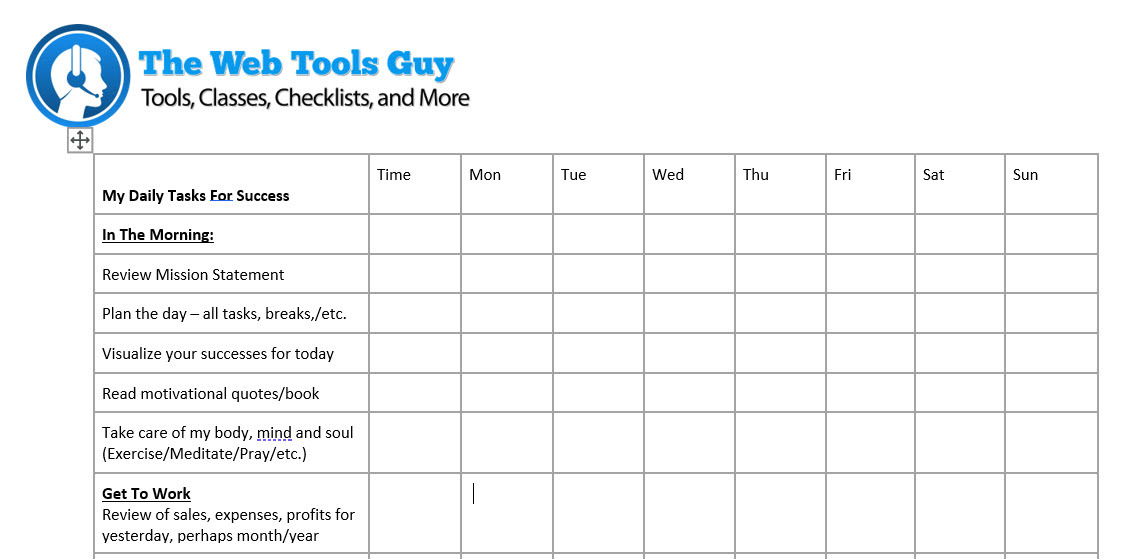 The Daily Business Planner:

Above and below is just one section of our Checklist for success. Yes, you can use the secfion below to put together your own daily checklist that you can print or use however you like. You can add your own options or delete ones I have below.

If you want to download my entire document *10 pages, not 1) you can do so here.
It has many of the steps for a successful day in one downloadable document.

Download my PDF version here.
It is just $5.00.

Or use the information below as you like for this section of the checklist. Just copy it to your word processor and edit it. Then print out the list and use it for your success!

My Daily Tasks For Success
In The Morning:
Review Mission Statement
Plan the day – all tasks, breaks,/etc.
Visualize your successes for today
Read motivational quotes/book
Take care of my body, mind and soul
(Exercise/Meditate/Pray/etc.)
Get To Work
Review of sales, expenses, profits for yesterday, perhaps month/year
Read e-mail, update plan
Do work specific to your business
(Sell, Train, etc.)
Marketing
Run Ads (Facebook/Youtube/etc.)
Make Phone Calls
Post On Social Media
(Facebook/Pinterest/Twitter, etc.)
Videos (Upload to Youtube/etc.)
Email Newsletters – setup/send new
Give Webinar
Facebook Live Session
Review sales, expenses, goals, revise for next day
Review day/goals, revise for next day
Before You Go To Bed:
Spend time with Family
Review day/goals, revise for next day
Plan the events of day for tomorrow
Plan meals for the day for tomorrow
Set water by the bed for tomorrow
Turn off electronics 1 hr. before bed
Do 4x4 breathing exercises
Sleep soundly, be ready for new day!
My goal truly is to help you be the best you can be for yourself, your loved ones and all that you may influnece positively.
My best business ideas to you,
John Davin
Enjoy this post?

Buy The Web Tools Guy a coffee