5 Easy vegan swaps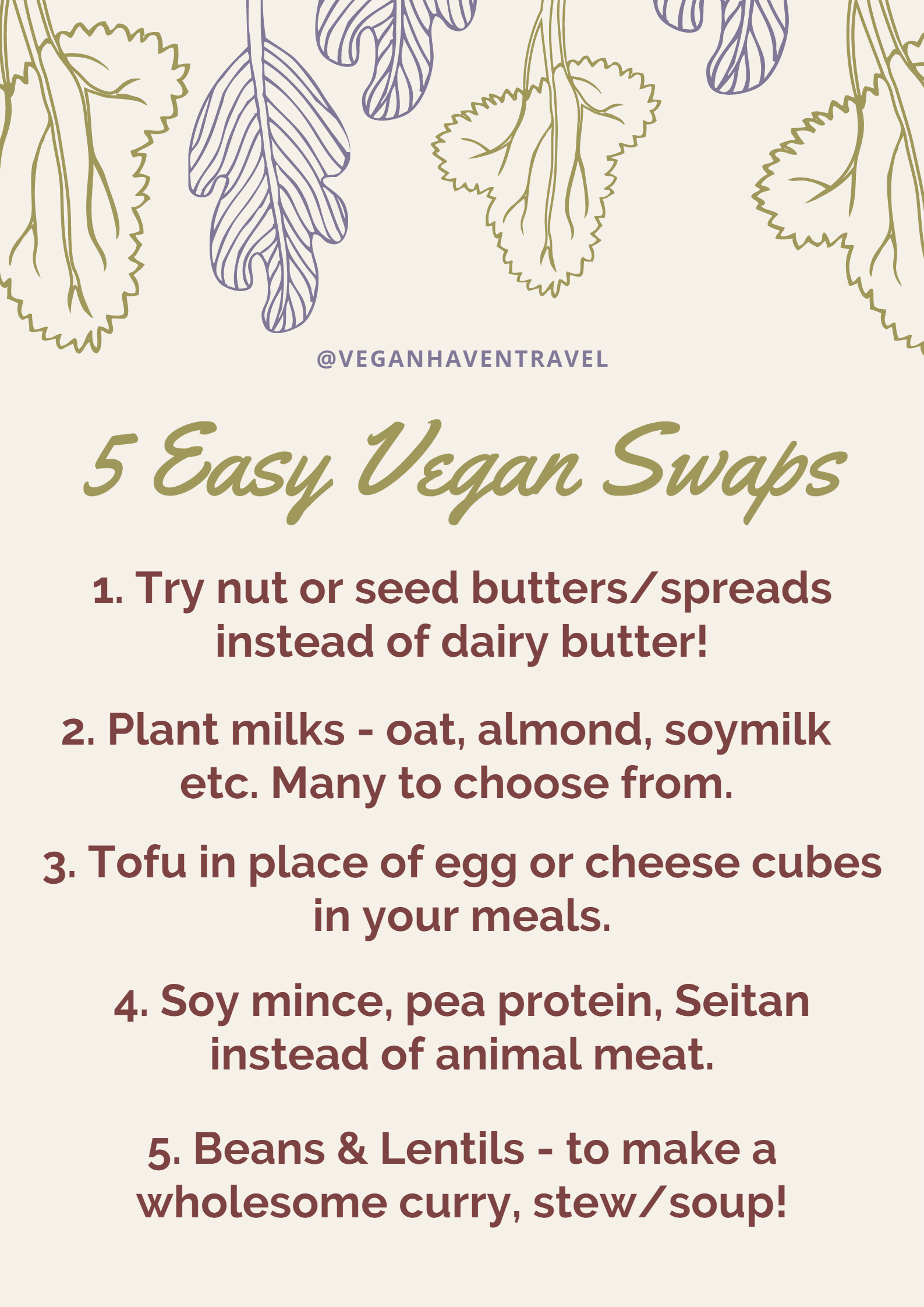 Hello Veganuary!
Some of you probably made the good decision of going vegan this month, so I made this short post to help you get started, if you need some tips. If you know someone who's vegan, then it's a bit easier and you may be familiar with these things already. But no worries, thesedays as you can google pretty much anything and the easiest way to get started is to search 'vegan recipes' or just make whatever you usually make and find the vegan recipe for it.
e.g. Type in 'Vegan Shepherd's Pie': you'll find tons of recipes. Here are a couple -
https://rainbowplantlife.com/healthy-vegan-lentil-shepherds-pie/
https://minimalistbaker.com/1-hour-vegan-shepherds-pie/
All you need to do is swap out the animal ingredients and substitute with plant based ones. I've listed the easiest swaps starting with dairy products.
PLANTMILK: We can find alternatives to animal milk products in almost every supermarket now -plantbased milk, cream or yoghurt. Oat, almond and soymilk are the ones we usually consume. Store bought ones have added vitamins and are nutritious. There are creamier versions for coffee/tea also available like Oatly iKaffe and Alpro Barista (our favourites).
Tip: Look for plant milks in a different section for 'special milks' or such, they are usually kept non-refrigerated.
NUT or SEED BUTTER: alternative to animal-fat butter. I'm not saying margarine is healthy but there are some made with relatively healthy vegetable oils. They can be found in regular stores in the butter section. Also, why not try spreads like hemp + sunflower seed paste, these are probably the healthiest option. You can make your own or find some in store. Organic/ health stores always stock these.

TOFU: This is a vegan staple, highly nutritious, calcium, amino-acids and all. You simply need to know how to cook and marinade it well so it tastes like something. I didn't have much tofu at all in the beginning when I switched to vegan (or even when I was vegetarian). Now I have found out that it's so versatile and cook with it often. Tofu can be used both as a source of protein or to replace egg/ cheese products in dishes. Supermarkets must have a good selection of tofu blocks - usually in cheese or Vegan section. And they usually also have pre marinated and flavoured ones!

Check out the best tofu recipes here: https://veganheaven.org/all-recipes/the-20-best-tofu-recipes/

SOYMINCE, PEAPROTEIN, SEITAN: These are just some of the products used as meat alternatives. Swap out animal meat for these. We don't really need meat alternatives with every meal, it's just had as an enjoyment and high protein source. It may initially help those who are switching to vegan but you can also just have simple unprocessed foods.

BEANS & LENTILS: If you want the healthiest possible meal of wholefoods and minimally processed junk, add in some good ol' beans and lentils and ditch the meat. Indian food uses a lot of lentils (dal) and beans and I've grown up eating those. Although I fail to make those dishes to taste so good as they do back home, I can do a lentil soup or chickpea curry pretty well. Here's some good recipes:

https://minimalistbaker.com/easy-chana-masala/ - chickpea curry.

https://www.avantgardevegan.com/recipes/lentil-dal-with-tofu-chicken/ (The lentil dal part. It's ok if you're missing a couple of spices;)
*************
FINNISH: If you need recipes, tips in Finnish - there are many good sites:
Vegaanituotteet for vegan products available in store: https://www.vegaanituotteet.net/
Food and recipes: https://chocochili.net/
https://goldandgreenfoods.com/fi/vegaaniset-reseptit/
Also my post on the blog on best Finnish plant-based products https://veganhaventravel.com/2021/05/25/plant-based-finnish-brands/
Enjoy!
Enjoy this post?

Buy Veganhaven a coffee