Weekly Blog #20 - July 25th 2021
Hi everyone!
I'm surprised that I even have the energy to do a blog post today, this week has been incredibly tiring for me and I am just ready to go to sleep however I currently have no bed as of the time I write this post up - it is currently covered in stuff that I need to tidy up so I will have to muster up the energy to do that in a bit! 😴
Moving on to a more positive topic Pokémon Unite released on the Nintendo Switch back on July 21st and I have been playing it loads!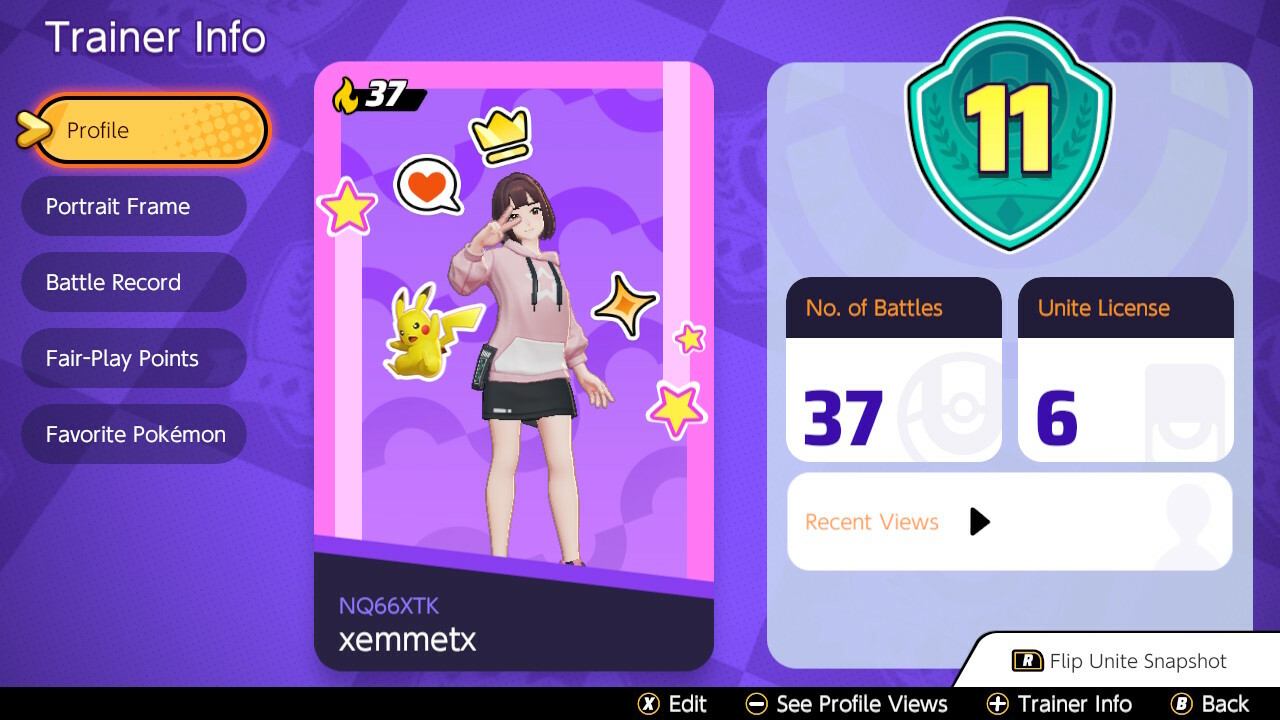 I'm currently Trainer Level 11 and still pushing onwards to try and brush up on my skills!
I have never really played a MOBA (Multiplayer Online Battle Arena) game before properly (not sure whether Smash counts as one or not but I feel like it doesn't as the stages technically aren't arenas and are normally platforms) so I wasn't sure how I would fare in Pokémon Unite but I have actually not done too badly so far!
I didn't take a screenshot of my Battle Record but my win rate is currently 67.5% (I have done 37 battles so far) so at least that means I have won more battles than I have lost! 😅
I have so far been maining Pikachu and Slowbro - I want to main Cinderace but honestly I find that the controls for Scorbunny/Raboot/Cinderace are tough when it comes to moving the Pokémon around the stadium it is difficult to control and it feels like there is a lag between when I move my left joycon and when Scorbunny/Raboot/Cinderace actually moves... which is why I have been sticking to Pikachu and Slowbro so far!
I don't really have tonnes to say about Pokémon Unite right now as the game hasn't even been out for a week yet aside from that it is a fun, free to download and play game and is great to play to pass away the time... or even to grind away for a high Trainer Level, Held Item levels, Rank in the Ranked battles etc.
On a similar note to keep to the Switch topic - I have also been playing Stardew Valley this past week. I've been meaning to play it and give the game a proper chance and I am now really enjoying it! I won't lie I haven't touched it since Pokémon Unite came out earlier in the week but I will probably jump on to Stardew Valley later after writing this post up! 💜
We are already near the end of this blog post, I haven't had a lot to say this week and I didn't want to be too negative so hence this post being so short! 😅
I will likely have a longer post the next couple of weeks as I do get to meet Miura Ayme over a Zoom call next Sunday... 💜😳🖤
And so on that note I am going to end things here! I hope everyone has had a great week and that the coming week treats you all well too! 💜
P.S. I wrote this post up on the BMC app! I hope it looks ok! 🙈
My top 5 song recommendations for this week (Aqours special... I just really love Aqours sorry everyone 😂):
Enjoy this post?

Buy xemmetx a coffee