Weekly Blog #21 - August 1st 2021
Hiya! It is the end of another week which means it is time for another blog post! 💜
This week has truly been a roller coaster ride for me - plenty of positives and negatives but thankfully the positives have outweighed the negatives for a change! I have been dealing with a lot of horrible stuff recently so to get a week full of some positives for myself was something I could have only dreamed of happening! 💜
To get the ball rolling I'm going to talk about the main point I have to talk about first and then go into other bits that I also wanted to talk about! 💪🏻💜
Art:
So with me having mentioned that I want to get back into doing drawing etc. again I decided as I got paid last week that I want to uphold my end of the promise and did a few bits in relation to doing more art and just drawing in general! 💜
Firstly I have made not only a deviantArt account but also made an art account on Instagram! I made these accounts so I can keep all of my art in general separate from my cosplaying and ita bagging posts! 🎨
My deviantArt username is JewelInTheJail - www.deviantart.com/jewelinthejail
My art Instagram username is xemmetx.art - www.instagram.com/xemmetx.art
I haven't made a separate Twitter account as I generally find that I just like to post about everything on my Twitter account so you can still see my drawings on Twitter too! 💜
Speaking of posting art on Twitter - I posted my first piece of digital art that I have done in around 5~6 years on there in the early hours of the morning, whilst it isn't the best I was pleased with what I managed to achieve as I do need to get used to using art applications and the graphics tablet again! 😅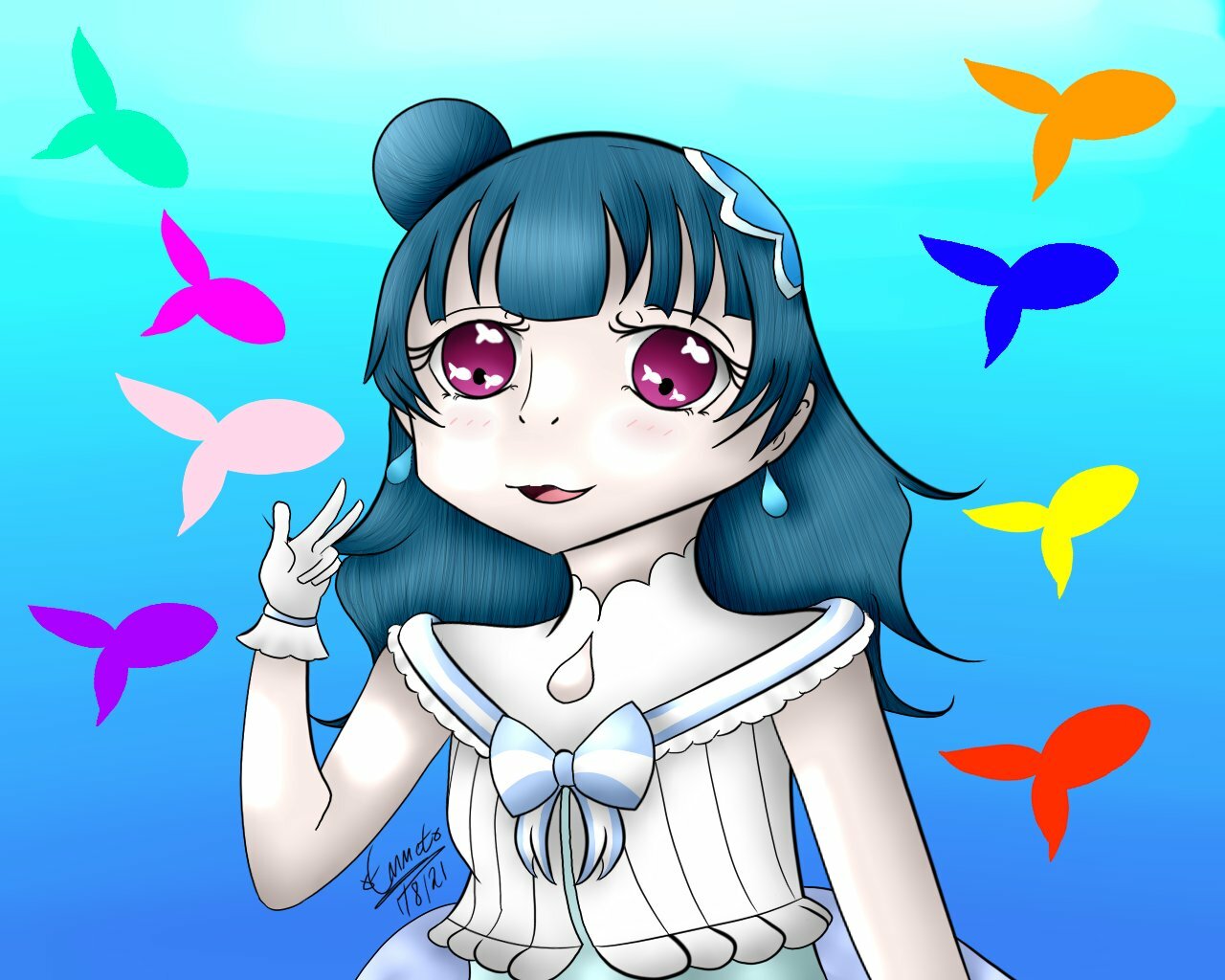 I haven't really spoken about why I stopped drawing as a whole properly and I did mention on deviantArt that my ex and my mental health was the reason for it and I don't want to delve any deeper than that (and I also can't delve any deeper into it either) at this time so I won't be answering any questions on that! 🚫
But I am happy to be getting back into drawing again even if it is gradual, I'm finding life is draining me which means that I have little energy to actually do hobbies in my spare time so hopefully at somepoint in the future that will change! 🤞🏻
Gaming:
As I'm sure we all know, I enjoy playing games and I have been recently thinking about doing streaming however I don't have a lot of space and only really got my mobile or my Switch that I can play games on. I also unfortunately don't have a lot of space for setting up equipment etc. for streaming so I won't be able to use a webcam at all and sit for long enough to do a stream without any discomfort so looking at not going down the webcam route to save me some discomfort and to also hopefully set things up in the near future. I don't have a capture card or anything and will need to look into doing streaming at very particular times as unfortunately our WiFi at home is absolutely awful and I don't want to rely on using my 4G to do streaming all the time! 🙇🏻‍♀️
If me streaming interests anyone then please let me know and also make some suggestions! I can't do any PC games (sorry specifically to Genshin fans 😶) as I only have an old laptop and I can't play a lot of games on there at all but if I do get into streaming I will probably mainly be playing games like Pokémon, Atelier, Fire Emblem and maybe some Animal Crossing too??
But yes I will look into it all and will probably only do it once a week and then pick it up more when I have time away from work!
I probably won't stream any mobile games properly until January 2022 as I will get to upgrade my phone then so I plan to get a newer and more powerful phone before then! 🙇🏻‍♀️
💜 Meeting Ayme for the first time 🖤
So as I have mentioned frequently over the past month or so - I was lucky enough to be able to get a ticket to talk to Miura Ayme over a Zoom call session (hosted by Hyper Japan) and I had my session at 15:45PM (UK BST time) and here is a summary of what happened:
So the call started with me having technical issues (because I am just blessed with bad luck 😫) and Ayme was so sweet and helped me sort it all out! 🥺
We got it all sorted out quickly thankfully as I only had a limited amount of time to talk to Ayme and we greeted each other - this time with a working mic! 😅
The host asked me if I had any questions or messages for Ayme and I managed to quickly say "I just really want to say thank you for all of your hardwork and for your music! It all means the absolute world to me!" and Ayme was really happy to hear my message and said thank you and thanked me for all of my support and that was when I started to struggle with my speech problems, I just couldn't get my words out but thankfully Ayme realised I was struggling and led the conversation on and asked where I am from (England 🇬🇧/🏴󠁧󠁢󠁥󠁮󠁧󠁿) and he lit up and said that England is a really nice country and we had a laugh as I said that it wasn't so nice today as it keeps raining on and off, he then asked if I was near London and I said that I was about an hour trains journey away from London to which he then said that he really wants to come back to London and perform there again and that he hopes to see me there and I promised that I would be there! 💜🥺🖤
He then noticed my Namjatown Asmodeus badge that I was wearing and we started talking about Asmodeus and he asked me "Do you like Asmo-chan?" to which I said "I love him! Asmo is the best!" and he was really pleased to hear it and told me to continue supporting both him and Asmodeus and I promised to do that too! He also said that he really liked my shirt I was wearing too and I got flustered because AYME LITERALLY COMPLIMENTED MY FASHION FOR THE DAY!? 💜😭🖤
After that he asked if I watched his Hyper Shows and I said that I watched the one on the Hyper Japan YouTube channel multiple times and stayed up past 2AM to watch it all on Ayme's YouTube channel to which I he said "Oh wow! That is very late in the night!" and I said that by time the show ended I was full of energy at 3AM! 😂
By this point my time slot was coming to an end and I was told to share any last questions or messages and I thanked him for taking the time out of his day to meet with us all and he said thank you to me for joining the call! 💜🥺🖤
I was then allowed to take a screenshot of the call we had and I had to take it with everyone in the call as the host spoke over Ayme and I couldn't get a better screenshot but that is absolutely fine as I will treasure it (and to be fair the host also deserves just as much appreciation for helping with the call - a big, huge thank you to Hyper Japan for helping to host this 🥰)! 💜🥺🖤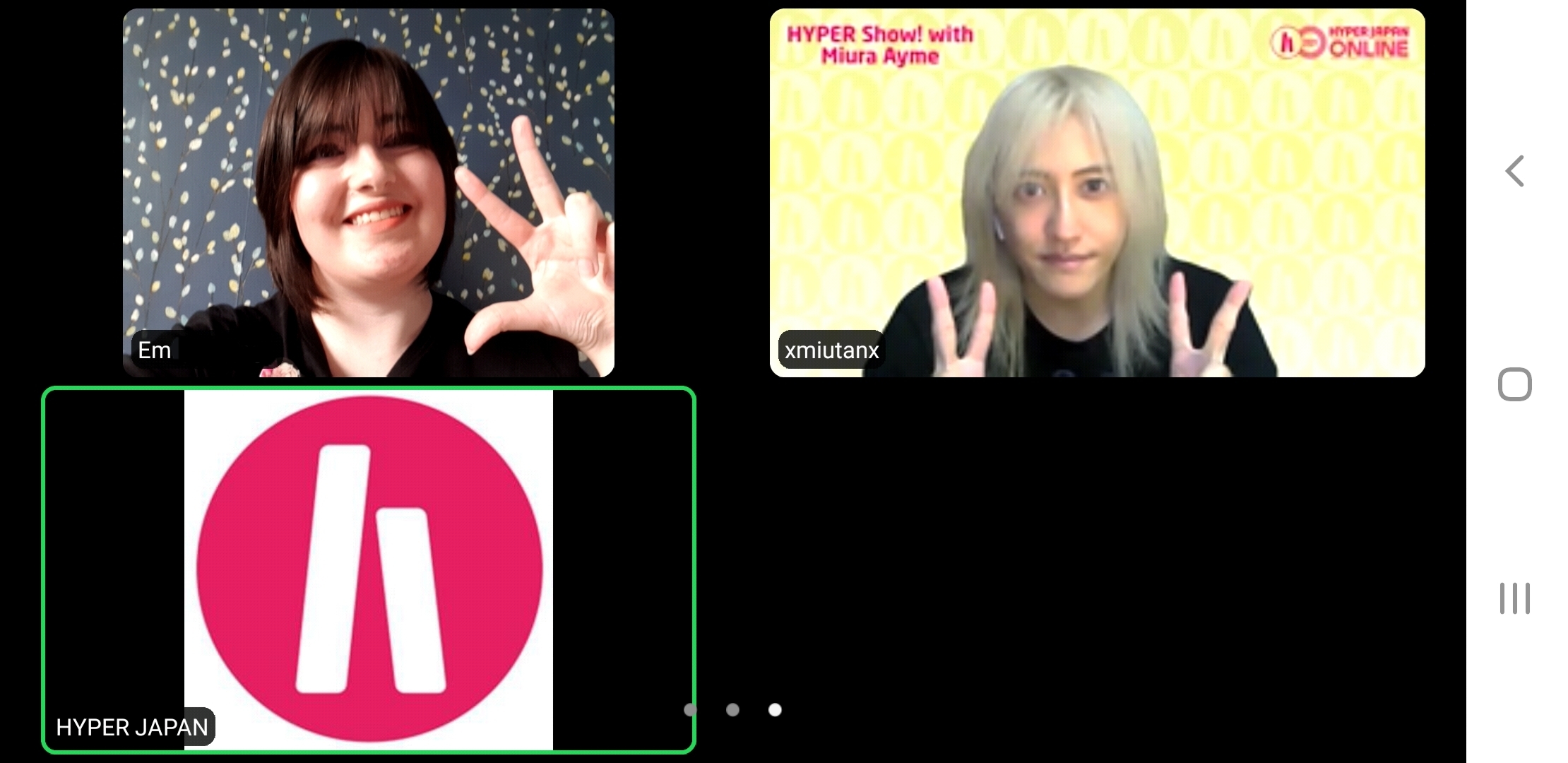 Also can I just say that his display name was very cute... I wasn't allowed a cute display name as I had to use my full name (which has been mostly blocked out for privacy reasons) so the host could identify me as this was a paid event!
Overall Ayme made me feel very validated and welcomed and he was incredibly sweet the whole time! Please, please support Miura Ayme everyone! I'm not just saying this to be biased but he absolutely deserves all of the love and support in the world - his music is absolutely amazing and he is such an amazing and sweet person too! 💜🥰🖤
I really hope that Hyper Japan will be able to go ahead in July 2022 safely so that Ayme can come and perform again and this time I hopefully won't miss it! 🤞🏻
I missed his performance last year due to an injury and also troubles with the trains being either cancelled or delayed and also with stuff to do with our Airbnb too... 💔😫💔
I really loved my time talking to Ayme and after the call I was really shaking out of happiness and nerves, I'm glad I was able to talk more than I thought I would have done during the call though! 😭
And with that here is a selfie of what I wore today in the end for my Zoom call with Ayme: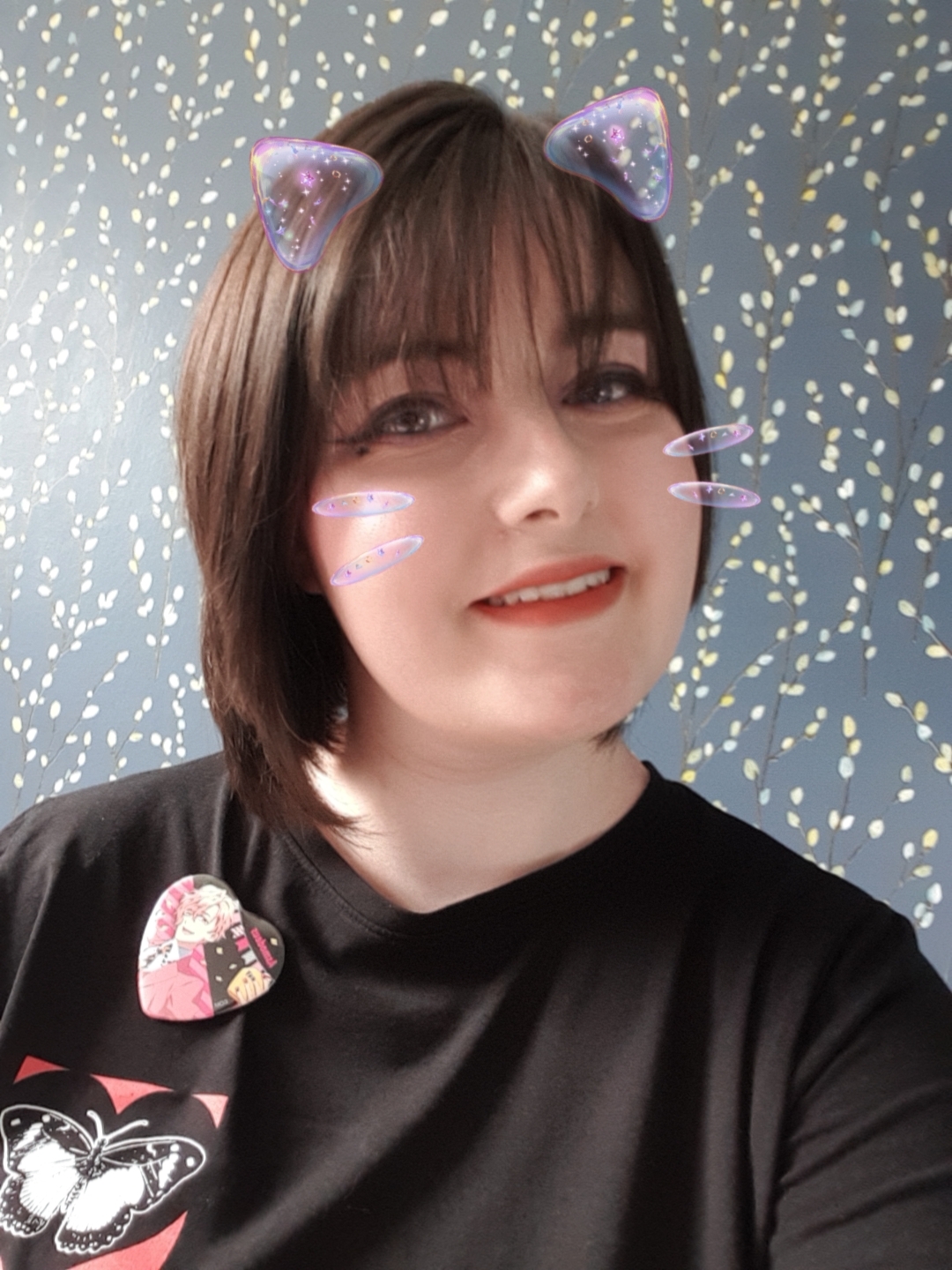 Excuse the Snow filter but I had to take a selfie quickly because I generally find that with anything like this I get emotional so I wanted to try and get a somewhat decent seflie! 😅
I also did a quick selfie afterwards through Instagram which is actually better quality despite the use of a filter once again: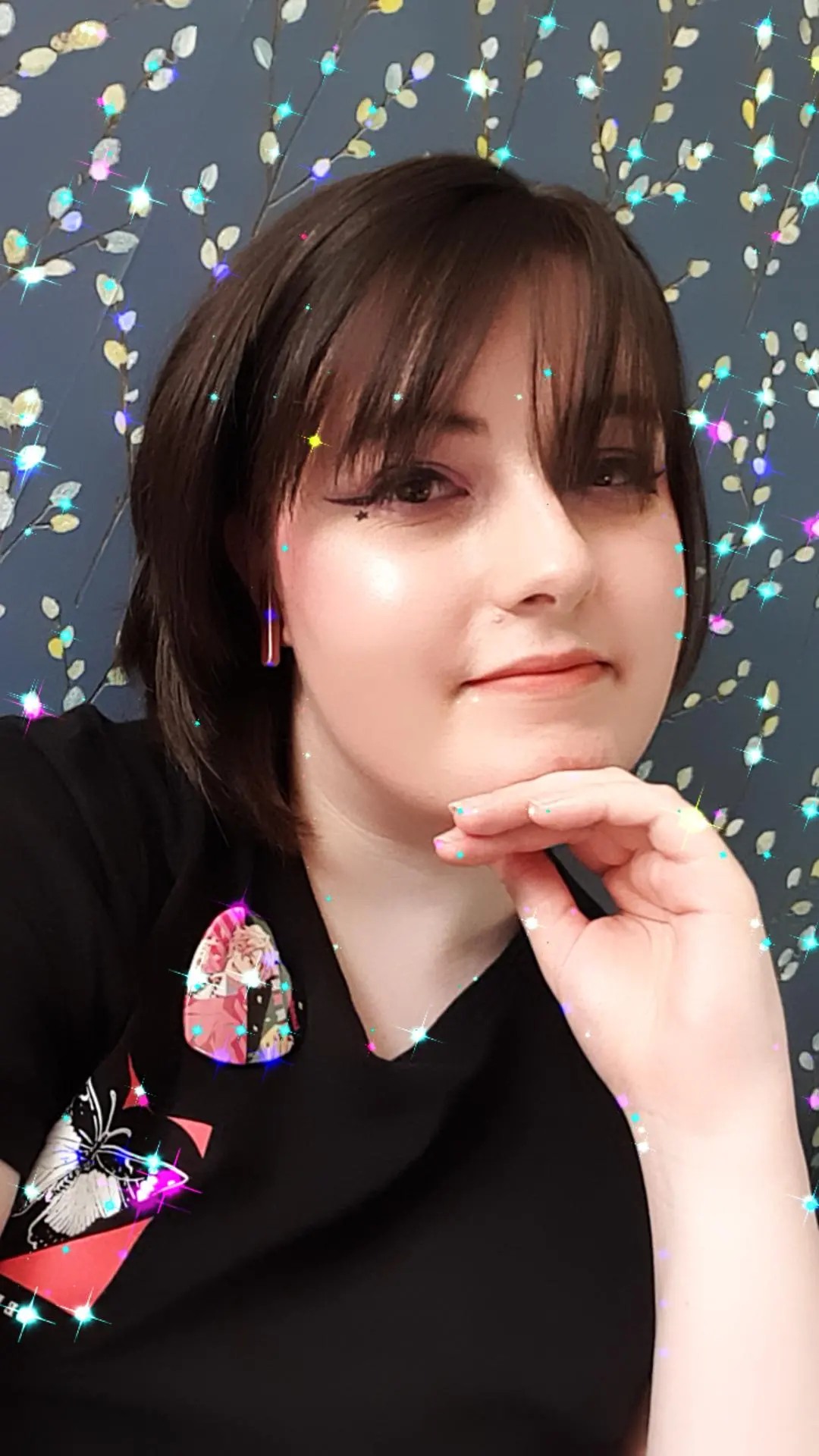 We will not talk about my huge spot by my nose... It literally came up yesterday... 💀
And with that I am going to end this blog post here! If anyone actually read right to the end of this then thanking for reading my ramblings! 😂
I hope everyone else also had an amazing week and on the off chance someone who also met Ayme reads this - I hope you also enjoyed your time with Ayme! 💜🥰🖤
I'm going to end this blog post with 10 instead of 5 songs as I wanted to share my favourite Ayme songs and also my favourite songs from Chika Takami's new solo album (🍊 Happy Birthday Chika! 🍊) so I hope everyone enjoys this very specific Miura Ayme and Chika Takami song list this week!:
Enjoy this post?

Buy xemmetx a coffee