Miracles Happen (NPR Interview on KUOW)
1/17/2020... It has been a minute. A long nine days since my last blog entry and for this I truly apologize. Much has happened in that time. As I sit here at Starbucks in Seattle's Central District I am in shock at how quickly my life has changed. Wow. A little over a week ago I was becoming discouraged at my lack of progress. I was at a low point and even though I was able to muster up the courage to start advocating for myself again nothing seemed to be happening. I was ready to give up again and head for the woods like Grizzly Adams. Three decades on the streets and also growing up in the tundra has taught me a lot about survivalist training. I am fully capable of bushwhacking my way in the wilderness. Thankfully a miracle happened and I was able to find a way up and out of my dilemma.
After all of my efforts the pieces slowly started falling into place. Over the last month I have been posting on social service pages on Facebook about my plight and need for safe and sober shelter. I also needed storage to keep my things that were getting too heavy to carry. In that time I created this blog and started spreading the word that I am long past ready to regain my stability and life. The first part of this timeframe was over the holidays and I wasn't getting many bites if at all. I also wasn't going to give up and I kept pushing forward. I was trying anyway. About two weeks ago just after the New Year and soon after starting this blog someone reached out and offered his back patio deck as a storage area. Wow. Yes please. That is exactly what I have been praying for.
This stranger that had read about my situation and wants to help has storage for my gear. He did not have a space for me to sleep though. Oh well. Perfect. All I needed was a spot for my stuff and in that way I could start going on job interviews, hopefully find a job and save up for a place. I would continue sleeping in parks, getting up for work every morning when I found employment and eventually get off the streets. Ball in motion. Prayers answered. A week after our initial contact I met up with this gentleman and we hit it off right away. On January 10th, 2020 he offered up his backyard for me to camp for a few months. Wow. Thank you, God. Still homeless but I now have a safe place to camp and storage for my property. I prayed, I asked and it happened. A miracle. One week later I am just starting to dig in, getting used to my new spot and have already found work.
Alrighty then. Goals achieved. Storage and a safe place to sleep for the rest of the Winter. Check. Day labor employment and a promise of full time work in the future. Check. An expanded network of friends and colleagues who will help me get off the streets for good. Check. A radio interview on NPR, aired on a local public radio station, where I can tell my story and educate people about why the homeless would rather sleep outside than live in a shelter. Check! Yes that happened!!!
I was interviewed on KUOW 94.9 an NPR affiliate about what it is like to sleep outside in the Winter. Wow. What an amazing opportunity and experience. The interview aired on radio on 1/16/2020 a day after it was recorded and has also been put in podcast form. I will include the links below. A highly edited segment but I feel it came out perfect and I was really able to open up and tell our side of things. We the homeless and houseless of the world. Not just Seattle because these issues happen all over the country if not the world. The interviewer Bill Radke really helped with his excellent listening and interview skills. I told a watered down story of my life and we discussed the dangers of homeless shelters. It also seemed to have much to do with social anxiety. Give it a listen.
This is not the investigative reporter I told y'all about last week from Reveal News. I have yet to get back to her with my information about and negative experience with Seattle's Union Gospel Mission. This one was an interview on NPR! I have been listening to NPR since grade school and am thrilled to be given the opportunity to be part of their programming. Even on a local access radio station. Public radio is very special and does a lot for our communities and for that I am grateful. This was the highlight of my forties I think. From what I understand my segment has gotten some pretty positive feedback. The reporter on homelessness for KUOW has given me her business card and I have some ideas for her to look into on how to help the homeless in Seattle.
So yeah, I mentioned employment. I have applied and been admitted into a non profit staffing agency called the Millionair Club. This place helps people struggling to survive with temporary day labor but also connects us with full time permanent work. They also have showers, laundry, school size lockers, two daily meals and case workers. The building is located on Western Avenue and Vine Street in Seattle's Belltown neighborhood. This place will help me get into the Downtown Ambassador job I mentioned in other blog posts. I am very excited and hopeful to start working again. Living on the street is a full time job to survive so I am no stranger to working. I have also held a few fast food jobs in the past and worked for myself vending at concerts. This is a new beginning for me. I could not have done it without the angel who has welcomed me and allowed me to camp on his property.
The Millionair Club even has a two year transitional housing program that helps you save up for your own apartment. The rent is only $550 a month and you get your own single occupancy room with shared bathroom and kitchen. This is not like Aloha Inn for example that asks you to work for the house in lue of rental fees for a shared room. From what I understand this Millionair Club housing isn't a very structured program at all. Just a place to live while you work to save up for permanent housing. A full time job is required and I see that happening soon. I hope to be in there by February or March. In the meantime everything is working out in a borrowed tent in my new friends backyard. Like I say a new beginning.
Ok. Not my longest blog entry but still pretty lengthy. I have been given renewed hope and will try to blog at least three days a week if not daily. With high school continuation classes, work and general life responsibilities I will not have as much time as I wish for. I will try to keep y'all updated though. The radio station posted my blog link to their Twitter page and mentioned it at the end of the radio segment so this place has really blown up. $469 in donations and two-hundred new views since the radio segment aired yesterday. Only $19 of those dollars was before the interview. I keep saying this but wow. This will really help me with a move in deposit for a studio apartment and the occasional hot meal. I need a work phone too. Thank you so much! You are helping me move forward.
One last thing before I go for the day. I want to make clear you do not need to donate to this blog to follow it. There is not a free follow feature but you can bookmark the page. I will start sending alerts to supporters but if you want to follow my blog for free just keep checking back for new entries. Between the buy me a coffee's web page fees and Paypal's fees I only receive 89.1% of the donations but it really helps. They take a combined 10.9% for the service but that is the way the cookie crumbles. These donations still help me in my journey off the streets. I am sober over six years now and have just started working again. After I get off the streets I will start using these donations to help other houseless people get to where they want and need to be. You are really helping and I appreciate you. No need to donate to follow me but you can if you want.
This is one of my longer entries for sure. Keep checking back and I wish blessings to each and every one of you. Help me help myself plant roots in the Emerald City. I need to get off the streets for good.
Below are the links to my radio interview segment. It was at the end of a program hosted by Bill Radke called The Record. Pretty good podcast episode that included a discussion about Microsoft and also the failed and exaggerated weather reports we got here in Seattle about heavy snow this week. We did get snow but not as much as they predicted. But yeah, great to speak at you and keep coming back. You have really caught me at a huge upswing and positive transition in my life.
These are the links I have right now. If they do not work on your computer try on your cell phone. This is the link to the full interview on KUOW's web page. My segment starts at the 18:58 mark of a 51 minute podcast. My interview segment is 19 minutes long. Click here: https://www.kuow.org/stories/in-the-rush-to-shade-amazon-have-we-forgotten-about-microsoft
If you want to jump straight to my interview segment they just posted a link dedicated solely to that recording. 19 minutes of my story and experience on the streets. Please listen to the audio recording that was aired on the radio. There is a play button on this linked page. The texted transcript is so out of context. Click here: https://www.kuow.org/stories/being-homeless-in-seattle
Thank you KUOW and thank you to the Samaritan Beacon group for connecting me with this radio station. I am in shock about how swiftly my life is changing for the better. All I had to do was ask. Blessings.
Me in the KUOW 94.9 studio recording an NPR radio interview on 1/15/2020.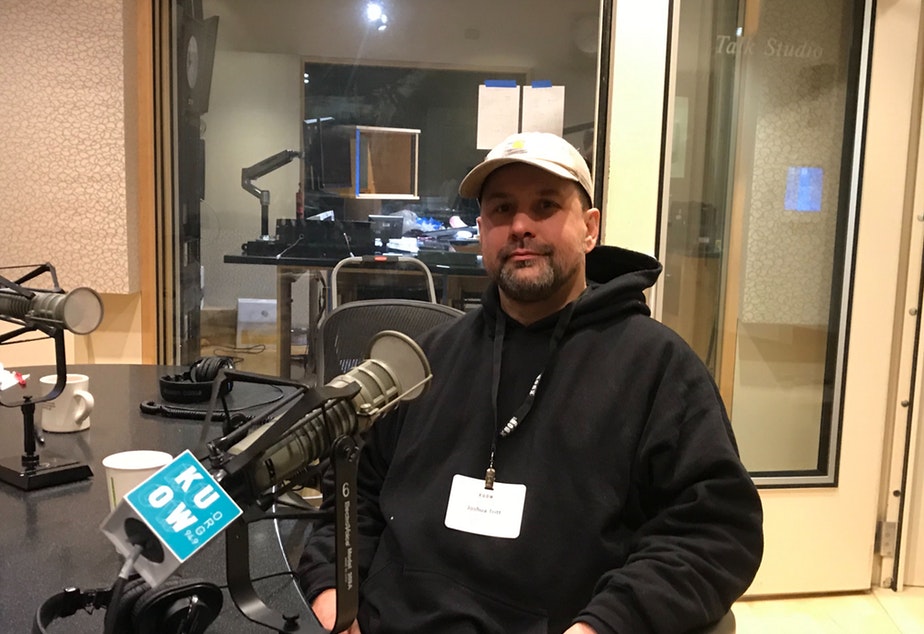 Enjoy this post?

Buy Homeless in Seattle (Joshua Tritt) a room rental