2021 February: F is for Food Waste
If you are reading this, you deserve two things.
First, a thank you for signing up to read Liquid Matters. This newsletter and the information it relays only means something if there are people out there to read and share it.
Second, a "well done!" for making it through lockdown so far. Personally, I am not liking my apartment at this point, even less so the very desk I'm writing this newsletter from. The workaholic/part-time alcoholic in me desperately miss sitting at the bar, my computer to the side, a Tommy's at hand and busy bartenders stirring and shaking in front of me.
When you're forced to gear down, you risk turning your spare time into an empty void. The key is to fill it with something meaningful, and if possible, something that can be beneficial for when lockdown lifts. I've completed a free wine course online, started re-reading some of my favourite cocktail books, and brushing off my flaring techniques (okay, the latter amounted to practising hand-stalls for 30 min. one day about three weeks ago).
Some of us might emerge from lockdown more technically skilled than we went into it. But my concern is what good will it do if there isn't much to return to on the other side? The longer this lockdown continues, the bigger the financial impact on our industry gets.
It got me thinking. What are some easy tools, practices and methods to improve liquidity that bars may develop during the lockdown and potentially implement immediately after?
2021 is the year of anti-waste - so let's not waste it.
Food waste is one of the main causes of climate change, and one that even the liquids industry shouldn't ignore. Consumers are increasingly aware of what sustainability means, so much in fact that it has become a key element of the business competition. As such, anti-waste practices could drive guests to choose one establishment over another.
In Denmark alone, the service industry is responsible for close to 300.000 tons of food being wasted annually, according to The Danish Ministry of Environment. Bars may not be the main problem, but what if we become the solution? How would that change the narrative around cocktail bars and nightlife?
If we look beyond our own industry, we have all the tools, mechanisms and inspirations we need in close proximity. Denmark is already a leading force in the fight against food waste, celebrating its first national anti-food waste day in September last year. And this is thanks to small and independent startups such as Too Good To Go, Eat Grim and online supermarket Motatos.dk, showing consumers and retailers just how easy it is to minimise waste practices.
How does the national effort translate into bars? In a special feature exploring the potential, challenges and benefits for bars going anti-waste, head of bar and beverages at ARK plant-based fine dining restaurant, Toby Efteland, shares his input on basic steps bars can take to reduce, reuse and recycle food waste. And for this month's podcast, Saimon Skurichin of BRØL circular beverage company shares the benefits of brewing beer and kombucha from surplus food and produce.
Bars, and particularly those in Denmark, are already doing a lot to minimise waste - but hopefully, this month's newsletter can provide inspiration for those looking to do just a little more.
Keep reading for:
News and events - things you need to know about.

Check THEM out! - digital solutions in focus.

Podcast: BRØL is Fighting Food Waste - One Beer At A Time.

Droplets - industry-related content you should definitely check out.
Spotlight: Mads Schack - voices from the industry recommends.

NEWS AND EVENTS
This week, the Nordic Spirits Awards 2021 returned to present some of the most exciting craft spirit producers out there. Seeing it LIVE on YouTube wasn't exactly as thrilling as celebrating the winners in a bar. But small interviews with people from the Danish industry in-between announcements provided both entertainment and insights. You can check out the winners and rewatch the show on the Nordic Spirit Awards website.


As soon as lockdown lifts, non-alcoholic spirits brand A Verre and Kyros & Co cocktails are popping up in Torvehallerne, Copenhagen. The addition of cocktails to the food market is long overdue, and with a custom-built bar, it's looking to be a busy pit-stop for commuters.


EtOH Spirits just launched their online shop with free shipping! EtOH produces aged spirits by putting the barrel into the spirit rather than the spirit into the barrel, so to speak. Using their Jensen Reactor, they take New Make spirit and add certain flavour components normally obtained over years of barrel ageing in only a matter of days. Be sure to check out their website for more details on the science behind.


Abstinens cocktail company finally launched The Wrathful Duck, their first-ever spirit, which I had the pleasure of tasting pre-release. The base is Stauning Whisky, coffee from renowned sourcing and roasting company La Cabra, and chocolate from the award-winning Friis-Holm. Quite the holy trinity (or threesome, if you prefer). You can pick it up at Force Majeure in Aarhus, or send them a message via their Facebook.
CHECK THEM OUT
Sourcing your own ingredients directly from nature is a good first step to minimizing food waste. For doing so in Denmark, downloading the Vild Mad app is highly recommended. It gives you pictures and info on seasonal plants, recipes for using them in cooking and drinks, and lets you keep track of everything at the same time. It also comes with a comprehensive guide on ingredients, foraging sustainably and how to process ingredients to extract flavour and avoid sickness.

eSmiley's FoodWaste app is a software solution for Danish restaurants, and potentially bars, looking to minimise food waste in their establishments. The app lets you keep track of food waste in both prep, production and at service, giving you an overview of where the food waste occurs, and if your efforts to minimise it are actually working. When you sign up, you also get free access to an online user community made to enable hospitality venues to share tips, knowledge and advice on minimising food waste and maximising ingredient output - sick!
PODCAST: BRØL is Fighting Food Waste - One Beer At A Time.
Sweet pastry stout, surplus sourdough pale ale and banana peel weissbier are just some of the creative beers being brewed at BRØL circular brewery. The Copenhagen non-profit was established with one goal in mind: to redefine value in our food systems. Listen to this month's episode of the Liquid Matters Podcast to find out how the head of BRØL Saimon Skurichin came up with the idea of turning food waste into liquids that matter.
DROPLETS FROM THE INTERNET
If you're a newbie to the anti-food waste war, then Trash (formerly Trashtiki) is your go-to resource for easy-to-follow, entry-level recipes.


If you're looking to up the game a bit and learn in a community of sustainability-driven bartenders, then this Facebook community is a must to join: Sustainable bartender community.


Some light reading could also get you on the go. Optimistic Cocktails vol. 1 comes as a downloadable PDF and gathers the know-how of US bartenders. More importantly, 100% of the proceeds go to support employee staff funds and undocumented workers across the country during covid.

SPOTLIGHT: FEAT. MADS SCACK

This month, Mads Schack, former Gedulgt bartender and current owner of bottle shop Force Majeure, takes us on a trip to the cinema...
Lately, I have been focusing on my little liquor store in Aarhus, but when I am off I love to relax and watch movies. I am a sucker for everything Star Wars and people in spacesuits, but recently I saw the movie "Druk" (Another Round in English) and it really got me thinking.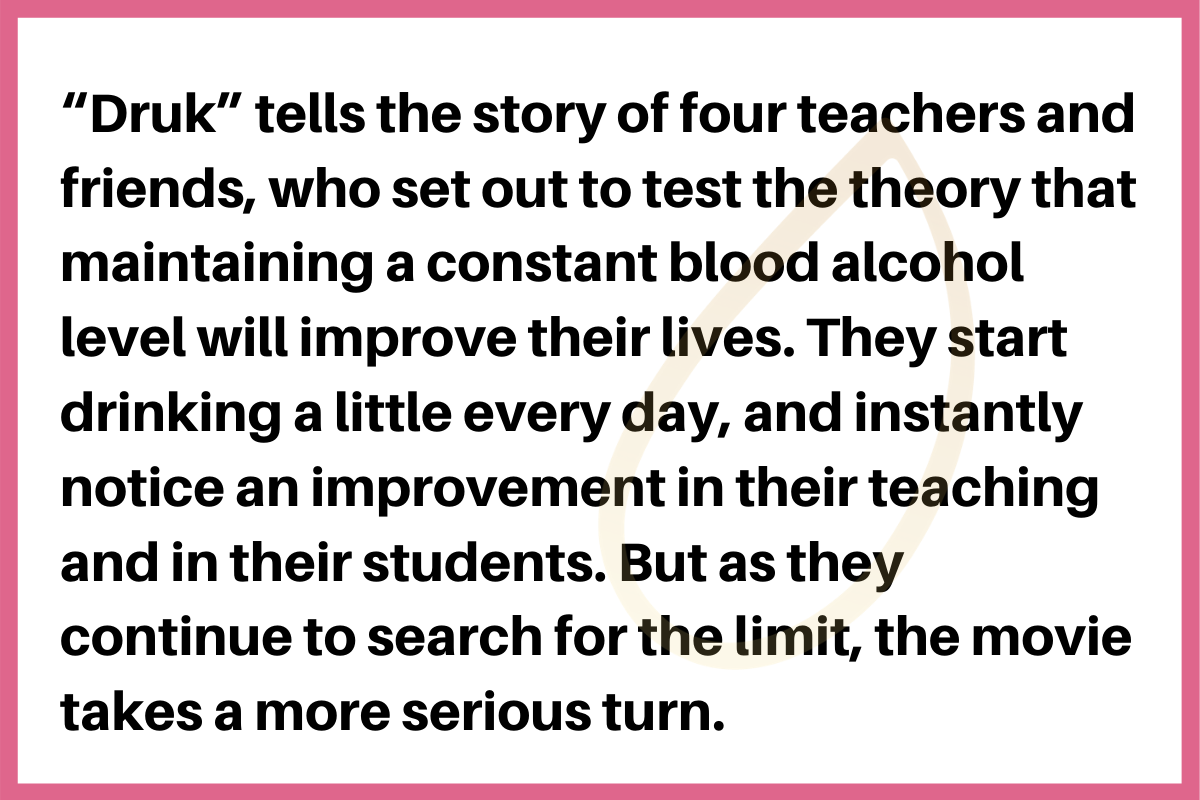 The movie showed what effect alcohol can have on you. In a lot of good ways. You are more at ease, relaxed and more open. You talk more and are more friendly. But it also showcased how drinking and alcohol can have less charming effects on us.
It got me thinking about how we as bartenders view drinking, and how I would drink during work. A little "pick me up" shot or a beer or drink doesn't harm anyone, right. "Sure, I can drink another, and maybe another. It's a long shift, so I'll just spread it out," we say to ourselves.
Then a regular swings by the bar and you take a shot with them, and another one when they leave. You have a beer at the end of the shift because it's what we always do. Then you end up going home in the early morning hours, only to do it all over again the following day.
Maybe you can relate?
For those who don't know me, I for one love to have a drink or two and get a little buzz going. Sometimes it happens that I get a little too excited and maybe have one too many. Believe me, I'm no saint, just ask my girlfriend.
But, in my experience, it is often difficult to say no to alcohol in this industry. Openly talking about not drinking feels like a taboo. In the movie, there is a scene, where they go out drinking vigorously, reach their limits but then continues to go beyond. The scene starts out funny, but as it progresses, it ends up being tragic. Drinking sometimes feels like a roller coaster with no stop, and it got me reflecting on my own alcohol consumption.
I want to shine a spotlight on this particular movie because it illustrates the drinking habits in Denmark and how 'relaxed' we are about alcohol consumption in general. It inspired me to want to be more aware of my own relationship with alcohol, where I can have fun, but still, respect my own limits and understand the effects it has on me.
I'm 27 now and I still want to get better at drinking and I think the key to doing so lies in knowing what effect it will have on me.
'Druk' really showcased the positives and negatives of drinking, and made me want to talk more openly about drinking less when I am out, even as a person who works with alcohol for a living. I think that saying no to shots or another round shouldn't be frowned upon. Instead, it should be respected, even if you are a big shot bartender or a rookie trying to fit in with your new colleagues.
Got a tip or recommendation to share? Help Liquid Matters to shine a light where it really matters. Drop an email at <225>[email protected] to get in touch.
Support Liquid Matters - invite your friends to follow along.




Enjoy this post?

Buy Liquid Matters a drink